NAMM: Day Three
Published on 20 January 2020
Welcome again friends, to our day by day update on the latest goings on at this year's Winter NAMM. Our fearless colleagues have been getting well and truly stuck in, finding the new, the unique and the interesting within the endless examples of new gear.
Day 3 brings us a good variety of instruments, including some exciting new acoustic guitars. We also have plenty of pedals, basses and custom electrics here, so it's an eclectic mix! As before, these pictures are coming directly from the show from our guys: this is as fresh and up close as it's possible to be without having your feet planted on the NAMM carpets! We'll look at this stuff briefly, and share any details there may be at this early stage.
Taylor
Taylor had plenty to show at its extensive stand. Chief amongst these were a series of spectacular 'Builder's Edition' guitars. This 816ce has a very exciting extra soundhole built into what at first glance appears to be just a lovely Florentine cutaway...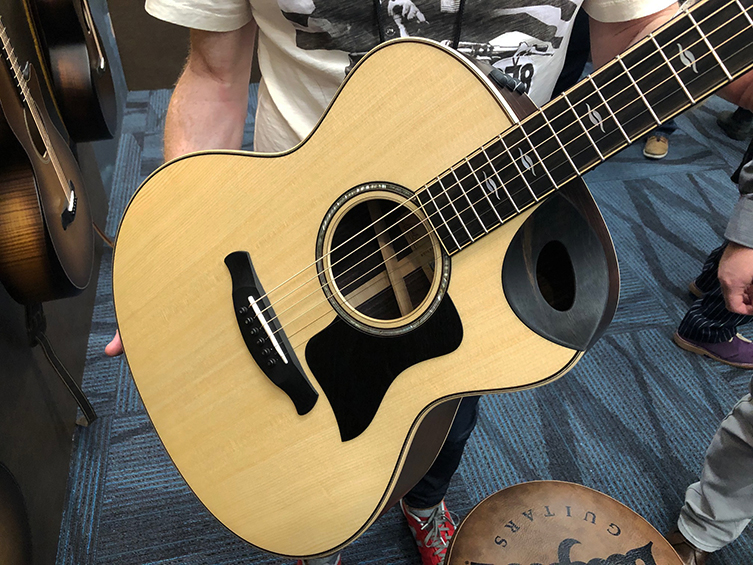 This additional 'soundport' allows the guitar to sound bigger and richer. It's already a 'Grand Symphony' in size, so we expect this guitar to sound supersonic in person!
Another Builder's Edition model had this amazing soundport feature alongside some intricate inlay work...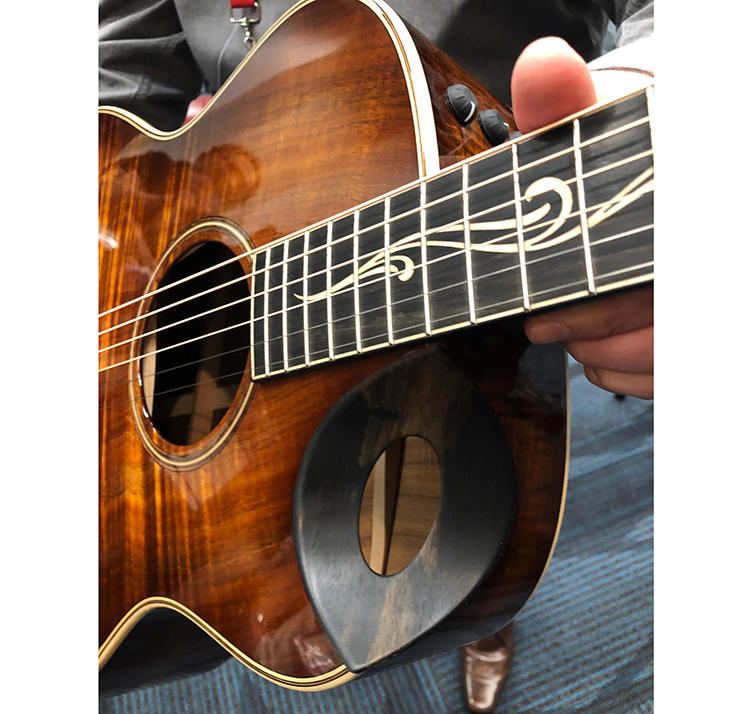 And here is a pretty stunning 912ce Builder's Edition. It's a smaller-bodied Grand Concert model and sports a Lutz Spruce top and new fingerboard inlays. Want!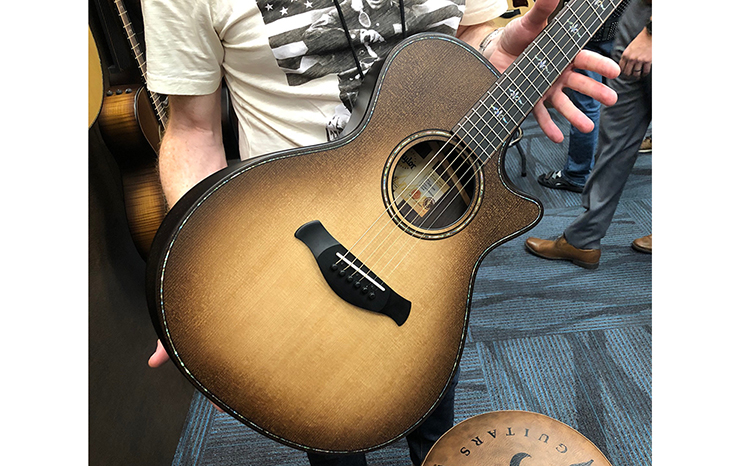 Also on show were some GS Mini's described as Koa Plus. A solid Koa top and layered Koa back & sides add luxury to one of Taylor's biggest success stories.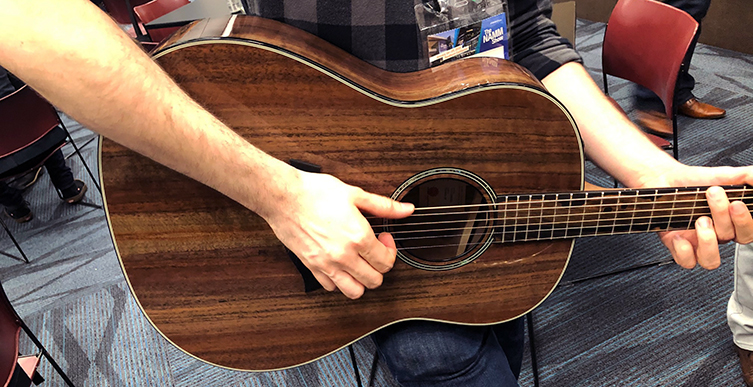 Alvarez
The Alvarez stand was busy, full of new guitars and new finishes. We don't have too many details, but pictures are apparently worth 1000 words, so here's 2000 words on Alvarez...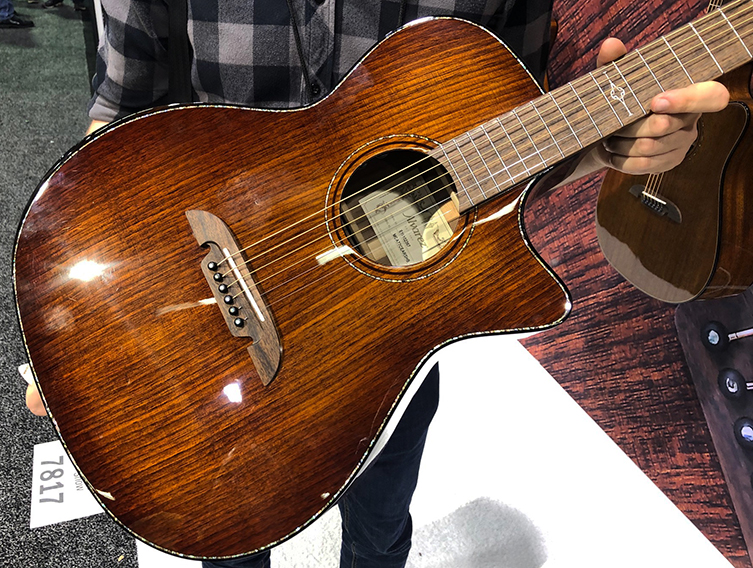 It seems that Alvarez's high standards regarding materials and finishing are, if anything, even better than ever! We look forward to seeing these and more in our stores soon!
Music Man
California's own Music Man have brought several gobsmacking instruments to the show. They must surely have one of the most impressive artist rosters of anyone? Our favourites this year include Omar Rodriquez Lopez's Mariposa, shown here in Black...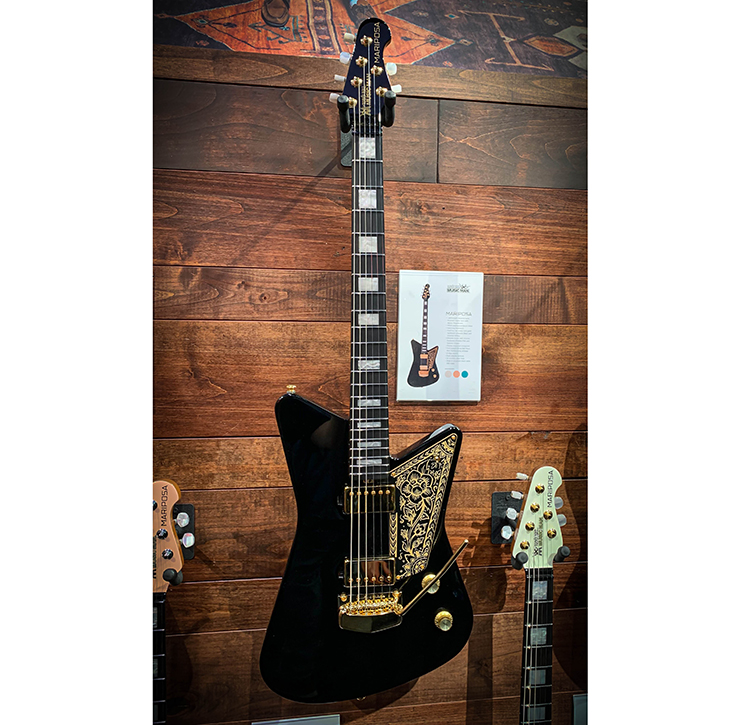 ...alongside a new Fuschia Sparkle Luke III model for long-time endorsee Steve Lukather...
...and for good measure, a beautiful Cobra Burst Sabre. These guys know how to put together a stunning guitar!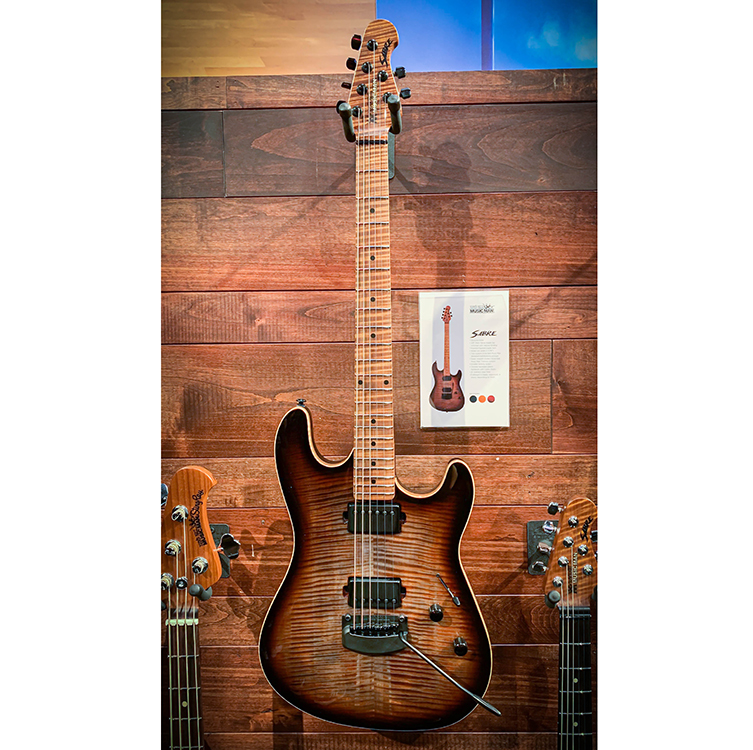 Suhr
Suhr's team have been busy putting the finishing tweaks to their newest valve combo, the 'Hombre'. Here's a sneak peak of it, in all it's 20 watt, built-in tremolo, Brownface glory...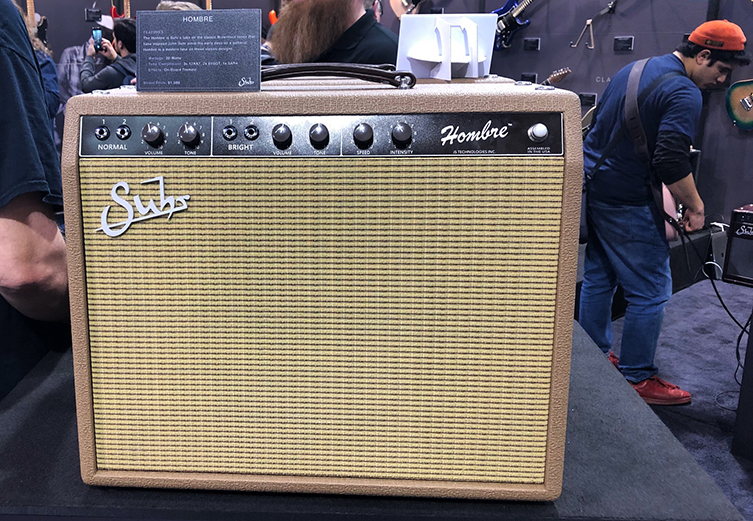 Suhr had some delicious custom offerings on show, Our chaps got set about them, picking up their favourites to show to us back here in rainy ol'Blighty. Here's a translucent Purple Classic T...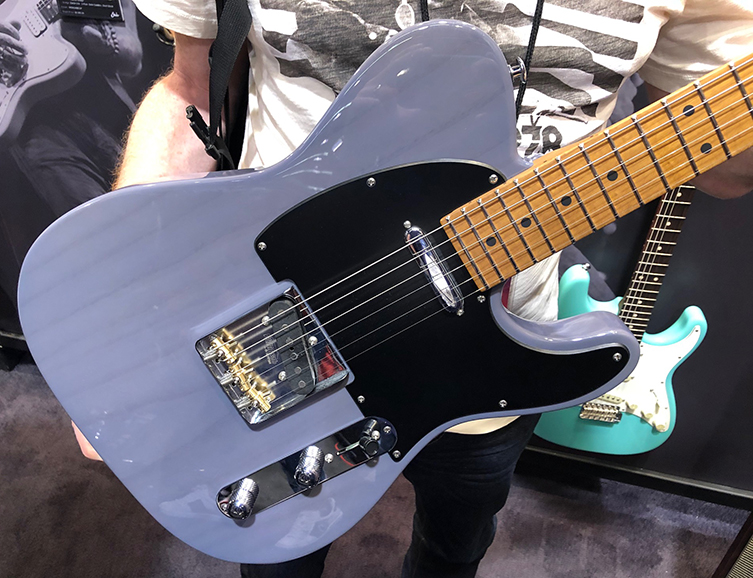 There's a very appealing 'exotic' vibe to this Suhr Modern. What a burst!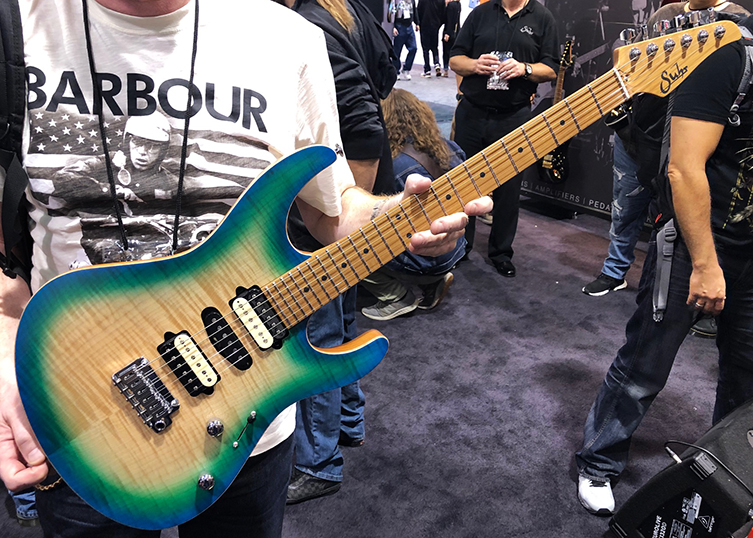 Here's one last one. Clean, classic and with a lovely understated finish, this Suhr Classic looks like it's ready to lay down the law! Digging that bridge pickup!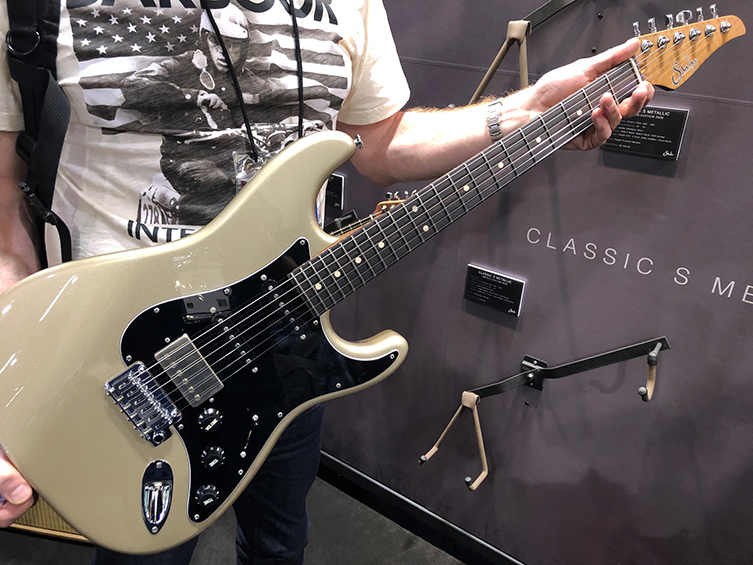 We hope to see a fresh shipment of Suhr guitars coming pretty soon, so get in touch with your local store if you see something you like!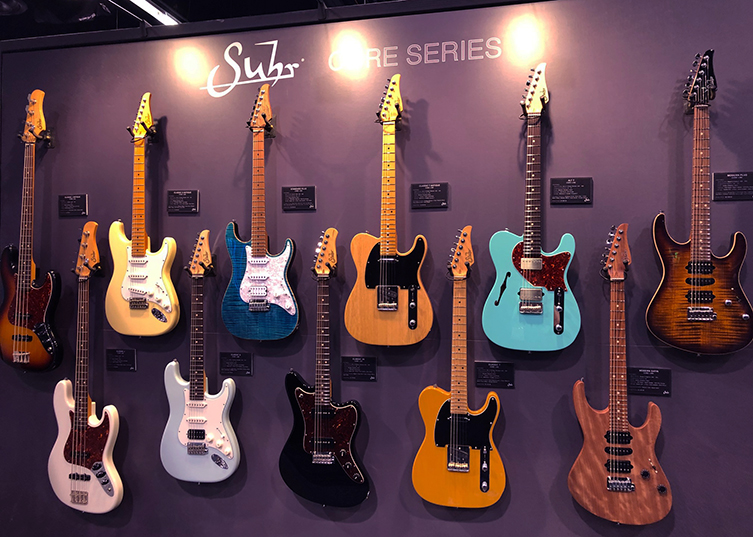 D'Angelico
D'Angelico has casually wandered up and shown off some of the damn-coolest guitars of the show! Pearlescent DC model with gold hardware and full-on bling trimmings? Check!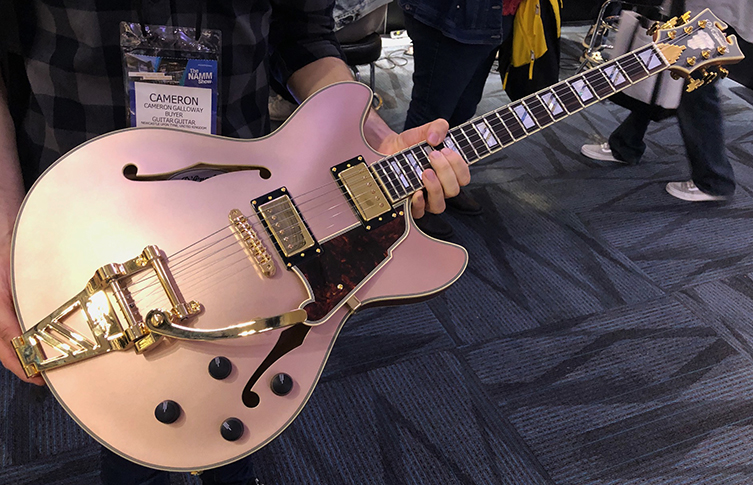 How about a tasty jazzer, complete with big block inlays, stairway tailpiece and the daddy of all gloss finishes? We sincerely hope we see this over on this side of the pond...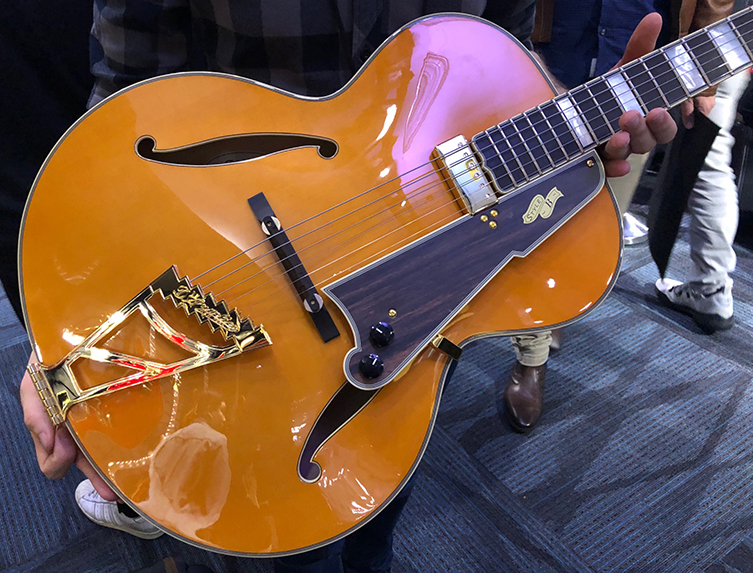 LSL
LSL's custom guitars were out in force. We've had lots of their amazing guitars in our stores in the past, and long may that continue! Take a load of this PAF-powered T-Style!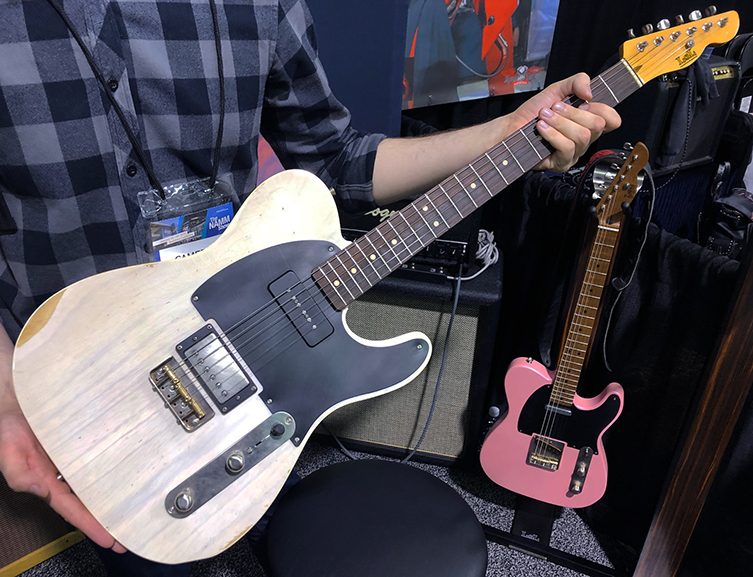 Our guys noticed some other mouth-watering custom LSL's hanging up on their stands. Here's an action shot.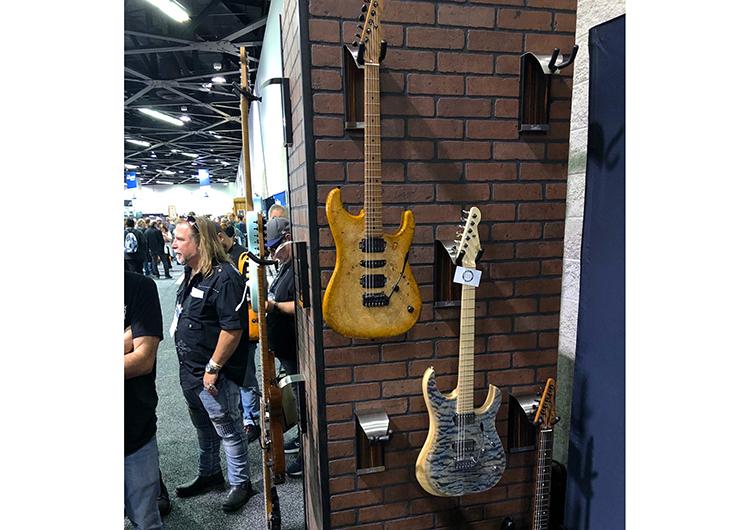 Keeley
The Keeley stand looked jam-packed all weekend. That's bound to happen, since Keeley are one of the greatest pedal-makers in the world!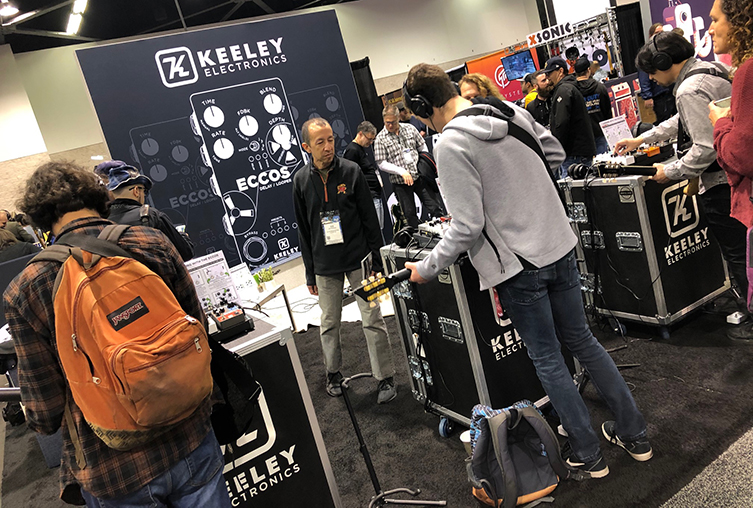 This board shows off some exciting new 2020 wares from Robert Keeley and the team. It's always great to hear about what they have coming next!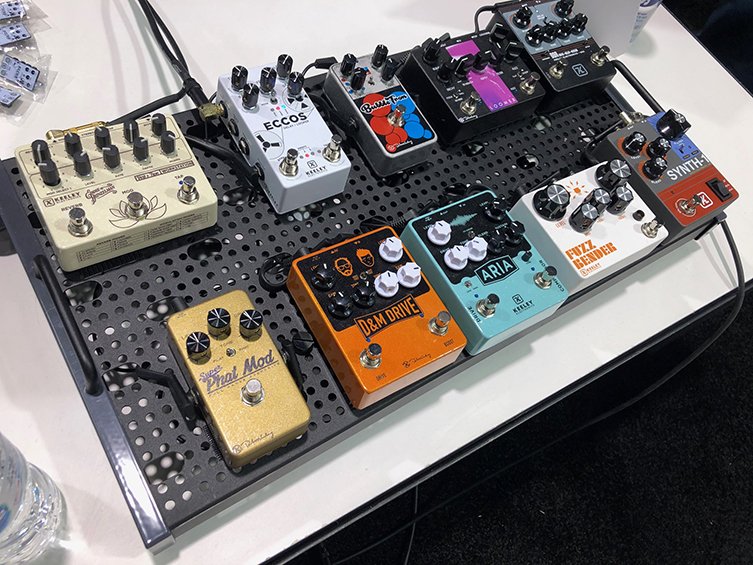 Empress
Empress were the same, with constant interest around their effects pedals, some of which are incredibly innovative. We want to know more about this Zoia modular thing...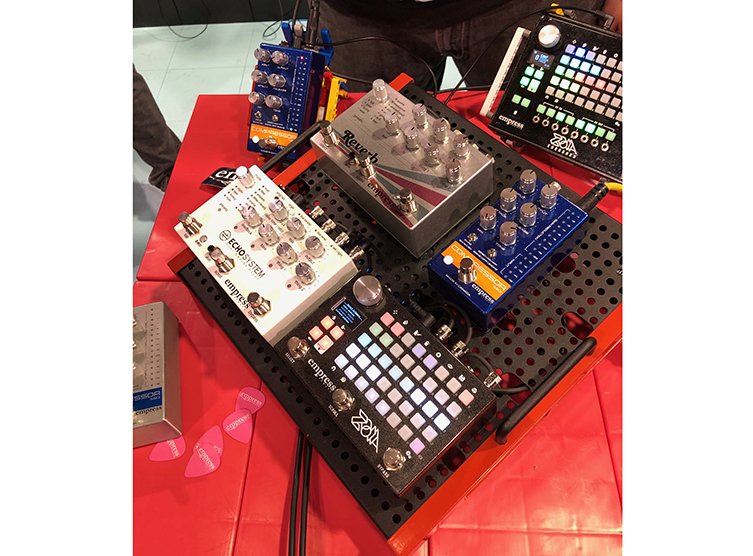 Not only that, Empress also had an impressive Euro-rack thing happening at their stand. It's all about wonderful, wonderful toys here...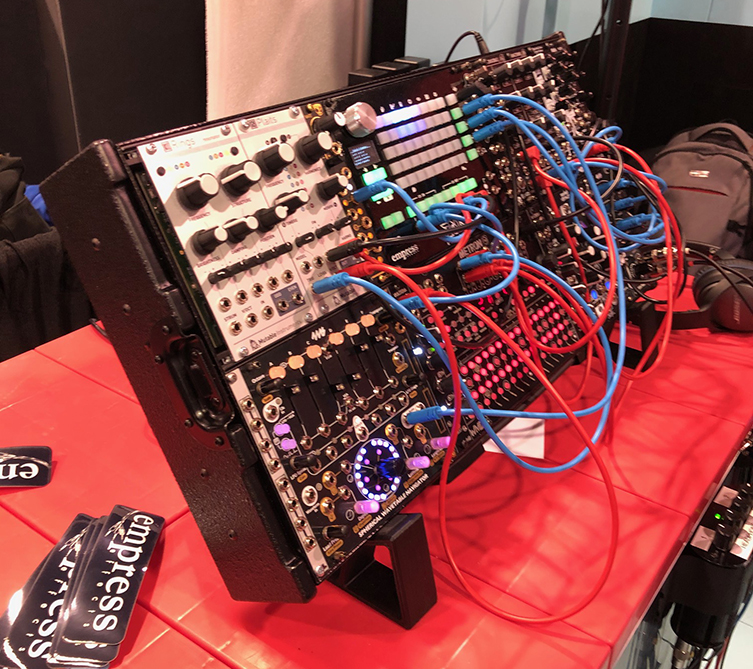 That goes for JHS too, who have some interesting sleeves with things up them at the moment.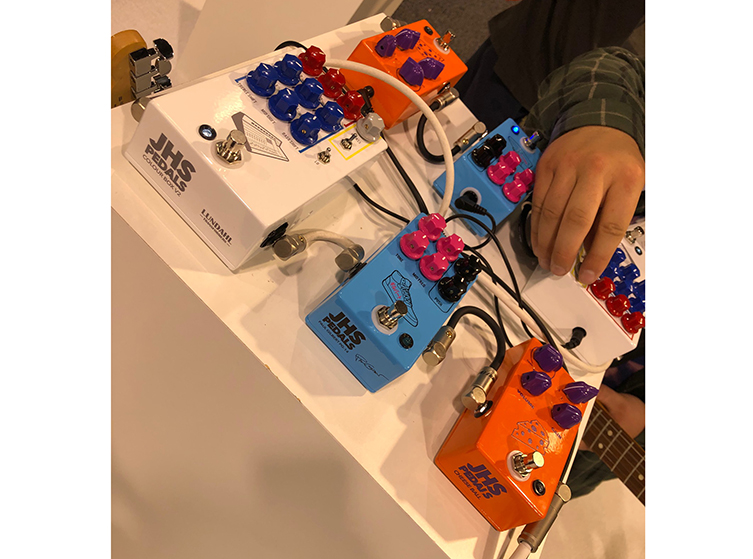 Dingwall
Last but certainly not least, Dingwall basses enter the fray with some unspeakably cool offset numbers! This metallic chap is one of the best things we've seen all weekend! Three massive pickups? Frankly, why not?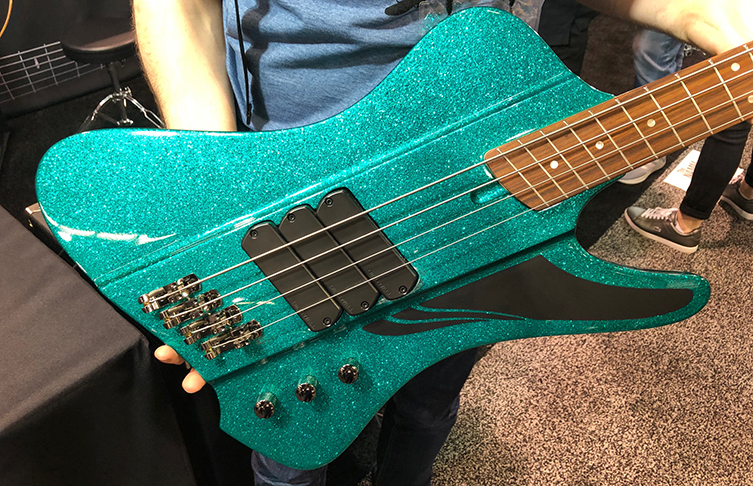 We can see this design becoming pretty iconic, to be honest. For the bassist on stage, there can be no mightier vibe than one of these! This pic of the stand shows off a few more variations. Loving. Them.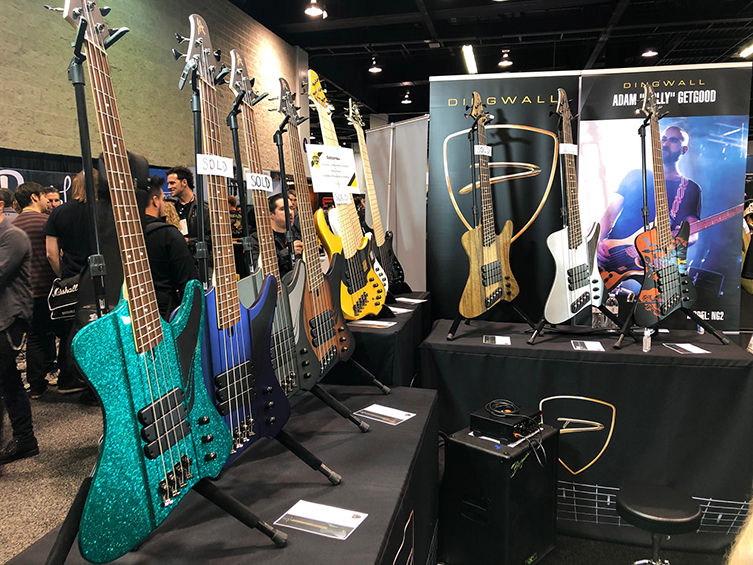 Conclusions
The NAMM reports are still coming in to us: it's been a busy weekend! We love being able to share the excitement of the show with you! We hope you're feeling the vibe too, it's palpable here! Hey, who needs Summer holidays when there are so many BRILLIANT new instruments to get your hands on, right?
Exactly.
See you soon.
Ray McClelland