Epiphone 2020 Top Picks
Published on 12 February 2020
Have you checked out the new 2020 Epiphone guitars yet?
They've only been out for a few short weeks, but they are proving immensely popular! It's not hard to understand why, either: with the highest quality pickups, best finishes and easiest playability we've seen from the brand in years, they are currently surfing a well-deserved wave of recognition.
Rather than trying to separate themselves from stablemates Gibson, Epiphone have realigned their line-up to mirror their yankee pals more closely than ever. That said, there is always space for a little uniqueness, and today we'd like to introduce you to a few friends of ours from this new guitar gang!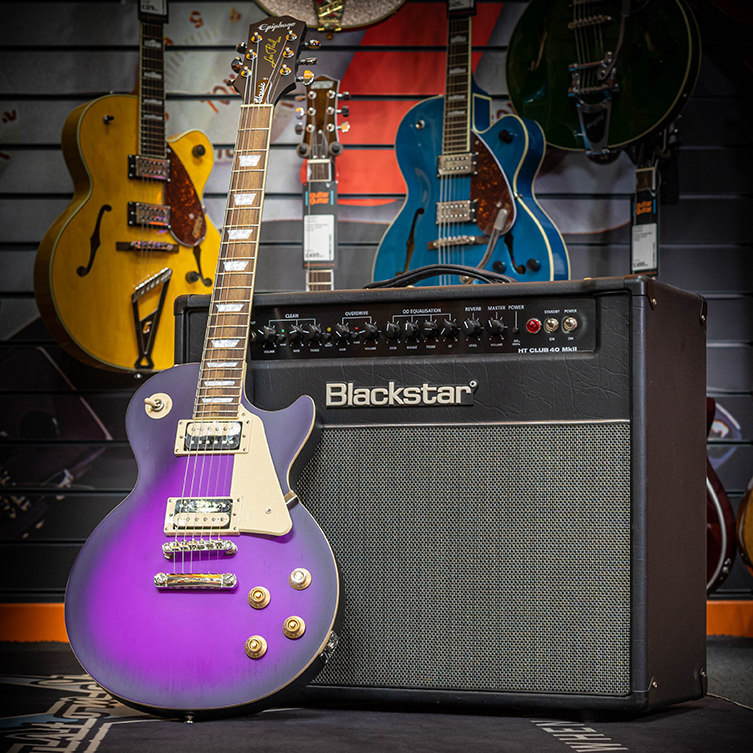 Les Paul Classic in Worn Purple
First off, we love this finish! Satin Purple-burst with a black back and cream binding? Hell yes! It's not just pretty colours here, though: this model brings a set of Alnico Classic PRO pickups to the show, with hotter-than-vintage output and plenty of Rock attitude. Sonically, it's a good all-rounder, with coil tap options lending extra versatility for skinnier sounds.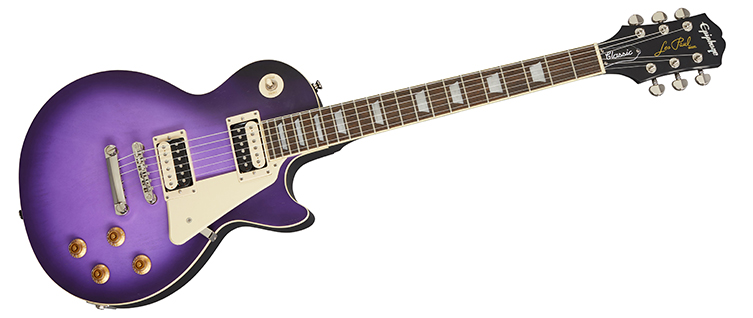 Construction is Mahogany with a Maple top and a set neck: very appropriate! Grover tuners and quality hardware adds extra value to this showstopper, the Les Paul Classic.
SG Classic Worn P90 in Worn Inverness Green
Sticking with bright colours, we can't take out eyes off this green SG! We think we've actually seen a few different shades of green all called 'Inverness Green' over the years, but we won't grumble when it looks as good as this! The finish is more like a translucent stain, allowing plenty of the wood's grain to show through. We think this is gorgeous, and a very welcome alternative to the omnipresent Cherry Red we see on SGs.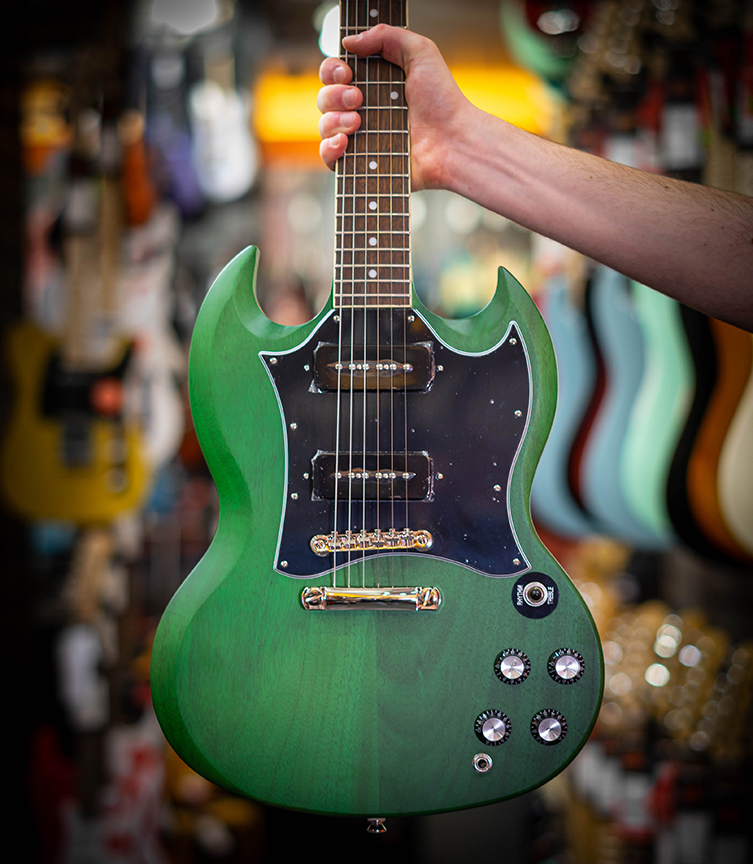 Away from the look of the guitar, the main talking points would be the lovely slim neck and the P90 pickups. In general Gibson/Epiphone parlance, 60s-style necks are chunky, and 60s iterations are skinnier. Not shred-skinny, but certainly less hefty than those modelled on late 50s 'baseball bat' necks. Both styles are wonderful, though we'd argue that a larger cross-section of guitar players will get on better with the '60s slim taper' neck, such as you'll find here. An easy, slim neck and a flat 12-inch radius fingerboard mean that this SG, like the other guitars we're looking at today, are East Street to play!

As for the P90s, well...if you've yet to dip your toe in the tonal nirvana that is mahogany and P90s, why not take the plunge with this guitar? A P90 will give you attack, bite, sustain and complexity, without ever being overbearing. Yes, they are large single coil pickups, so you'll still get some hum if you decide to go apocalyptic with the gain levels, but that's what EMGs are for, right? P90s are all about rich, vintage tone that gives you cleans, crunches and vintage flavoured Rock. P90s are super-fun to play, pure and simple. Add the set neck Mahogany to proceedings and you have a recipe for tonal bliss. Plug in the SG Classic P90, dial in a little reverb, some slight valve crunch, and cancel the rest of your appointments.
SG Custom
Lets' stick with SGs for this next choice! And choice, it certainly is: this is simply beautiful! The recipe is simple: take an SG and dress it up as a Les Paul Custom. The means an Ebony finish with gold hardware, block inlays, lots of thick white binding and the famous 'split diamond' headstock inlay. What else? An ebony fingerboard, to fully integrate with the 'tuxedo' look, and of course to provide a luxurious playing surface befitting such an opulent instrument.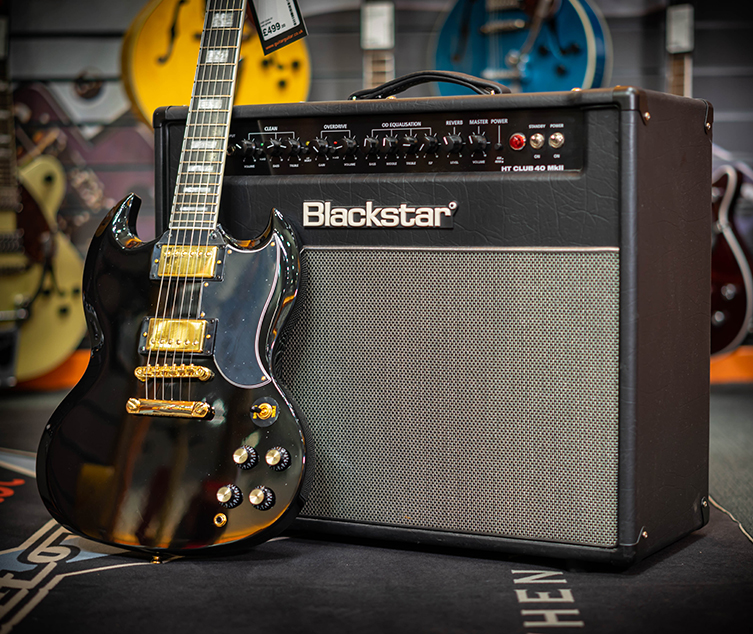 Good looking? We'd say so. But it's a peach to play, too, with the same 60's Slim Taper neck we looked at recently, and a good weight to the guitar that helps it hang well from a decent strap.
Sonically, it's fat vintage territory here, with plenty of creamy sustain to match the trademark SG bark brought on by its slim body and Alnico Classic PRO humbuckers. Deluxe tuners and proper CTS pots prove that Epiphone haven't scrimped on the details, instead turning in a guitar that's as useful and effective as it is handsome. This Epiphone SG Custom will dominate any situation it finds itself in, no question.

Uptown Kat in Ruby Red
Finally today, we check in with the quite stunning Uptown Kat. This original-design guitar is the latest in the illustrious lineage of Wildkat guitars. These are Epiphone's stylish take on the downsized semi-acoustic, a style that has quickly grown in popularity over the last ten years. Enjoy the more open, three-dimensional sound of a semi-hollow body, with the ease of use brought about by a more manageable body size.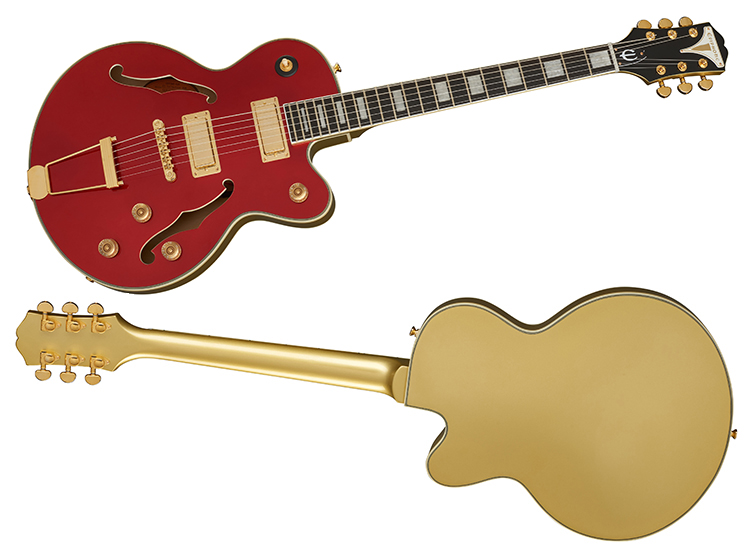 Did we say that these have been painted gold all over the back? It's a shame that most audiences will only see this gorgeous axe from the front, because the two-tone look provides much of the Kat's Rockabilly vibe. This guitar is all about pulling the right stance and hitting the right note. Having said that, the sound is very adaptable: mini Probuckers tighten up the tone and deliver well-formed leads and chords that sit somewhere between 'twang' and 'chunk' in the tone-o-meter. The guitar sounds great, basically.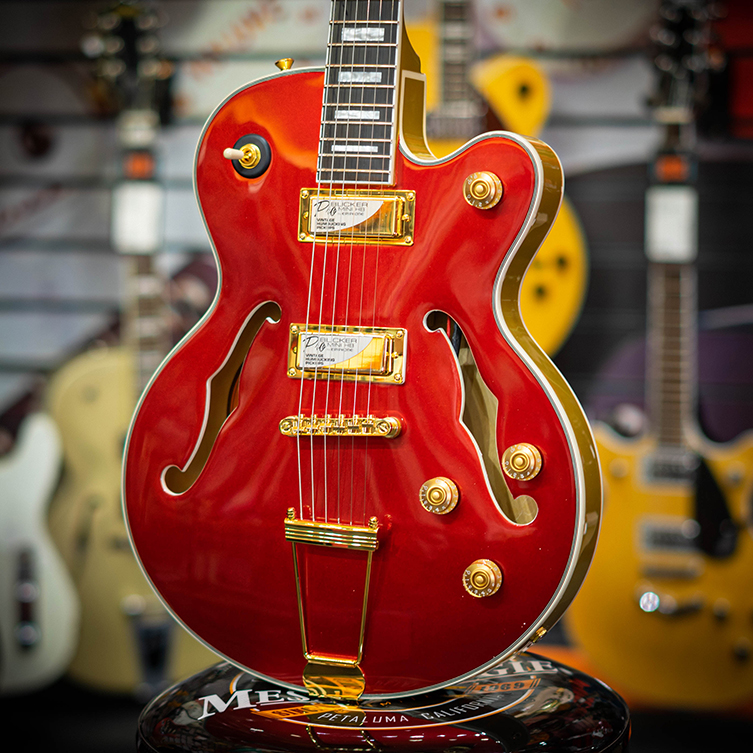 A block-inlaid Ebony board brings some of the 'Custom' vibe across, and the choices of finishes all tally well with that omnipresent gold to make for a very rich -looking guitar. It you like a little bit of gain and a lot of swagger, you should don your best velvet blazer 'n' creeper shoes combo and try this on for size.
Final Thoughts
We could have chosen a very different set of Epiphones from their stunning new range and still had four favoruites: it's just a straight-up brilliant catalogue of guitars! These are sme of the fresher ones, compared to the Sunburst Les Pauls and so on that you'd expect to see, but they all share a similar level of consideration and quality.
We think Epiphone have judged things correctly, by sticking closely to Gibson's offerings on one hand, and allowing themselves space to build new, exciting models as well, with an eye always on the 'House style'. We love these new guitars. We think the designs are exciting, the build quality is high for the money and the overall proposition of owning one rather enticing indeed. It's just a matter of choosing a favourite...
See all of our Epiphone guitars here.
Ray McClelland