Events: Epiphone Showcase & Trade In
Published on 12 February 2020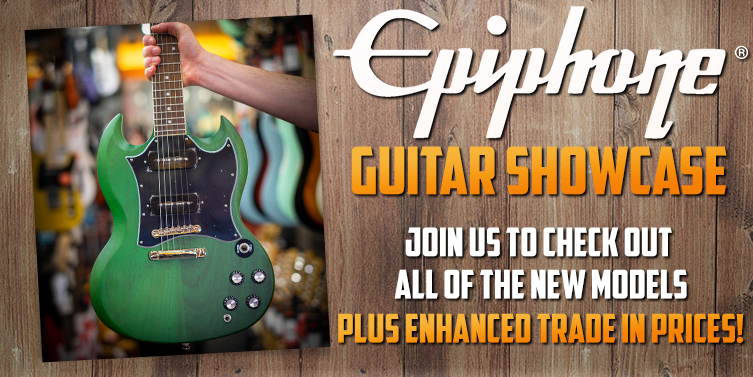 Despite so much fantastic gear getting announced at this year's NAMM show, it's Epiphone who drew a lot of the attention. Not content with simply churning out a few new models, the brand reimagined their full range, bringing them closer in line with Gibson's collection and answering the prayers of so many of us. Their gorgeous new line of guitars set a seriously high standard with a broad range of options, all of which look but more importantly sound better than ever. Epiphone's new headstock shape has been praised by fans everywhere but it's the feel and tone from the guitars in this collection that have absolutely floored us. We've been well impressed by the latest run and we wanted to give you all the chance to try them out, so we thought we'd invite you to join us and do exactly that.

This weekend, we're going to be showcasing the brand new Epiphone collection in not one, but all of our stores. If you've been curious about how the latest arrivals sound, look and feel, you won't get a better chance to riff away on them, so why not stop by and have a spin on the latest Les Pauls, SGs and much more? We're looking forward to hearing some tasty licks and chatting you about the latest upgrades and features. Trust us, with such a great range of models, there's plenty to talk about...
Now, if you're reading this and thinking the last thing you can justify is a new guitar when you already have an Epiphone at home? Even better! We're offering enhanced trade-in prices all week to help you nab yourself a new model. That means if you trade-in an Epiphone this week we'll give you up to an additional £50 towards your new Epiphone guitar! Why not stop by and see what the fuss is about? Oh and don't forget to bring your axe with you, you might just get tempted!

The Epiphone Showcase Event will run from 15/02/20 - 16/02/20 in every guitarguitar store. There's no need to book a place, simply turn up to get involved!
Our Enhanced Trade-In offer will run from 15/02/20 - 23/02/20 - if you can't make it into the store, click HERE to take advantage online.