Offers: Piano Showroom Sale
Published on 13 March 2020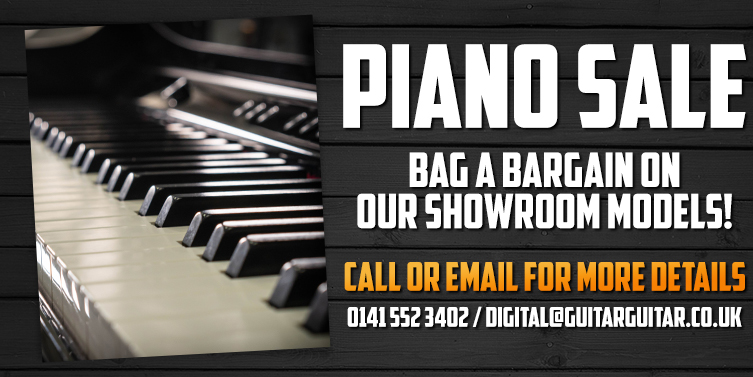 There's nothing quite like treating yourself to some new gear. No matter what you play, a new instrument can inspire and revitalise your passion; however, when you're a pianist, it can be really easy to just make do with what you have at home. Well, take it from us, pianos have come on a lot since your Gran's trusty set of keys was built but not only that... so have the prices! Brands such as Roland and Korg, to name a couple of favourites of ours, have a ton of fantastic pianos that are more affordable than you may imagine. Offering far more versatility than a traditional piano, their digital setups sound incredible and are seriously popular in our stores for their mobility and broad range of sounds. Also giving players' a realistic feel that won't throw off those who are more used to a traditional piano, these really are the next generation and we're giving you the chance to nab one at a discount price!

Right now, we're offering some tremendous deals on our Glasgow store's showroom pianos! Complete with a full warranty, these pianos are in excellent condition and are ready to be taken home and played. With a selection of models at different price points, this is the perfect opportunity to treat yourself and find that special instrument you've been yearning for. Whether you're new to the instrument and are looking for your first serious piano or have found your playing going a little stale on the family model, come and pay us a visit and we'll take you through the models available, providing an in-depth look at their features to make sure you find the right fit for you. Below are a few highlights:
Roland DP603-CB - was £1944 now £1249
Roland LX705-DR - was £2111 now £1599
Roland - LX708-PE - was £4399 now £3399
Roland - LX17-PW - was £4399 now £2899
Korg LP-180 - was £599 now £399
Korg C1Air - was £799 now £599
Korg D1 - was £549 now £399
For more info, call the store 0141 552 3402 or email digital@guitarguitar.co.uk or simply stop by the store to try one out for yourself! We'd love to see (and hear) you!