Fender American Original: New Models and Finishes
Published on 02 April 2020
Fender have always been good at celebrating their phenomenal past. With one obvious exception, no other company can boast to have anything like as many influential, music-changing instruments in their roster. It's probably fair to say that every person reading this will be a fan of, at the very least, one Fender guitar. Whether it's a Tele, a Jazzmaster or a P-Bass, we all have our favourites from this illustrious stable.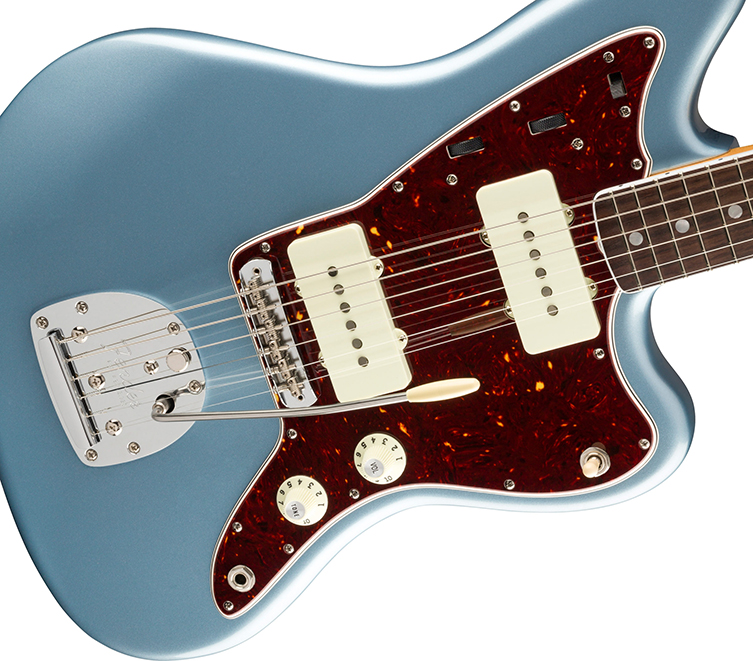 So, as we know, these classic models are available in a great many variations. This helps cater for stylistic changes in both music itself and in player preferences over the years. Different pickups, neck carves and a myriad of other details all play a part in determining one range from the next, whilst still keeping that iconic brand integrity.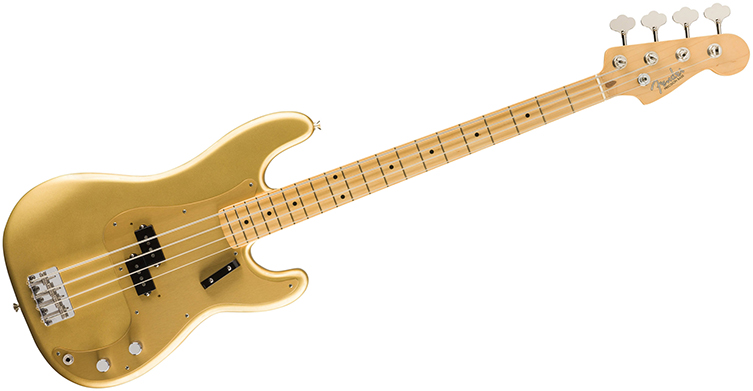 For those who want their Fenders to be a little closer to those from the Golden Age of the 50s and 60s, Fender have a range called the American Original Series. The American Original Series was only released a year or so ago, and has proven to be a huge hit with Fender fans. This does not come as much of a surprise: after all, what's not to love? It's a collection of everyone's favourite Fender guitars and basses, that have all been given era-appropriate hardware, authentic colours and nitrocellulose finishes. Sounds pretty great to us!

The Winter NAMM 2020 show saw Fender release new colours and some entirely new additions to the range in the form of the Telecaster Custom and the Thinline Telecaster. Some of the new colours are just beautiful, so we thought we'd take a second and introduce you to a few, if that's cool?
American Original 60s Jaguar in Daphne Blue
Offsets are the ones to be seen with just now, certainly for style-conscious Indie-types. Show your taste and authority on your local scene with this particularly delicious Jaguar, finished in a scandalously gorgeous Daphne Blue and finished off with a tortoise pickguard and cream pickup covers.
The 60s Jag has all of the proper Jaguar circuitry, including the twin rhythm/lead circuit path and the infamous 'strangle' switch. Nitro finish, Rosewood board, Vintage Tall frets...it's a pretty classic example of why Jags are so loved. The shorter 24" scale length has been preserved too, with only the slightly flatter fingerboard radius (it's still 9.5", so it's not that flat) deviating from the vintage blueprint. The fingerboard is bound, which adds a lot to the feel, not just the looks.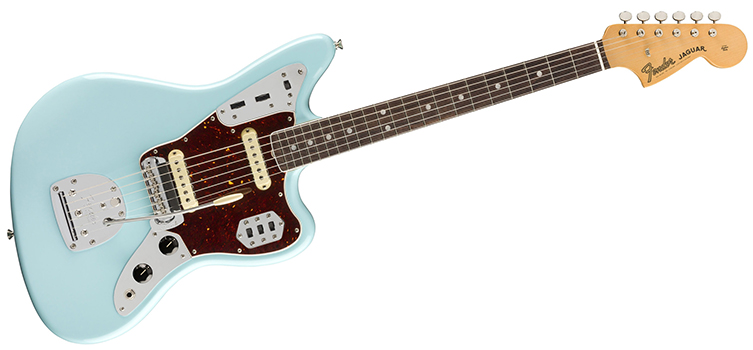 American Original 60s Stratocaster Shell Pink
Shell Pink is just too cool for school. It's a mark of confidence to rock a pink guitar or bass, and we think more people should do it! Take a leaf out of Flea's book, who uses a gorgeous pink Fender Jazz Bass on a nightly basis.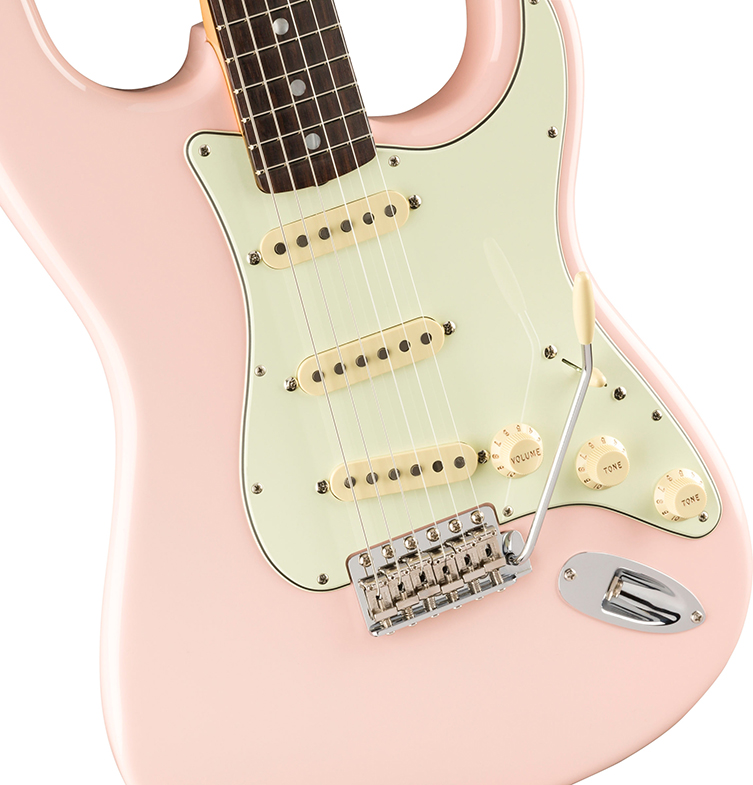 Anyway, this Strat has lovely sounding, 60s voiced pickups to bring out a little more grain and heat than the 50s equivalent. Blues-Rock players will find these pickups to be like magic dust, with tons of character and expression. The bridge is a vintage six-point tremolo (newer designs go for a two-point pivot) to nail a response than feels suitably 'period'. Quite a lot of the Strat's tone comes from the bridge – more than many people realise – so getting this detail correct helps sell the 60s vibe in a big way. Details like a mint green pickguard round off a lovely Stratocaster with versatility for days.
American Original 60s Thinline Telecaster in Surf Green
Possibly beating the Jaguar in the flat-out cool stakes, this gorgeous Thinline is 'alternative Fender' at its best. Look at that colour! There's no doubt that the nitro finish helps with the tactility and lustre of these American Original guitars, but Fender have aced the actual mix and pigment of the paint, too! What a gorgeous guitar, particularly with the heavily contrasting tortoise pickguard.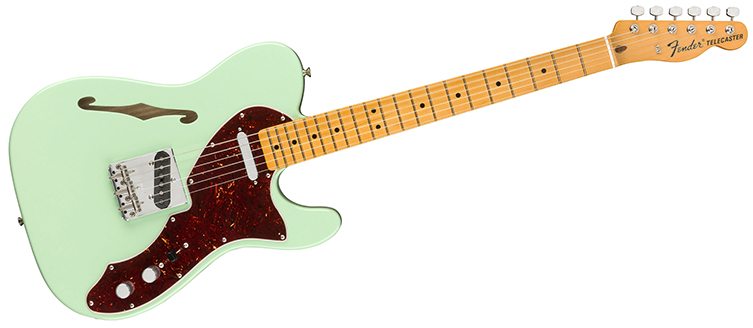 Moving away from its handsomeness for one second, we can see that the body is made from Ash, so the semi-hollow resonance and sweetness will be only increased by timber choice. It's a recipe for great tone, without a doubt. Helping out is esteemed pickup designed Tim Shaw (maker of Fender's popular Shawbucker humbucker), who has designed two single coil pickups especially for this model. They sound great, with chime, body, depth and lots of addictive twang!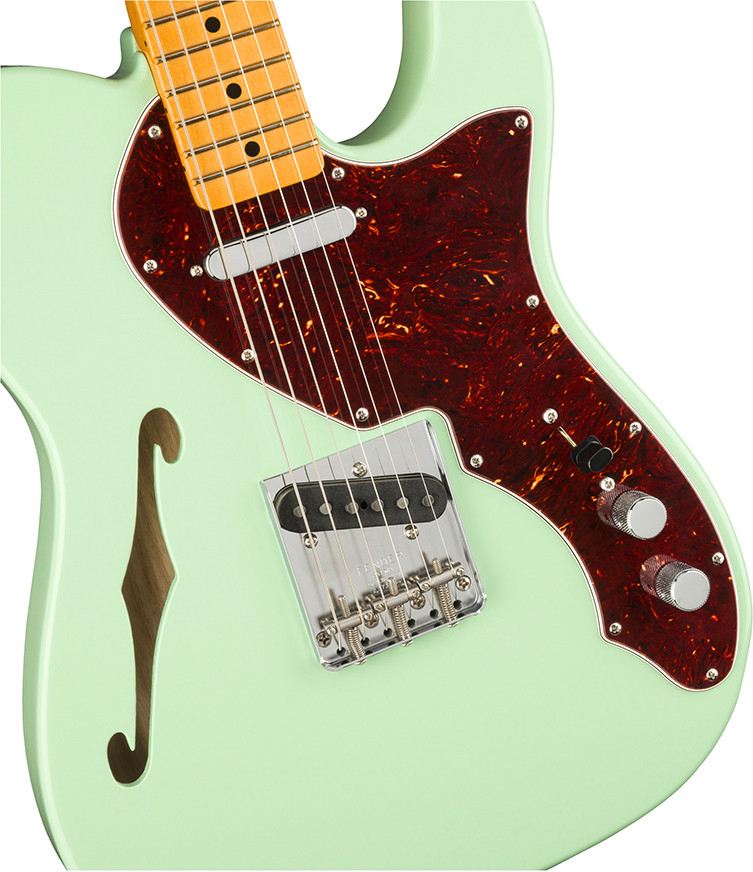 American Original 60s Telecaster Burgundy Mist
Rosewood Teles are amongst our favourite varieties of Fender, here at GG, and doubly so if they have double-bound bodies. Happily, that exactly what this is! We think the Rosewood Tele, with its ever-so-slightly greater midrange response, is one of those guitars that you can throw at anything: from funk to rock, punk to country, it hits in and hits the nail every time.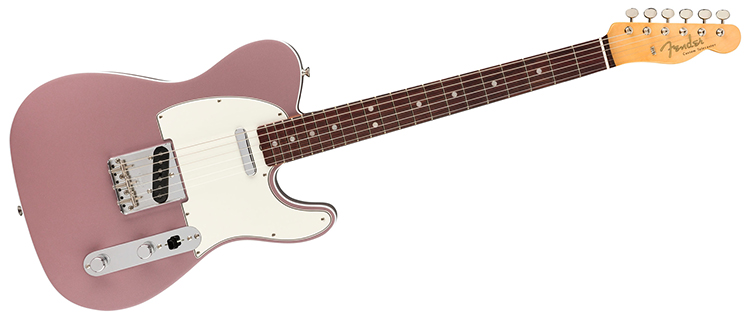 The binding just looks really cool, let's face it. It doesn't add anything to the tone, but we'd always pick binding over no binding! Particularly so if the finish is as delectable as this Burgundy Mist metallic! A set of Vintage '64 tele pickups help nail that vintage selection of sounds, whilst the 3-saddle bridge helps out with not only authenticity but treble response and sustain. This guitar is just great.
Final Thoughts
Our final thoughts are that it's a cruel and horrible world that won't let us take all of these home and keep them! We're super impressed. We could happily grab any of these and fit them into our next gig or recording session, full of excitement about showing off such sweet-looking guitars! These guitars are long-term keepers, for sure.
There isn't a lot of point in comparing them (as some magazines insist on doing) because a die-hard Strat fan is never going to be equally at home on a short-scale, complex-to-use Jaguar, and vice versa. We think Fender have judged each model really well on its own strengths and that confidence comes across in terms of the whole range.
As ever, it's not so much a matter of which one you'll buy as much as its which one you'll buy first...
Thanks for reading
Ray McClelland