Offers: 30% Off Ableton Live Plus Free Goodies!
Published on 09 April 2020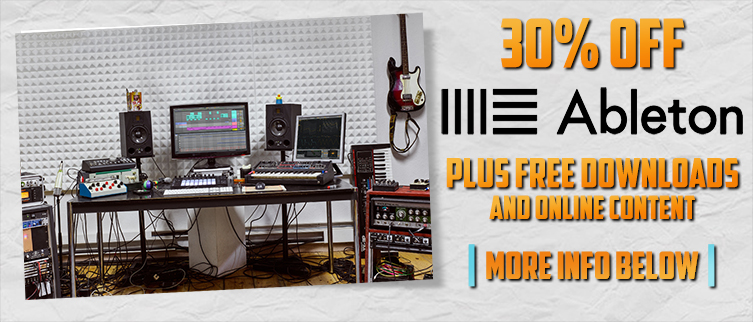 If you've been stuck at home and are feeling a little bored, why not spend a little time working on your production skills? Whether you're a guitarist who's interested in recording, a hip hop beatmaker, a techno guru or just a musician trying to capture an idea, this is the perfect time to get stuck into production and create some new music. Recording on your own is a seriously rewarding task once you get the hang of it because instead of relying on someone elses ears and opinions, you can literally craft your track from start to finish, making sure you are totally happy with the final results. Let's face it, we've all come out of a recording sesh feeling great before realising something isn't quite right when we played the track back. It sucks. Especially after you've put time and money into the session and were hyped up to hear the finished project. Well, worries like that can be a thing of the past if you're willing to put the work in and get to grips with some music software. There are loads of options to choose from but Ableton is always a standout for its user-friendly layout and the sheer amount of tips and tutorials online. It's a fantastic platform and luckily, the brand are making an effort to support you musicians stuck at home with some huge deals! Read on for more details.

For a limited time, Ableton have slashed the prices on their acclaimed production and performance software by a whopping 30%! Plus, if you already have a Lite copy, you can upgrade with the same discount! We rate Ableton highly for both playing live and for recording original music so take advantage of this while you have the chance folks!
It doesn't end there either, the guys have also put together some awesome free content including their book - Making Music: 74 Creative Strategies for Electronic Music Producers which is now available to download. On top of that, they've been teasing us with some live streams on the 24th - 26th of April that we can't wait to find out more about and have even put together some free sound packs to help inspire your next piece of music. With more promised, it seems like Ableton are going all out to keep us creating so wait no further, take a dive into the world of production and get some music made!
Bag yourself a copy of Ableton now
Check out their other free goodies!