Epiphone FT-100: The Choice for Beginners
Published on 18 May 2020
Guitar playing isn't a hobby.
Hobbies are fun ways to pass time, whenever you have some available! We all need hobbies.
But no, guitar playing is not a hobby. It's a lifestyle, a pursuit, an ever-evolving goal and a lifelong dedication.
It's tons of fun, rewarding and cathartic in ways that many 'hobbies' simply can't be.
We want you to become a guitar player because we know what it's like. It's amazing.
If you don't already play, you may be on this page on this particular site because you're interested in diving in. The good news is that guitar playing is one of those activities that simultaneously gets easier relatively quickly and also requires a lifetime of 'work'. You always learn more, and you only ever get better!
It can be daunting to know where to begin, especially where you jump onto our site here and see so many options! To make things simpler for you, we've selected a particular guitar model (in a couple of variations) to recommend as a great starting point. There's a whole universe of guitars to become acquainted with as you progress down your Hero's Path, but let's at least get you walking in a suitable direction first!

Epiphone FT-100
A good value, affordable acoustic guitar is a the simplest, most straightforward way of beginning to learn. It's a self-contained sound machine, with no need for cables, amplifiers or anything else. You pick it up, play a string or two, and the guitar makes its noise. Perfect!
Today, we've picked a very affordable guitar from the Epiphone guitar company. You may already recognise the name, or perhaps a friend recommended them to you. Over the years, many top-tier musicians like the Beatles and Radiohead have played Epiphone guitars, so there's a rich pedigree there already! Epiphone are one of the biggest names in the business and have been around for over a century. Their history is a really interesting read, taking in New York City during the golden age of Jazz, and even going further back to the Greek Islands and small instrument workshops of the 19th century.
These guys know what they are doing!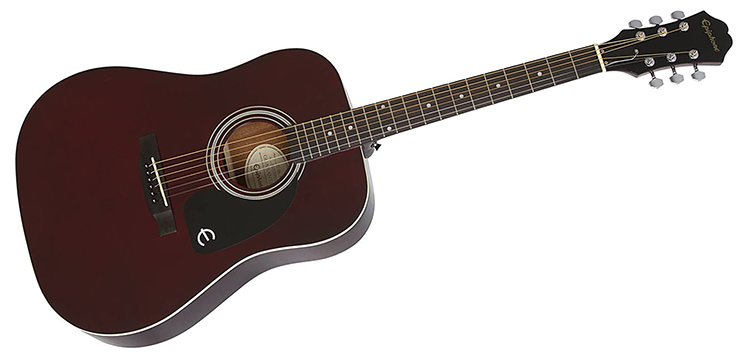 Dreadnought
The Epiphone FT-100 is a dreadnought acoustic guitar. The dreadnought design has been around for about a hundred years and is by far the most popular acoustic guitar design in the world. Why? Well, acoustic guitars come in all shapes and sizes, from really quite small to very large. They perform slightly different tasks, too.
Larger acoustic guitars, like 'jumbo' models, were initially made to make the largest sound possible, for using in the days before amplification. These large guitars create a similarly large bed of sound for vocals to sit over, making these a great choice for singers.
At the other end of the scale, small bodied instruments like 'parlour' guitars have a smaller, quieter and more intimate sound, not to mention feel. These guitars are for those who don't necessarily want or need to project quite so much sound.
A dreadnought lies in between these two polar opposites. As you can see from the pictures here, the dreadnought does have a relatively large body, but it is significantly more manageable than a Jumbo. The benefit here is that you can still enjoy a large, percussive sound, but the size also responds well to lighter playing with the fingertips. You can cover all of the ground you need with just one guitar.

Comfort
We think it's important to be comfortable when you sit down to play, otherwise you won't keep it up! The Epiphone FT-100 is just the right size for most people, though if you are really young (like, less than ten years old), we suggest going for a half or three-quarter sized guitar. For everyone else, the dreadnought is such a mainstay of the guitar world, it makes sense to get to grips with it as soon as possible.
The neck is the part you'll be interacting with the most, of course, so it's paramount to have a comfortable neck that feels good in the hand. One of the reasons we picked out this Epiphone FT-100 model is because it's very easy and forgiving on the hand: you'll be able to feel confident playing this guitar, which in turn will encourage you to play more and improve more quickly!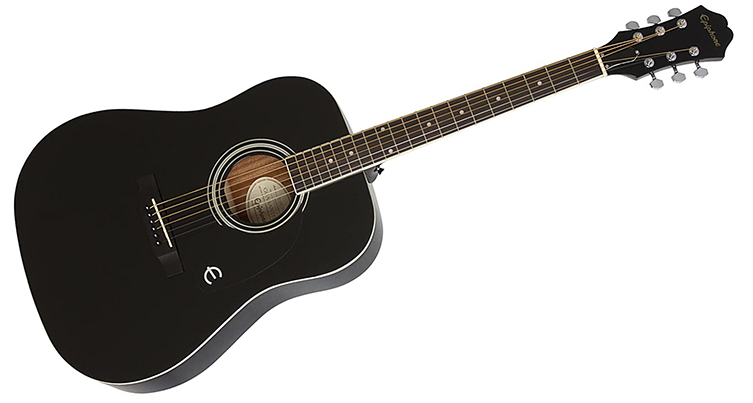 Details & Choices
We have the FT-100 available in three different choices of finish. We have Ebony, Wine Red and Vintage Sunburst, to cater to all tastes. A further finish option is available in a special pack, which we'll get to soon.
Each FT-100 showcases some time-honoured Epiphone details: the famous 'E' logo is imprinted on the guitar's scratchplate, just like all of the classic designs from the 50s and 60s. Also included is the attractive, long headstock design, just like you'll find on famous Epiphones like the Casino and the Dot 335.
The Epiphone FT-100 also has binding – white decorative edging along the side of the body – which often only features on more expensive instruments. These stylistic details tie the FT-100 in with Epiphone's legacy, and help it stand out in the marketplace.
Player Pack
As we noted, the FT-100 is available on its own or as part of a special Player Pack, designed to take the hassle out of buying accessories to accompany your first guitar. In side one handy box, you'll find the FT-100 guitar in a traditional Natural wood finish, alongside a soft case, a strap, a clip on tuner (it grips the headstock and senses pitch through the vibration of wood), a set of plectrums and even a link to some free online lessons!
If you want everything you need in one handy package, the Epiphone FT-100 Player Pack is hard to beat!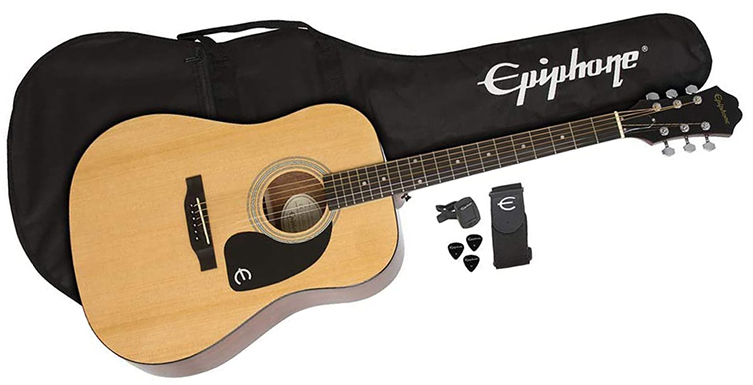 Electro Model
Epiphone also offer a version of the FT-100 with a built-in pickup system! The FT-100CE, available in both Natural and Vintage Sunburst, changes things up with a revised outline to the shape that incorporates what we call a cutaway. A cutaway is an area in the guitar's 'shoulder' that's shaped to allow easier access to the instrument's upper frets. It's tradition for electro-acoustic guitars to often also have a cutaway.
The 'electro' aspect of this guitar is a type of pickup called a 'piezo', which sits underneath he bridge saddles. This allows you to connect the FT-100CE to an amplifier or PA system by using a normal ¼" jack guitar cable. The pickup system requires its own power, and so uses a standard 9v PP3 battery. Disconnect the instrument cable when you are not using the guitar, because this will run down the battery!
With the Epiphone FT-100CE, you can go from the bedroom directly onto the stage!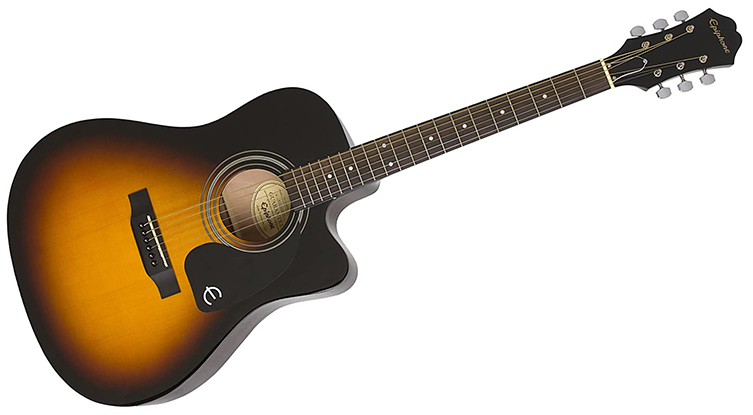 Final Thoughts
There are a great many guitars out there for beginners. Most of them will end up being pretty good choices. These Epiphones display excellent value, reliable quality and sound, and display some cultural heritage and Rock n Roll connection too. We recommend them!