Epiphone Celebration: Electro Acoustics
Published on 17 June 2020
Epiphone are a company worth celebrating.
They brings us iconic, historic guitar designs that are perfect for the performing musician, and make everything affordable to the everyday musician.
This makes them winners in our book, and we want to shout about them a little!
Epiphone have been around for over a century, as you probably know. They have been owned, as you also probably know, by Gibson since the early 60s. This means that, alongside their own original designs (one of which we'll look at today), they also manufacture 'official' versions of many Gibson classics.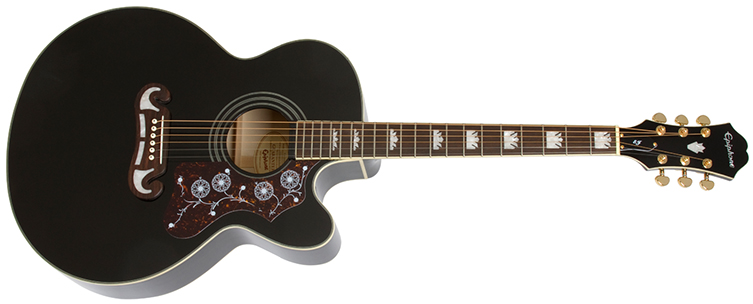 For this article, we've chosen to focus on Epiphone's electro-acoustic models. As such, we can include some of the loveliest looking instruments available anywhere: the Hummingbird, the EJ-200 and a few others. These wallet-friendly takes on some undoubted cultural icons are most welcome in the guitar market, since they perform to a high standard and offer something slightly special to guitarists of all levels of expertise.
We've decided on specifically electro models, since we want to emphasise the point that these guitars are meant for performers. They belong on a stage, being strummed or picked hard to an audience of enthusiastic fans! Their low cost does not mean they are only for home use, not in the slightest! Solid tops and sophisticated pickup systems are included in each of our examples today, to prove that you really can have it all: a great looking, great sounding, giggable acoustic guitar that in no way breaks the bank!
Three chords, the truth, and an Epiphone electro-acoustic are all you need for your next performance! Let's take a look.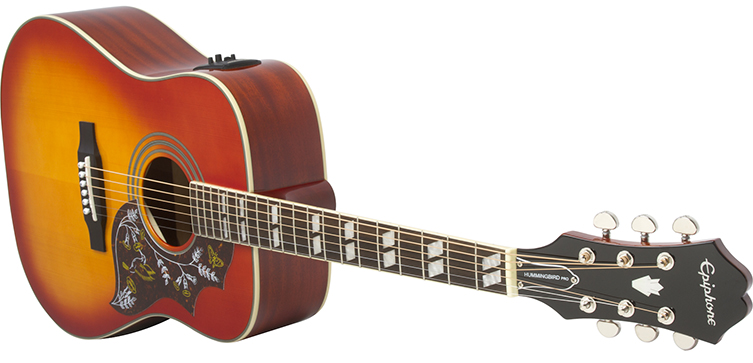 AJ-220SCE
Our first choice is an original Epiphone model, though the influence of Gibson's 'slope-shouldered' models like the J-45 is obvious to see.
The Epiphone AJ-220SCE has, like a great many electro-acoustics, a body shape that includes a cutaway in one of its shoulders. This allows easier upper fret access, and doesn't interfere the sound of the guitar much at all. We've always found it curious that guitar makers step into this unspoken trend of making the 'plugged-in' models come with a cutaway - there's no particular reason why a live guitarist needs it more than, say, a home-based player – but this is the way of things regardless.

The body, like all of our choices today, features a top made of solid wood and the rest from laminates. This is normal at many price ranges and, to be honest, the inclusion of a solid top here is pretty excellent! This, more than any other material part of a guitar, influences and shapes the sound quality, so having a solid piece of timber to vibrate and focus the sound is always going to mean an improved tone over something built entirely with ply or laminated layers. Solid tops 'season' and sweeten tonally after a period of playing in, meaning that the sound of your new Epiphone acoustic will only improve as the years pass!
The Epiphone AJ-220SCE has binding on the body and fingerboard, lending it some extra visual impact. Various classic finishes are available, including a fetching Vintage Sunburst, which is very 'Gibson'!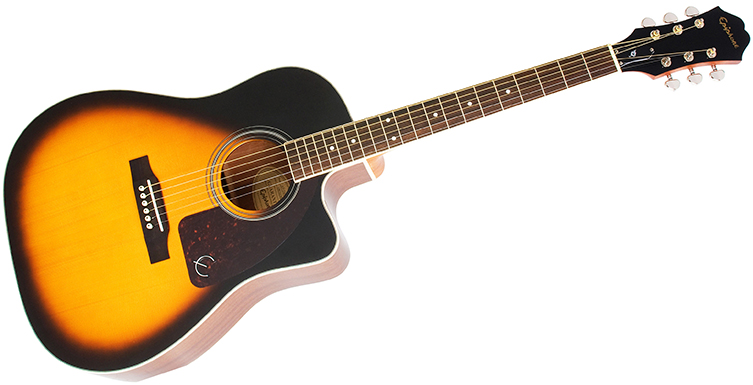 More great news is that the pickup system is made by industry leaders Fishman. This is a real mark of quality, and speaks volumes to the commitment of Epiphone in producing an instrument of quality, regardless of price point. The Fishman Sonicore pickup and Presys II Preamp system are discreet and effective, letting you get on with your performance! A built-in tuner is an excellent value addition, right where you need it!
Hummingbird PRO
Wow, talk about good looking! The Hummingbird has always been one of the most eye-catching of Gibson's acoustic guitar designs, and this Epiphone version is very faithful indeed.
Again, we have a construction of layered back and sides with a top of solid Spruce. This time, the body shape is the expected square shouldered dreadnought style. All of the famous Hummingbird 'trimmings' are here and proudly on display, from the titular creature on the pickguard to the split-parallelogram fretboard inlays.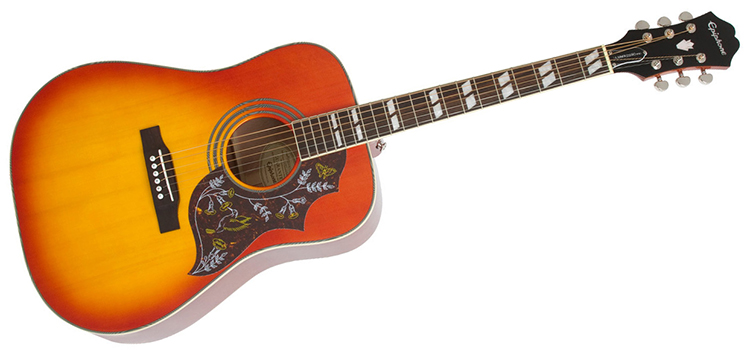 The Epiphone Hummingbird Pro also features the Fishman Sonicore pickup system, and has a D profile neck for a nod towards a more vintage style. This guitar is one of those wonderful all-rounders that suits most styles, from strummed chords to more detailed, specific picking. In short, it's a performing guitarist's dream.
Dove PRO
This gorgeous looker is, in reality, very similar to the Hummingbird. We suggest choosing the one that speaks to you more: both have the same solid Spruce tops and Fishman electronics, and both have Grover tuners and wonderful decorative styling. Which is our favourite? We can't really decide, but we do really like the 'winged' bridge on the Dove here...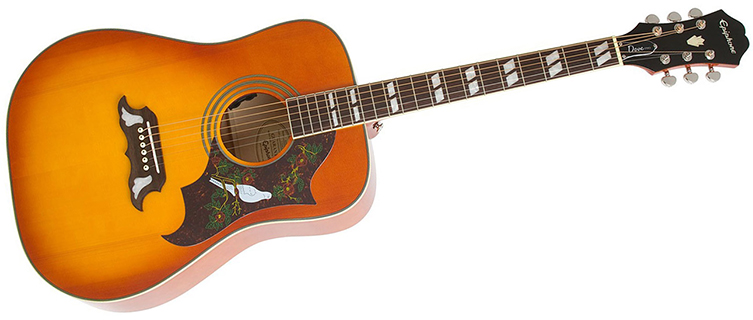 New Century Zenith Round Hole
This handsome model is something of a departure from the rest. Epiphone have based this on their models from the golden age of Jazz, back in the 1920s. It's a distinctly different vibe from the other models here, and is well worth investigating! This is a nod to Epiphone's pre-Gibson history, and as such is not derived from a Gibson design.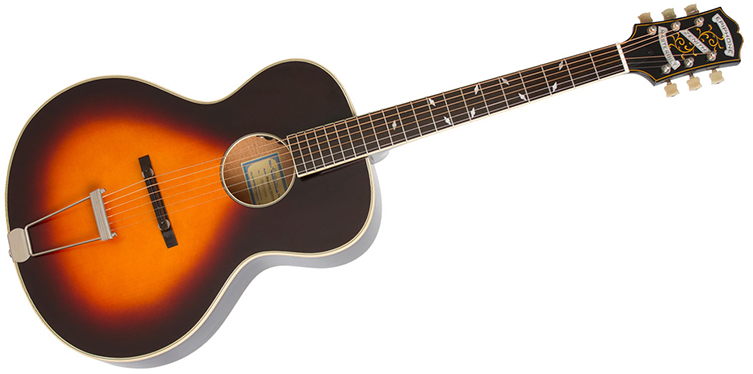 There is so much to like here, from the trapeze tailpiece to the heritage-style headstock. The Vintage Sunburst finish is altogether darker here, with an 'Aged Gloss' lacquer supplying extra authenticity. The guitar itself is made with a solid Spruce top and, interestingly, layered Flame Maple for the body!
A genuine Ebony fingerboard with unique 'falling snowflake' inlays give the Epiphone Zenith some real class, and a discreet Shadow Nanoflex pickup system lets you take this directly on stage!
EJ-200SCE
Our final choice today is perhaps the most famous Epiphone acoustic of them all. Maybe you saw Elvis playing the Gibson version, or perhaps you clocked the Epiphone model on the cover of Definitely Maybe, but wherever you first noticed this guitar, you're sure not to have forgotten it!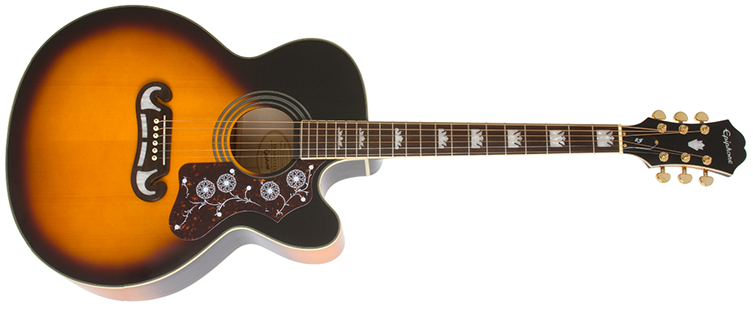 Its oversized Jumbo body makes it loud and sonorous, perfect for backing up singers and creating loud, percussive rhythms. Epiphone's current model, the EJ-200SCE, follows suit with an authentic body shape, all the correct details (moustache bridge, large decorative pickguard, detailed inlay work) and continues the construction theme we've been seeing in this range by using a solid Spruce top with laminated back and sides.
The Fishman pickup is here, too, making this a fantastic, charismatic and wonderfully affordable choice for the singer/songwriter who wants to make a real statement on stage.
Final Thoughts
Epiphone has always been the choice for musicians who want discernible quality and classic styles, at a price that's easier to meet. Now, more so than perhaps ever before, these iconic designs are being made to a very competitive quality, making them an easy and satisfying choice for performing acoustic guitarists and songwriters.