Events: Taylor Guitars Facebook Takeover
Published on 17 July 2020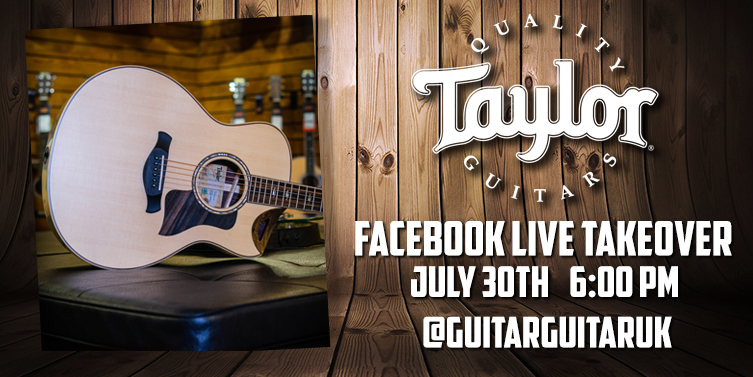 There isn't much out there that sounds sweeter than a Taylor. Whether you're playing a top end model or one of their more affordable acoustics, the second that guitar is in your hand you can feel and more importantly hear the quality in every note. With dedicated sections in all of our stores, we make no secret of how highly we rank the brand's guitars. With tremendous build quality, gorgeous aesthetics and that timeless tone, there's just nothing quite like them. That's why we thought we'd team up with the guys at Taylor to give you a real look at what they can do... Read on for all the details!

On the 30th of July at 6:00 PM, we're very pleased to share that the Taylor experts are taking over our Facebook page for an exclusive live stream! If you love their guitars as much as we do, this is not to be missed. We'll be joined by Rob Magargal, one of the brand's head honchos for repairs and all around Taylor aficionado. Rob's going to be chatting about what makes the brand so special by taking a look at some new models along with plenty of old favourites and demonstrating what makes them so unique and unmistakably Taylor. We've been missing our events in store so we're buzzing to welcome the guys back and can't wait to geek out over one of our very favourite acoustic brands. They'll be taking the time to answer any questions that pop up too so grab a cup of tea and tune in, you won't get a better chance than this to see what Taylor have got to offer, all from the comfort of your sofa!
Click HERE to visit our Facebook page now.