Events: BOSS Looper Tips & Tricks with Billy Watman
Published on 21 July 2020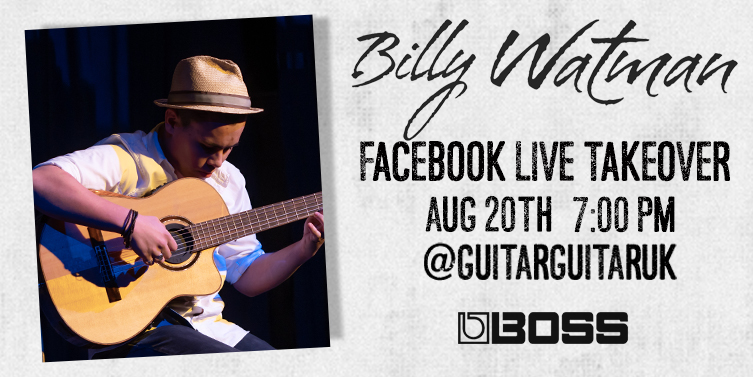 Everyone loves a looper, right? Perfect for home practice, or turning one player into a full band, these pedals are seriously useful and none more so than the legendary BOSS RC-30. We've seen artists do some pretty incredible things with looper pedals but somehow, guitarists are still finding ways to push the boundaries even further. One of our very favourites is classical-inspired fingerstyle player Billy Watman, an absolutely captivating young musician who first came to our attention after he reached the final of Sky's 'Guitar Star' talent show. Drawing inspiration from the likes of Rodrigo y Gabriela and Tommy Emmanuel, Billy has created a sound of his own and it's a pleasure to watch him grow and develop as a player. His covers are unbelievably well put together too and by utilising his looper to build up textures and tones that are almost impossible to keep track of he's earned himself an army of fans online. We figured since he's breaking the internet left, right and centre, he may as well have a go on our Facebook page so we've invited him along! Read on for all of the details...

On the 20th of August at 7:00 PM, we're over the moon to share that Billy Watman will be taking over our Facebook live stream to do some playing, answer some questions and get stuck into the BOSS RC-30 looper! We're seriously excited to see what he's got up his sleeve for this and we already know he's not going to disappoint. Billy plans to show off what the RC-30 can do, running through some features, tip and tricks as well as showcasing his incredible style. If you've been thinking about picking up a looper, have one at home or simply love checking out talented musicians, then this is definitely not one to be missed. Tune in and prepare to be blown away!
Click HERE to visit our Facebook page now.

Want a taste of what's in store for you? Check out Billy's incredible cover of Ozzy's Mr Crowley below: