5 of Our Favourite - EHX Pedals
Published on 03 August 2020
Pedals are a funny business. Whether you like yours totally wacky or are more traditional with your tones, they can totally make up your sound as a guitarist and are seriously powerful tools to have at the tip of your... well, toes! Everyone has their favourite brands but one pedal maker that simply can't be overlooked is the mighty Electro Harmonix. These guys cook up some of the maddest on the market and always at the right prices too. So we figured we'd take a look at a few of our favourites from them right now. Check 'em out below:
We're gonna start with a newbie here folks! The Cntl Knob has just arrived at guitargtuitar and already we're impressed with this pint-sized little pedal. Basically, the idea behind it is rather than having a traditional expression pedal on your board, you can instead use one of these. It has two knobs which allow you to dial in and switch between your favourite sounds on any pedal with an expression input. We reckon this is an absolute godsend because while expression pedals are extremely useful, sometimes you just want a little more flexibility to immediately tap into your favourite tones and this kind of cuts out any messing around. It pairs up really well with loads of EHX's pedals that we're going to go into later so if you've any on your board already, this is well worth a look. We see this as perfect for gigging players who know the sounds they want to achieve - the Cntl Knob just makes it so easy to get to them!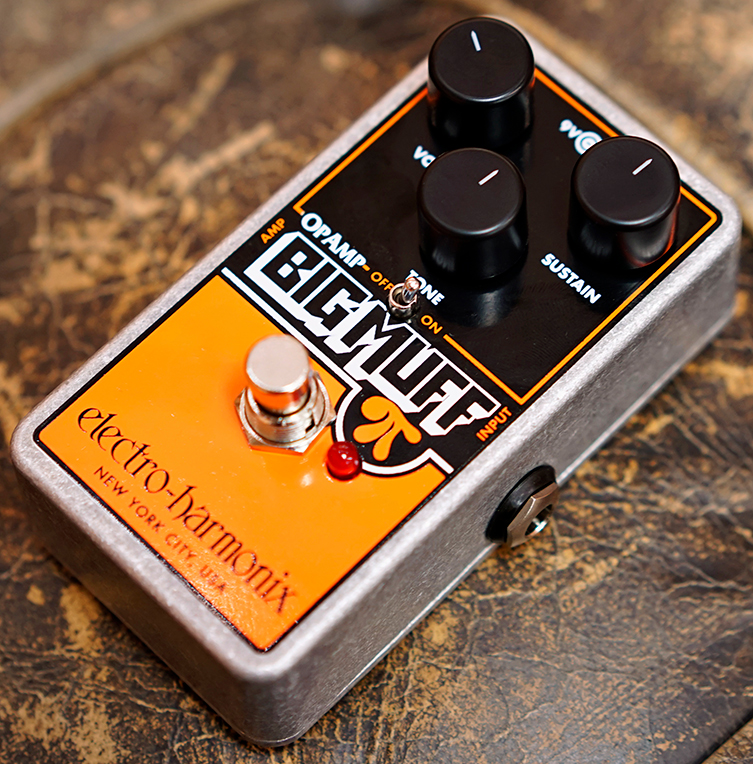 The next pedal up on our list is a modern take on what has become the stuff of legends, the Op Amp Big Muff Pi. If you've ever switched on the Smashing Pumpkins seminal album Siamese Dream, the first thing you'll notice (literally within about the first minute...) is that incredible guitar sound. The record itself has been praised ever since for its flawless production but the main focus is this fuzzy, thick, warm, wall of noise. Well, ladies and gents, that is indeed a Big Muff but it's not just any Big Muff. In fact, back then, Billy Corgan and his cronies were using what was known as the V4 Big Muff, or the Op-Amp Big Muff. This had a distinctly more squashed sound and was way less spiky, resulting in that almost droney, fat feel that became synonymous with the album. After it's success, the pedals took on legendary status with prices of models going through the roof, even once causing Billy's jaw to drop when he later tried to buy a replacement on tour!
Well, now EHX have worked with Billy to recreate that iconic tone and essentially put it in a box for you. The results? Loads of fun. Plugging into this as a Pumpkins fan is quite possibly the most satisfying thing you'll ever do but that's not all, it's great for a whole wealth of fuzz sounds and totally fills the space between your band's drums and bass. This is a really cool one, trust us... Possible side effects may include neverending Cherub Rock riffs...
Next up let's get a look at a seriously versatile little delay and reverb unit that also looks a little like a lego brick. What's not to love? The Canyon is a killer pedal with a ton of delay settings and to be honest, for the money there really isn't much that competes with what it can do. This one pedal contains no less than 10 different settings, along with 62 seconds of loop time! It's not just bog-standard delays you've heard in your first multi-fx either; we're talking trippy reverse delays, octave delays, shimmers and even a Deluxe Memory Man based on their iconic stompbox. If you're not tempted already, it's insanely compact for what it can do and will fit into just about any board. An expression input means you can hook up pedals such as the Cntl Knob or a standard expression pedal and really maximise what the Canyon has got to offer. We fell in love with this straight away for how lush the effects sound but the more you use it, the more you start to find your own favourites. A true pandoras box of a pedal for a very reasonable price - don't let this one go by you!
The guys at EHX must've felt bad that they only included one reverb setting within everything the Canyon can do... So they pretty much made the same pedal but focused on reverbs! Yep, that's right, on the Oceans 11 you're getting 11 different reverb types, ranging from traditional to more out there. Again, it's kind of baffling they managed to squeeze so much in here but it's even more amazing that they all sound so thick, creamy and unprocessed. It's a swiss army knife of 'verb! From the standard Plate sound, through to the dreamy Poly and the Gate verb which cuts off tails as soon as you stop playing, this is a total goldmine that you'll have a blast experimenting with. A personal favourite of ours is the Trem setting which dishes out that fat, country rock trem sound in spades. This is a whole lot of pedal in a small shell, come try one out and get lost in it.
This transparent overdrive is something of a holy grail for a lot of guitarists and answered our prayers when it first came out. Based off a truly legendary amp, this brings the full-on Texas blues sound in abundance and in short, just brings your tone to life. Soul Food is the best name possible cause this pedal has all kinds of soul to it, giving your guitar that little bite and edge that just sets it off. Incredibly expressive and adding a lovely bite to your playing, this is a proper cool 'always on' pedal that impressed us as soon as we plugged into it. If you've been dying to add that responsive feel to your playing and fancy a little grit to go with it, you really can't go wrong here. Especially considering the price of its... ehm... inspiration!
Final Thoughts
You really can't fault EHX for their creativity, build quality or the feel of their effects. Honestly, there isn't anyone else quite as weird and wonderful and that's an amazing thing, especially when it doesn't break the bank! If you've yet to dip a toe into these amazing waters then don't hang about, whether it's something brand new or an old favourite, we can guarantee there's an EHX pedal out there that you'll fall in love with. Head to your local store and take 'em for a spin today!