Offers: Free Ableton Live Lessons When You Upgrade
Published on 15 September 2020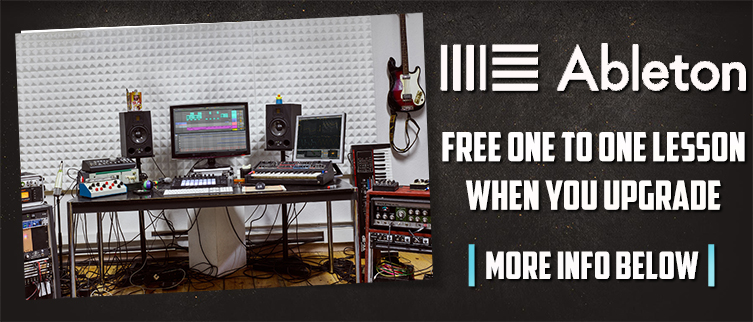 Love working on music at home? Course you do! We're guitarists, it's in our blood! Of course, we all love having a jam but recently, we've noticed loads of you getting interested in home recording. We can't stress enough how awesome it is to have a decent setup that you can record with at home. Whether you're in a band, are a songwriter or you just like to experiment and have fun, learning the basics of recording is one of the most valuable things you'll ever do. That doesn't mean it's always straightforward though and plenty of us have spent countless hours cursing our computers as we try to record a simple guitar track.
Thankfully, programs such as Ableton Lite are included with many of our interfaces/recording gear and help to simplify the process with intuitive features and a great user-friendly workflow. Now, as great as the Lite version is, it's really just a taster for what the more advanced Ableton Live and Suite programs are capable of. These take performance and production to the next level and we'd encourage all of you guys to check them out. In fact, if you do, we can even hook you up with a crash course!
The Details
From 14/09/20 - 12/10/20 if you upgrade from Ableton Lite to Ableton Live or Suite, you'll be able to claim a free one on one lesson from Ableton expert Simon Lyon! Simon knows Ableton inside out, having spent years recording as a certified trainer for the brand. On top of that, he's a fantastic guitarist so he's got loads of tips to share with you! We rate Ableton as one of the most advanced and powerful DAWs available and this is a great chance to get past the difficulty of learning the basics with a teacher on hand to guide you through.
Learning to record is so worthwhile for any kind of musician so don't let this opportunity pass you by, if you already have Lite at home then all you need to do to get involved is purchase your upgrade and drop us an email on abletonlessons@guitarguitar.com. If not, Lite is included with loads of our products that you can check out below. Get stuck in and let us know how your one to one goes, you'll be recording the next Bohemian Rhapsody in no time!
Click here to email us and sign up for your free lesson