Events: POSTPONED Nick Reinhart Facebook Takeover
Published on 01 October 2020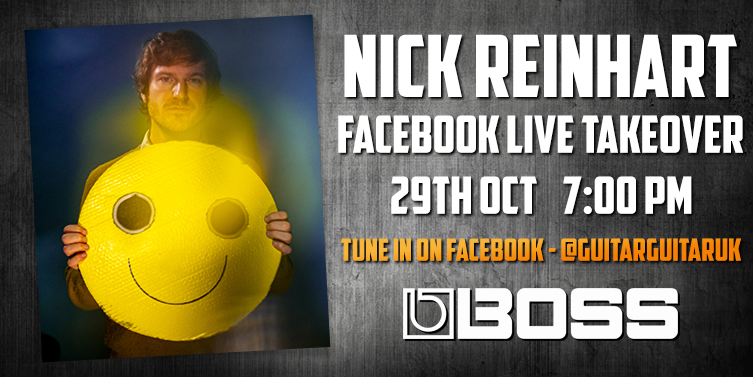 Unfortunately, we've had to postpone this event due to technical difficulties. Keep an eye on the page for a rearranged date!
Since long before the glory days of noise rock, guitarists have been experimenting with feedback and sound manipulation. While to the untrained ear, this may be an absolute abomination, we at guitarguitar have all sorts of love for players who embrace the odd and aren't afraid to experiment. One of the most prolific noisemakers of recent years is Tera Melos guitarist and certified pedal-head Nick Reinhart.
Known for his jaw-dropping 'what on earth was that!?' moments, Nick is an incredible player who puts his own unique stamp on everything he touches. He's recently been heading up the popular Pedals and Effects videos with the legendary Juan Alderete and loves nothing more to embrace the unconventional so we've been dying to get the chance to meet him and pick his brain. We're very pleased to share that he's be joining us for a clinic and will be digging into some of the craziest sounds you've probably heard from a guitar - read on for more details...
The Details
On the 29th of October at 7:00 PM, Nick Reinhart is taking over our Facebook live stream and we couldn't be more excited. Nick will be demonstrating his playing, along with loads of sound design and manipulation techniques, so if you're an oddball like us and like the wackier side of the guitar, you already know how massive this is. Focusing on BOSS' new SY-1000 Synth Pedal, Nick will be digging into his eclectic set up and sharing some of the finer details of how he uses his gear onstage and in the studio, while providing an insight into his writing process. There'll be absolutely loads of tips and tricks that you can apply to your own playing and you won't find anyone with a more in-depth knowledge of the SY-1000 and indeed his full setup. Make sure you don't miss this folks, this is a seriously special event and we expect it to get loud!
Click HERE to visit our Facebook page now.
More Info
Can't wait for the event? Have a look below for a taste of what you're in for...