Events: Martin Guitar Facebook Takeover - A Journey into Martin History
Published on 16 November 2020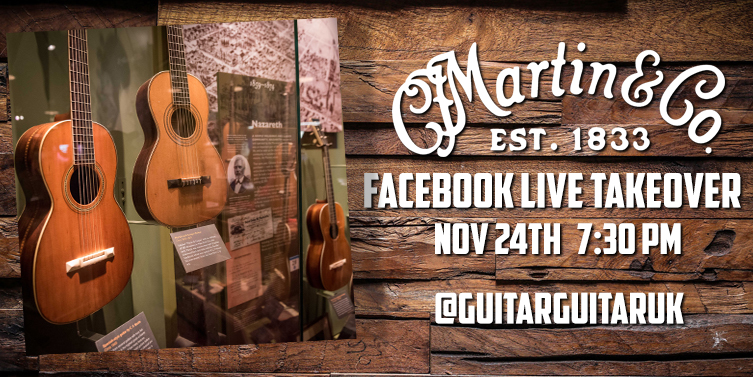 Martin are one of those brands that we just never tire of learning about. Their contribution to the development of the modern acoustic is unmatched by any other manufacturer and the rich history that goes along with it is nothing short of fascinating. In fact, we have dedicated Martin areas in several of our stores where you can experiment with their stunning guitars and even learn about where they came from. If you love acoustic guitar as much as us, you won't want to leave! A while back, a few of us were lucky enough to get over to the Martin Factory and Museum in Nazareth, PA and we were blown away by what the guys were showing us. Not only did they have some of the earliest acoustics on display but they also had loads of the most iconic guitars in history from players such as Elvis Presley, Kurt Cobain and everyone in between. Straight away we started thinking about how we could bring this amazing experience to you at home and we reckon we've come up with something pretty cool - read on for all the details!
The Details
On the 24th of November at 7:30 PM we are over the moon to bring you an exclusive interview live with the experts from the Martin Museum! They'll be streaming live from the brand's fascinating museum and we cannot wait to see what they've got to show us. Discussing Martin's building techniques over the years and showing how they revolutionised the guitar as we know it, this promises to be an amazing insight into their instruments. On top of that, the guys will be showing us some of the most impressive showpieces from their astounding collection of artist models and even letting us hear how they sound today. That means strumming out some Nirvana on the guitar Kurt used in Unplugged, getting their Carter scratch going on Johnny Cash's Martin and plenty more. We're so excited for the stream and truly cannot wait to go on a journey into music history.
Tune in and come explore with us, this is going to be a special one.
Click HERE to visit our Facebook page now.