6 Months of FREE Music with Casio
Published on 09 February 2021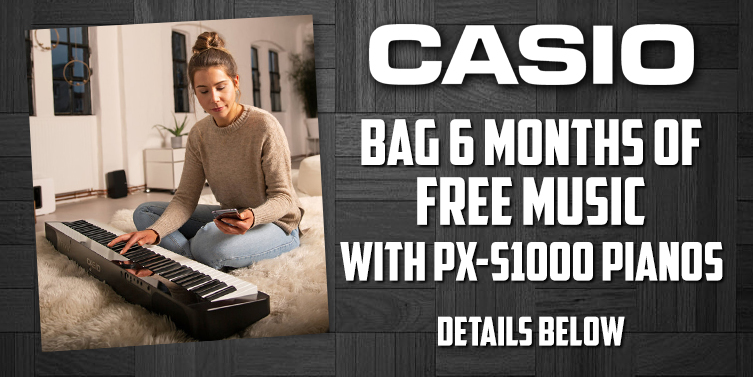 When you're learning an instrument, particularly the piano, it makes sense to spend plenty of time on theory and getting your scales, chords and movements up to scratch. Although it can sometimes seem a little repetitive, this trains your mind and body to work in sync and it's an essential step. However, another step that's often overlooked is playing along with music. What good is it knowing all your theory if you freeze up when other instruments come in?
We always recommend playing along with your favourite songs when you're practising and can't stress enough how important it is. On top of how much it helps you to improve, it's also one of the most fun and engaging ways to practice. There's nothing more satisfying than nailing a song you love and it's why most of us started playing in the first place.
What's on offer?
Casio have just launched a promo to help pianists out with this element of their playing and we reckon it'll be really useful to a lot of you. For a limited time (register before March 31st), if you buy one of their awesome PX-S1000 digital pianos, you'll be eligible to claim a free 6-month subscription to Deezer. Not only is Deezer a fab service which will give you access to a ton of music but you'll be able to hook your device up to the Bluetooth on the piano and play along with all of your favourite tracks. This is a unique, modern and exciting way to learn and we're sure it'll help you out so don't hang about. Simply head to the Casio site after you've bought your new set of keys and fill in your details to confirm your subscription.
The PX-S1000 offers a ton of exciting features that have really impressed us since it was launched. Whether you're just beginning to play, or are more experienced and simply want a streamlined set of keys for the house, they're well worth checking out. Who knows, rock stardom may await!