Andrew Cushin - Facebook Live Takeover
Published on 25 January 2021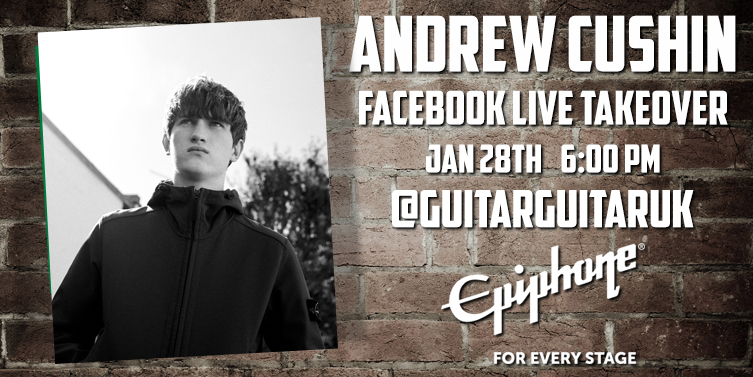 We love nothing more than watching young artists grow, especially musicians from the UK that we can really get behind and support. There's nothing better than finding new talent at the beginning of their career and being a part of their story, so we always make an effort to shout out and share musicians we're really excited about.
One up and coming artist who's caught our attention recently is the Newcastle born Andrew Cushin, a songwriter who's made more of an impact with his first few singles than many do in a full career. His guitar-led indie anthems have a distinct nineties feel but still sound really fresh and contemporary thanks to crisp production, clever lyrics and hypnotising chord sequences. With a huge home town presence, Andrew represents a side of British music we don't hear nearly enough of anymore. The last couple of years have seen him selling out venues in Newcastle and supporting bands such as Two Door Cinema Club, along with having none other than Noel Gallagher work on his single Waiting for the Rain. To put it simply, he's rising through the ranks quickly and we've been keen to grab him for a chat. So, we're very pleased to share that he's taking over our Live Stream!
How to Watch
On the 28th of January at 6:00 PM, Andrew Cushin is joining us on our Facebook page for an exclusive interview about what he's been working on, his songwriting process and his guitars. We're buzzing to get the chance to meet Andrew and hear his story first hand as we think this interview will be particularly useful for aspiring songwriters looking to take their next step. At this stage in his career, we really feel like his music is about to explode and we cannot wait to pick his brain about how it all came together, along with what inspired him to pick up a guitar in the first place. Don't miss this one - we're hyped to have the chance to speak to Andrew and we reckon you're going to love his tunes!