Lari Basilio Facebook Live Takeover
Published on 16 March 2021

We're sure you're all familiar with the amazingly talented Lari Basilio by now… No!? Well, do yourself a favour and get acquainted. Lari first came to our attention as a rising star online, cutting through the crowd with her beautifully tasteful and soulful playing. However, in recent years we've seen her grow and develop, writing stunning music that shows off her incredible guitar work without it ever seeming overstated. To put it very simply, Lari is the real deal.
As a proud Ibanez and Laney player, Lari's gear is almost as fascinating as her music. Her tone is never less than sublime, whether playing live or on record. We've been missing our in-store events lately and since Lari was always such a great host, we thought we'd get her involved in our online takeovers!
How to Watch the Stream and Enter the Competition
On Thursday the 25th of March at 8:00 PM, Lari is taking over our Facebook and YouTube live streams for an exclusive interview. Joined by Ibanez artist and product expert Lee Wrathe, she'll be discussing her Laney setup, signature Ibanez and of course sharing a few tips and secrets. On top of that, Lee's going to be demoing the Cub Supertop from 7:00 PM and we even have James Laney joining us for a Q&A at half past!
On top of that, we have an epic lineup of prizes to give away on the night with 3 chances to win! There's an incredible sounding Laney Cub-Supertop 15W Head up for grabs alongside a Secret Path Reverb pedal and a Spiral Array Chorus. Click the button below to sign up now and don't forget to tune in to the stream to find out if you're a winner!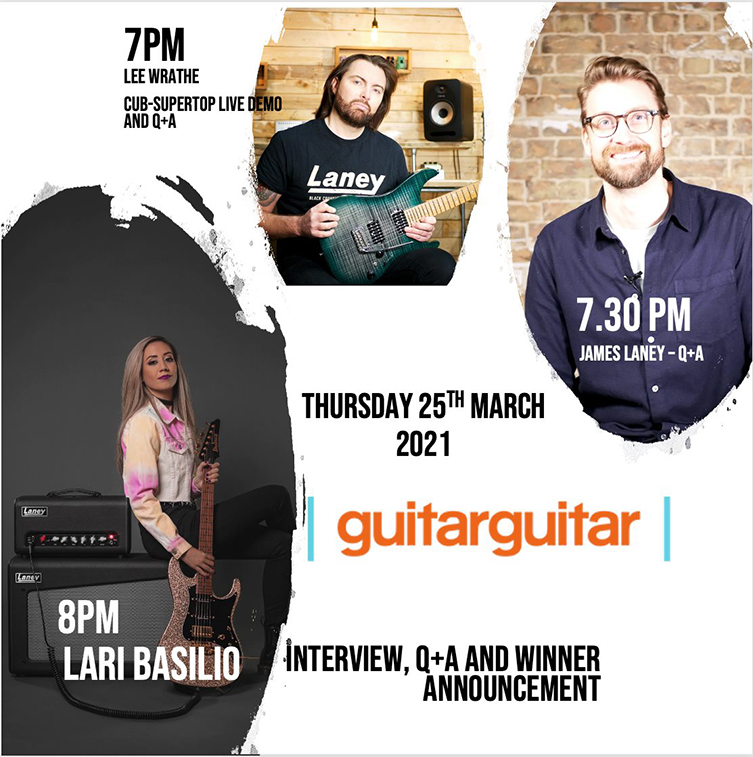 Terms & Conditions
Only those who sign up between 16/03/21 and 25/03/21 will be entered into the draw. Winners will be selected at random and will be announced on the livestream. They will also be informed via email.
Competitions are open to all except employees of GUITARGUITAR Ltd, the companies or organisations with whom the competition is being run, their agents or anyone directly connected with the competition. Competition only open to entrants in the UK. Prizes are as stated only and no cash alternatives will be given; our standard liability Terms & Conditions will apply too.