Universal Audio: Fantastic FREE software offer on Apollo Desktops!
Published on 02 April 2021
Are you in the market for a new interface?
If so, you've probably checked out Universal Audio, right?
They are easily the highest spec, best quality interfaces that can be bought for a home studio. They are the choice of professionals, from the company who are responsible for the mixing desks in some of the world's best studios. Universal Audio interfaces like the Apollo Solo and Twin are available as high-speed Thunderbolt or USB interfaces with the best Digital to Analog conversion (and vice versa) on the market. The onboard mic preamps are top quality, with Unison modelling to accurately simulate renowned preamps from Neve, Helios and more.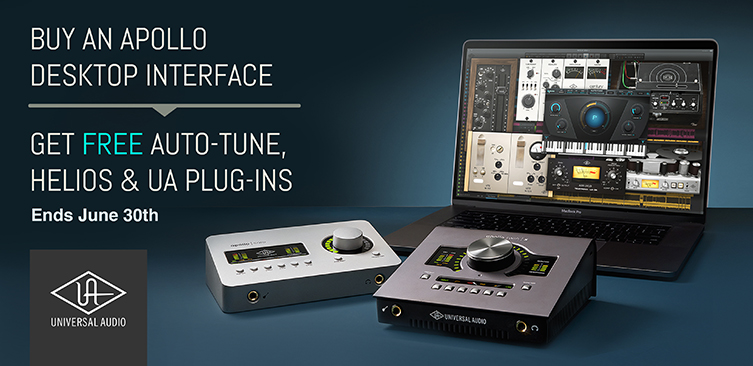 On top of that, their plugin software is rightly regarded as the best there is. From compressors to EQs that accurately simulate those famous desks, Universal Audio lead the way for studio-quality recording.
If you want your recordings to compete with the best of what's out there, choosing a UA interface is already a no-brainer, but it is now an even better proposition!
Top Quality Software FREE For a Limited Time
Yes, from April 1st until 30th June, customers choosing a new UA desktop interface (so none of the rack mounted units apply) from the current Apollo range will qualify for free software! Far from being a cynical 'so what' package flung in to boost sales, UA are actually giving away some great quality stuff with practical, real-world benefits for producers and engineers. We're talking full versions of Antares Auto Tune, for one thing! There's much more than that in the offer, too. The amount of software you get does depend on the interface you opt for, so check out this little graphic for specifics: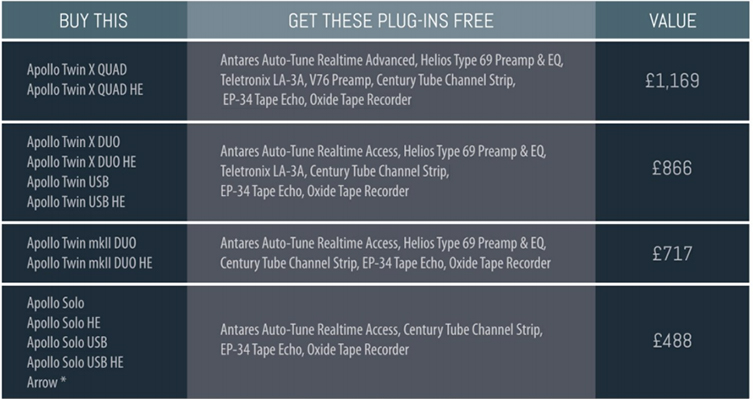 We think this is a fantastic deal, since most producers would be wanting these pieces of software anyway! After 30th September, the offer will end and you'll have to pay for this kind of stuff again, so now is definitely the time to upgrade to a Universal Audio Apollo interface. This is hundreds of pounds' worth of game-changing software, included free! Your music is worth it!
Check out our UA interfaces here on the site, and get the lowdown on all of the T&C's for the promo at the Universal Audio website. It's time to make those recordings sparkle!
Click to View our Universal Audio Desktop Interfaces