Universal Audio - FREE plugins deal!
Published on 01 July 2021
Producers and recording enthusiasts!
You will definitely want to know about this limited-time deal from Universal Audio.
As you already know, UA make the best sounding, most functional and best quality studio equipment for musicians and producers. They are continually honing and improving their gear so that we can reap the results and make truly professional quality recordings. This commitment to greatness across the board is why they have been the number one choice for serious musicians and producers for decades.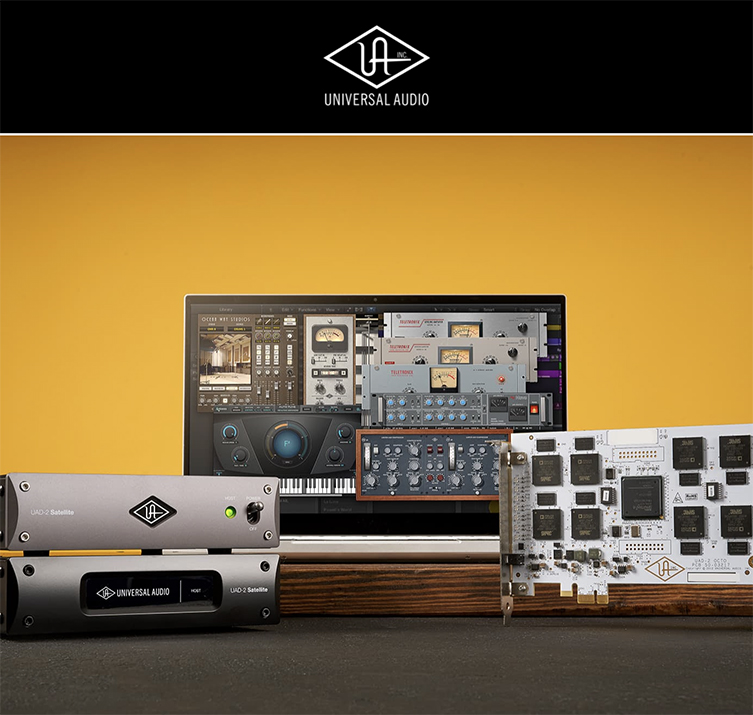 Plugin Power
Central to their way of doing things is the UAD plugins. Universal Audio have meticulously recreated the magic of Neve channels strips, Lexicon effects and more within the digital realm, offering you some of the most hallowed studio outboard gear ever, in the form of extremely powerful plugins. Because these plugins are just so sophisticated, they can eat up your computer's processing power quite significantly. To save your CPU from 'having a moment', UA have cleverly put the plugins into hardware solutions such as the UAD Satellite range. The Satellite handles its own processing separately from your computer (though connected, of course), allowing your recordings to take full advantage of the plugins without having huge loads of processing to contend with.
These plugins are made in collaboration with people like Neve, Antares (Autotune), Teletronix and many more, and the sound is second to none. They work with all major DAWs, too, so it doesn't matter whether you use Pro Tools, Cubase Ableton Live or anything else: integration is what it's all about! The UAD Satellites are portable and 'plug and play', so you do not need to sweat every time you want to use them! Simple and highly effective, that's the vibe here.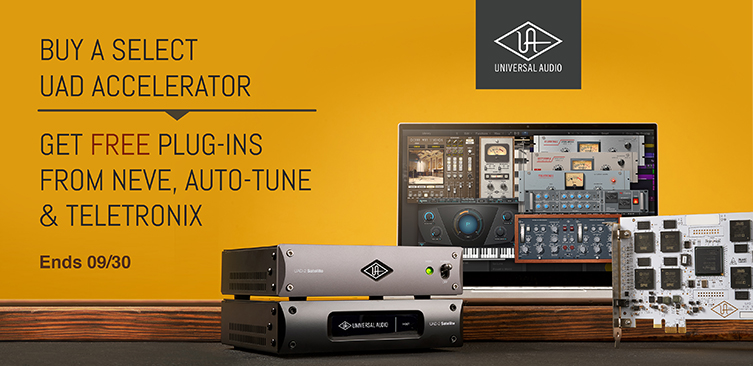 The Deal!
Anyway, the purpose of this blog is to tell you about a deal that's running from now (July 1st) until September 30th. Buy any qualifying UAD-2 Satellite or DCle card, and get up to £1095 worth of quality plugins FREE! The amount of premium software you are entitles to depends on your purchase, so check out the table below for a full rundown.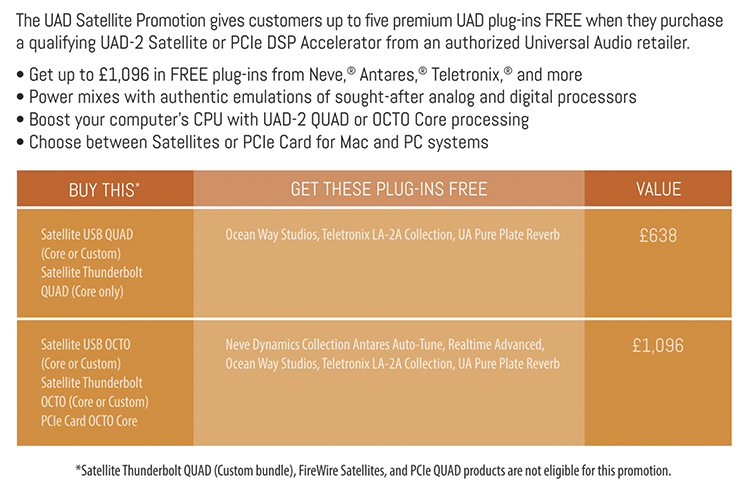 Universal Audio will actually notify you about this use you register your new product, so it couldn't be easier! Some products are not eligible for this deal, and they include: Satellite Thunderbolt Quad (custom bundle), Firewire Satellites and PCle Quad products. Check out the page at UA's website for more details and full T&C's.
Take advantage of this great offer while you can! This is all essential production stuff that you'd buy anyway, so it makes good sense to make a great saving! Remember, this offer lasts only until the end of September, so get it while you can!
Click to View our Universal Audio Satellites