BRAND NEW: Fender Tone Master Amplifiers
Published on 06 September 2021
Are these new Fender Tone Masters the ultimate gigging amps?
They may well be! If your idea of a good time with amplifiers is authentic sounding Fender tone, classic looks with almost half of the weight taken away, then we think you'll be paying very close attention to this new line-up!
There are five models, three in 'Blackface' style and two in Blonde with Oxblood speaker grilles. There are three models in the range and they share the same tube-free technology.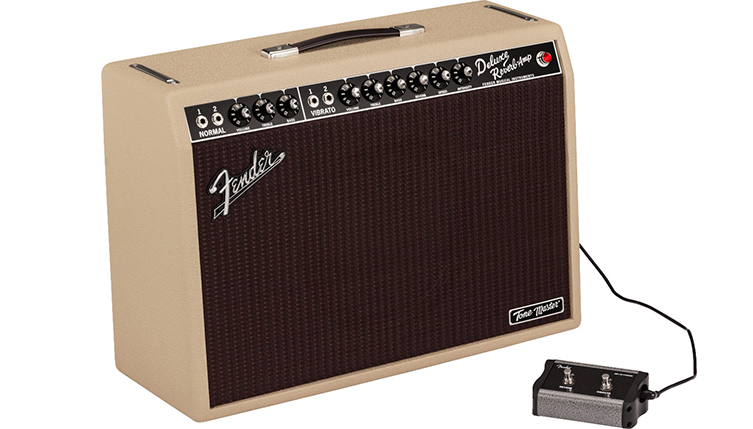 Solid State?
Yes, this range is tube-free! The whole concept of the Tone Master range is to offer not just the sound but the feel and response of classic Fender tube amps in a package that is digital. Why? Why spend all 3 years conducting research and development to make a range of solid state amps that sound just like amps you already make?
It's a good question, and there are a few equally good answers. Firstly, solid state technology is nothing like it was in the past. Fender's R&D department are talking about 'Quad-Core Processing' and utilising 'Convolution Reverb' algorithms in order to push virtual amp technology as far as it can possibly go. Fender are putting a tons of powerful tech into these amps so that the end result is indistinguishable from an old valve classic. The Tone Master amps are designed to behave like 'proper' tube amps, so power settings and headroom are all factors in the tone creation. You aren't simply dialling up a preset (there are no presets, it's not that sort of amp range), you are interacting with a real, organic sound that behaves exactly as a Fender tube amp should: it's just that there aren't tubes in there.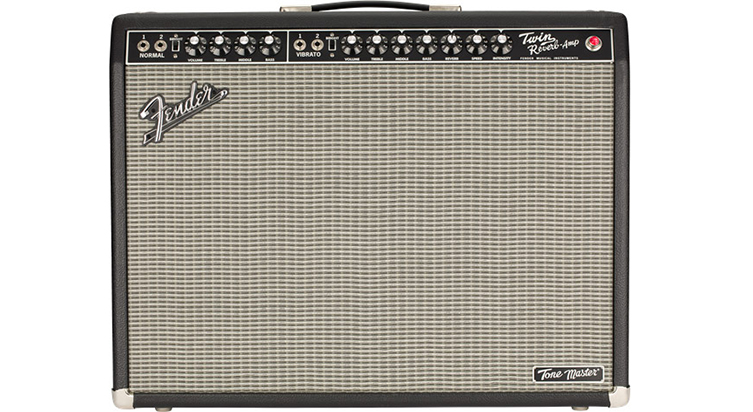 You want a great sounding Fender Twin? Fender make a range of reissues that will deliver exactly what you want. You want a Twin that's less than half of the weight and still sounds exactly like a Twin, including all the dynamic and tonal changes that come with different volumes? Could you also do with it being a chunk less expensive than a valve Twin? It sounds to us that the Tone Master Twin is for you!
The whole idea is to make easily giggable, recordable Fender amps with no compromises. Wanna check out the amps? Let's do it!
Tone Master Deluxe
The Fender Tone Master Deluxe is available in Black or Blonde. Despite the visual difference, it's worth noting that the Blonde amps in this range use Celestion NEO Creamback speakers, whilst the blackface amps use Jensen N-12K neodymium speakers. This does change the tone somewhat, so those who want more mids and a slightly faster breakup should consider the Blonde variants. Aside from those points, the amps are almost identical.
So, the Deluxe, like it's inspiration, is a 22-watt combo. This version makes use of a 100w digital power amp in order to properly replicate that all-important headroom, something that solid-state amps in the past have failed at. The Deluxe's famous reverb and tremolo effects are present and correct, as is the entire front panel. All of the controls are the same, and have been designed to react in the same manner as the valve models do.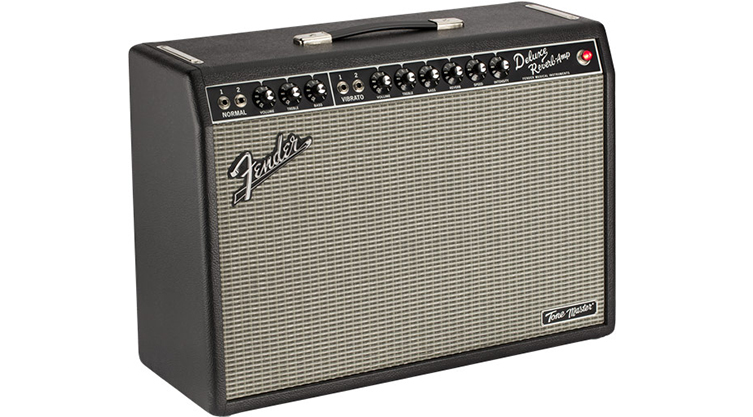 Speaking of the tremolo actually, here's a fun detail: Fender have performed a popular mod – virtually – that many Deluxe fans like to have done to their amps: the brightness capacitor on the Vibrato channel has been removed in order to sound better with overdrive and distortion pedals! We love this: it shows that Fender are thinking about the playing experience more than anything.
On the back, you'll find some discreetly placed stuff that is super-useful and made possible only because of the digital nature of the amp. Firstly, there's a 5-position attenuator for using the amp at lower settings. Increments between the full-fat 22 watts a mere 0.2w mean you really can play this amp in any space, in any context.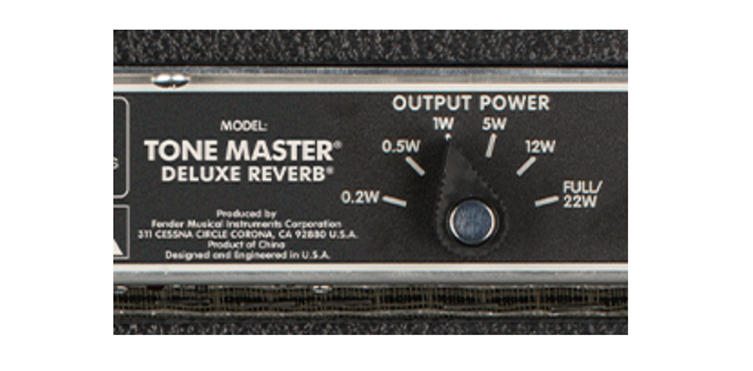 There is also an XLR output with a choice of Impulse Responses. This is for DI'ing the amp straight to the mixer or desk at a gig. The IR's are taken from properly mic'd up models, so you can have 'real' tone coming from a DI, if that's how you like to use your set up. This feature allows you to play in any size of venue, blast the front-of-house with the DI signal and use either monitors or the amp itself for your own onstage monitoring. Nice! A USB output is located back here too, for updating the firmware and all of those usual functions.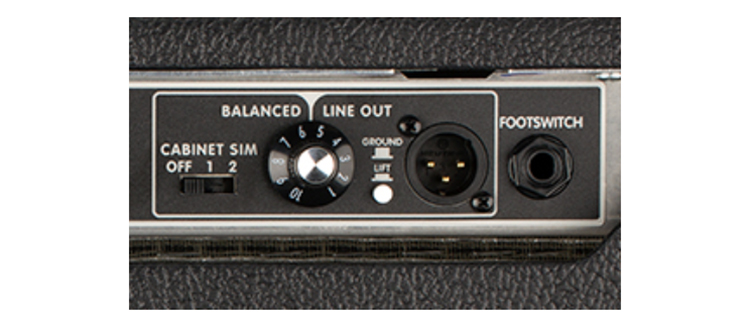 Sonically, it's pretty obvious that Fender have managed to really bottle that signature Deluxe tone and translate that into those high-spec quad core circuits. What's remarkable is that, when plugging in, there is no immediate impression other than 'this is a great sounding Deluxe', which you'd arguably be expecting. It's a few seconds later that your brain has to do a double take and remind you that this is, in fact, a fully digital, solid-state amplifier. Your ears and your fingers certainly don't pick up on anything other than classic Fender Deluxe tone. Bullseye!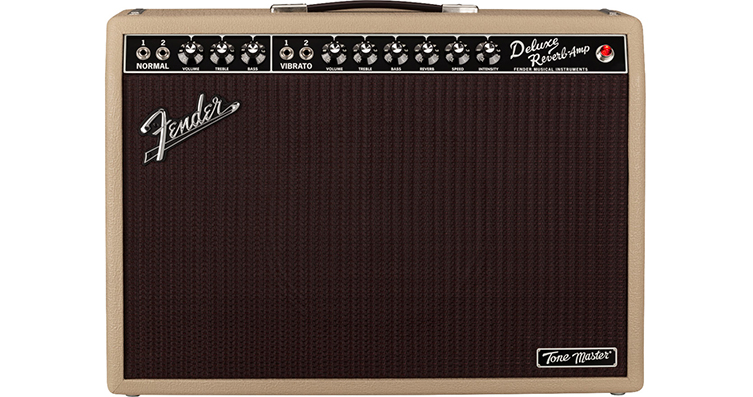 Fender Tone Master Twin
The Fender Tone Master Twin follows the same blueprint as the Deluxe, incorporating the same feature set and having the same black/blonde distinctions as before. This time, however, in order to convincingly belt out that famously loud Twin sound, Fender have put in a 200 watt digital power amp to cope with the crucifyingly loud 85 watts that slam out! It is a Twin after all, and that speaks to how convincingly this amp states it's case: it simply is a Fender Twin.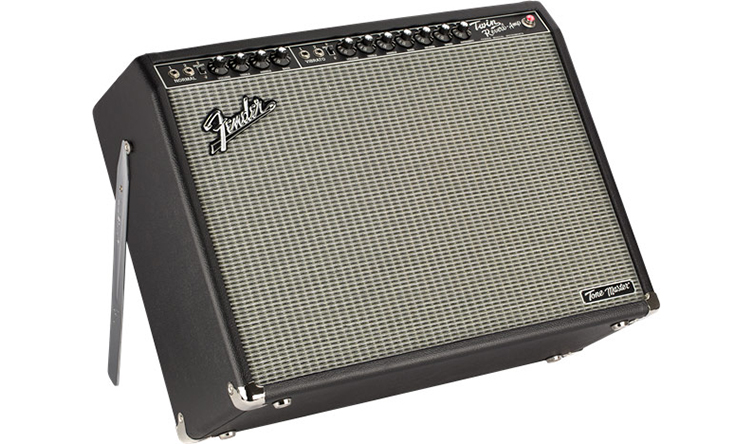 That's a great success for Fender, and remember, there is an attenuator switch on the back for bringing that monstrous power down to more manageable levels. Playing a Twin in the house? Never before but you can now!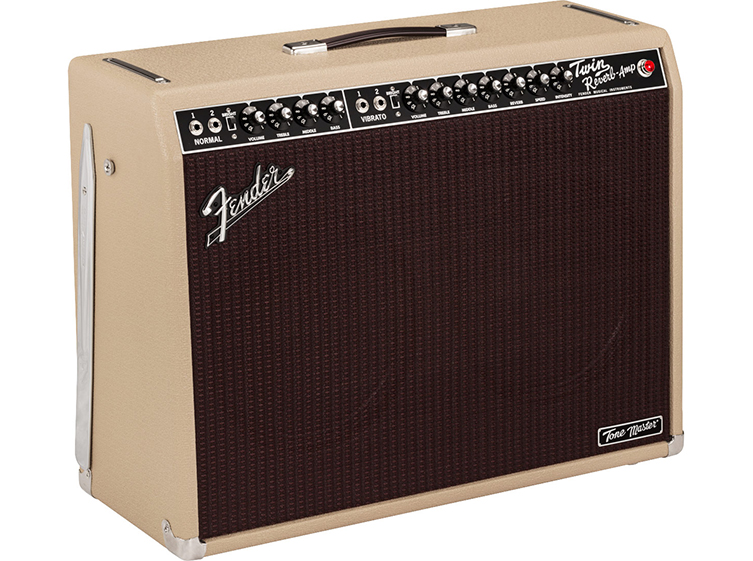 The two speaker set up is appropriate to the expansive tone of the Twin, and the neodymium speakers play their part in almost halving the weight. 15kg for a 2x12 Fender Twin? Believe it.
Super Reverb Tone Master
Lastly, we have the Tone Master Super Reverb, in all it's 4x10 glory! As with the rest of the range, the Super Reverb benefits from authenticity where it's called for (control panel, looks, size, feel and SOUND!) but adds digital perks in the form of a handy attenuator (0-5w to 45 watts here), Impulse Responses on the XLR Line out and a USB connection.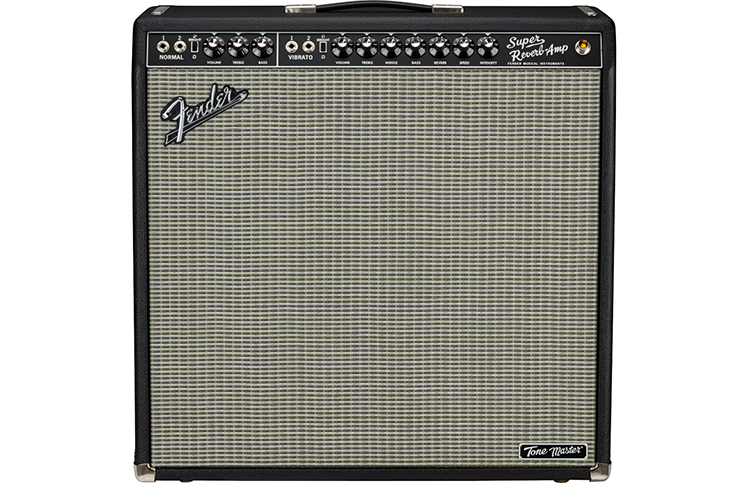 As this is a Super Reverb, there should be on board reverb and tremolo. There is! There should also be a Normal channel and a Vibrato channel, each with two inputs and each with a bright switch. There are! We're impressed.

Fender have done their all to provide an authentic experience for the player, without either taking away important features nor adding unnecessary 'value' of their own. This amp is a Super Reverb as Super Reverbs should be: large, authoritative and sweet sounding, with four 10" speakers (this time, Jensen P-10R alnico units) delivering the goods. It's a superb sounding amplifier that does justice to the model's history and then some.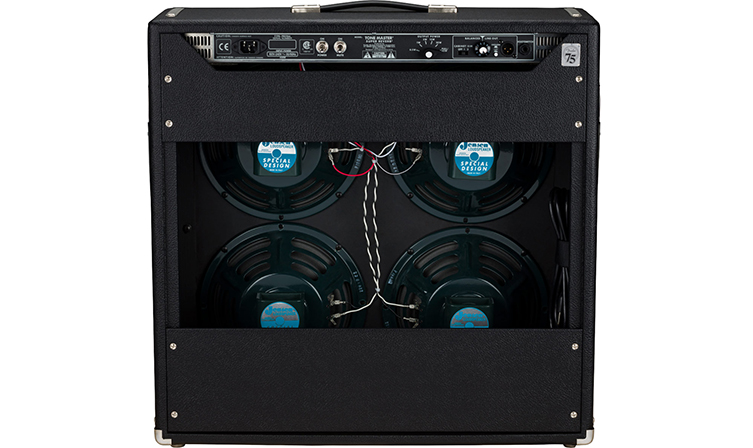 Game-Changers
Well, it's easy to be sceptical when it comes to giant manufacturers claiming to have once again captured lightning in a bottle, but we're having a really hard time faulting these Tone Masters. They just do what they promise to do really, really well.
It's encouraging to note that Fender have used a variety of different speaker types (and cabinet materials, from pine to ply, depending on the model) in order to achieve the closest results for each amp. These are not one-size-fits-all amps, and shouldn't be treated that way. It's interesting to note that, despite using the same process technology-wise, Fender have still heeded the need to change up components and specs in order to get the sound right for each individual amp. It proves they are using their ears when making these, and the results speak for themselves.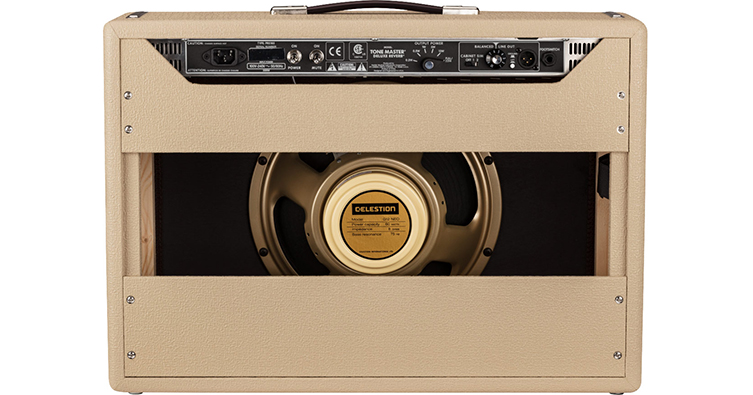 If you are a guitar player who records or gigs in any capacity, then there's a pretty simple, deductive train of thought you can follow here: do you like the famous, classic Fender amp tone, in one description or another? Yes? Then, do you like the idea of the amp being lighter? With less maintenance? And with the same feel, look and volume that you've already come to love? Do you want to be able to DI it and still sound good? Do you want to be able to play it at home and still sound good? Could you appreciate the amp being effectively half of the price of the valve version, too?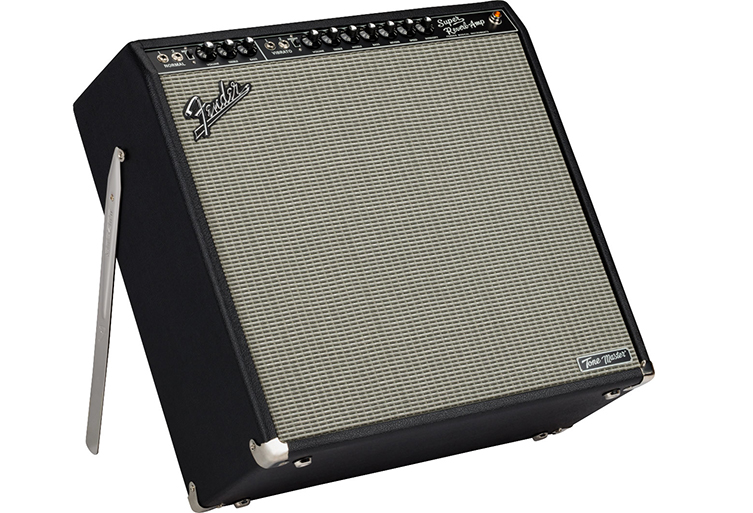 Exactly. Hard to fault! Fender themselves called these amps the 'ultimate player's amp to grab 'n' go and record at home'.
That pretty much sums it up. The ultimate gigging amp? That and more so.

Click to View our Selection of Fender Tone Masters Amplifiers