Korg Goes to the Movies
Published on 17 September 2021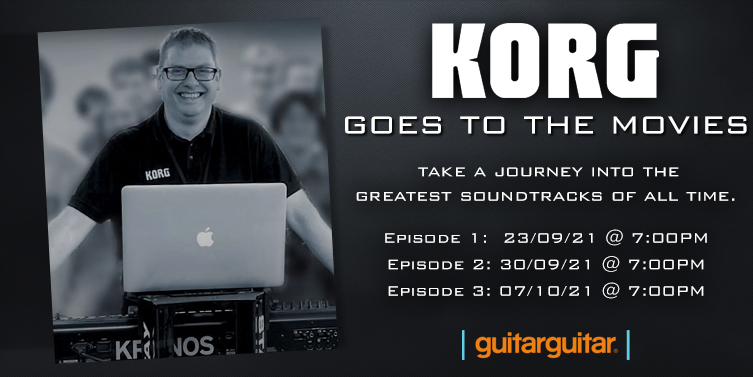 There are brands who build synths and then there are brands who become legendary through building their synths. Korg, most definitely fall into the latter cateogry. Their keyboards and synthesizers have shaped popular music as we know it and right now their range of instruments are even more impressive than ever before. Options such as the OPSIX, WAVESTATE and MODWAVE are frighteningly powerful platforms for sound design and performance that are so versatile they could fit into almost any genre. We've long been fans of Korg's innovative tech and we have a great opportunity to give you guys a taste of what it can do, so grab your popcorn... we're going to the movies!
How to watch
Over the next few weeks, we are excited to bring you all a series of events that not only shine a spotlight on Korg's epic selection of synths but also bring our very favourite soundtracks from movies, TV shows and video games to life! We'll be joined by Korg expert and one of our very favourite noise-makers Luke Edwards who'll be running through his favourite sets of keys and taking us down memory lane. Luke knows Korg's range of gear inside out so this is the perfect opportunity to ask any questions you have, whether you're a certified synth geek yourself or are just curious about adding one to your own setup.
Since we're total movie buffs ourselves we cannot wait to see what Luke pulls out of the bag. Every time Luke visits our stores we're amazed by his playing and knowledge of how to apply Korg's synths so make sure you don't miss these events, they're going to be absolutely wicked.
Episode 1: Soundtracks and the Korg OPSIX - 23/09/21 @ 7:00PM
Episode 2: Soundtracks and the Korg WAVESTATE - 30/09/21 @ 7:00PM
Episode 3: Soundtracks and the Korg MODWAVE - 07/10/21 @ 7:00PM