LsL One Series T-Bone: Handmade in LA
Published on 07 January 2022
Do you like your classic electric guitars to be as authentic as possible? Do you appreciate the extra care and attention to detail you can only get with hand made instruments?
If so, you'll probably already be acquainted with Lance Lerman and his fabulous workshop in Los Angeles. LsL Instruments build classic guitars the 'old way': that is, using hand tools, hand-mixed paints and nitrocellulose finishes. We're talking authentic timbers, hardware that's created in-house and hand wound pickups that are the result of decades of direct experience.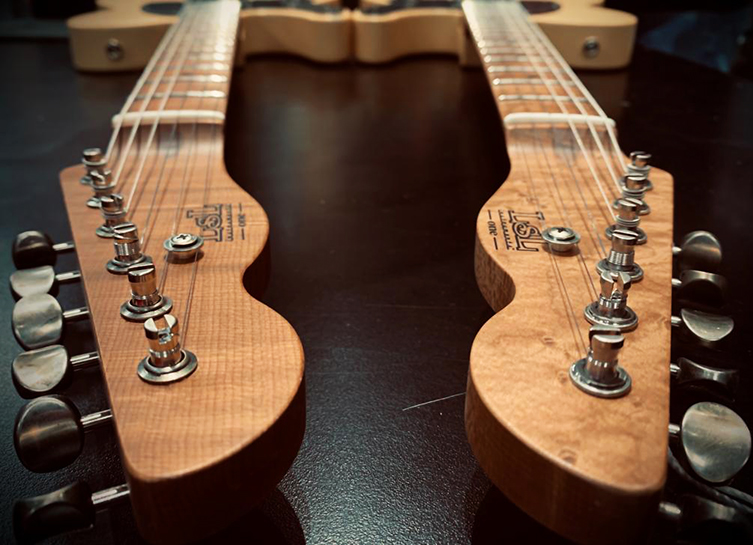 These days, it doesn't seem so hard to find a classic S-type or T-type guitar that looks the part, but how many of them also feel and sound authentic? This is the real LsL difference, and if you want the deep lowdown, please click through to our Lance Lerman interview. Today, we want to briefly show you one of their most successful workhorses, based on the one that started it all...
LsL One Series
LsL is a real custom shop. We're talking low numbers of guitars produced by a few skilled luthiers, who hand made almost everything. We'll come to that in a second, but first, it's worth distinguishing what's meant by 'One Series', over other LsL guitars.
In reality, it's not much! The finish is matte, for one thing. On a guitar like this, which to us has the impression of age and refinement, that's no bad thing: nitro finishes tend to lose a little of their gloss over the years anyway, and the matte look adds to the T-style's famously utilitarian aesthetic anyway. There are less colour options available, but those colours are still as hand-mixed and beautiful as those on the other LsL guitars! Butterscotch Blonde is the appropriate colour for this guitar anyway, so it's something of a moot point for us anyway.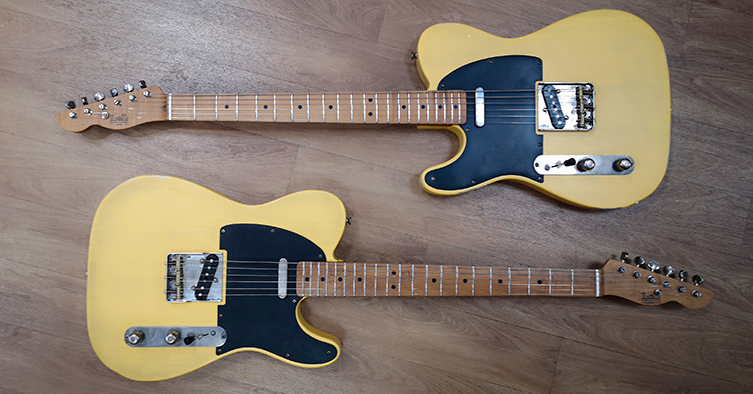 Finally, LsL have a habit of naming each and every guitar with an individual name. This tradition is not applied to the One Series instruments, which obviously has zero influence over the way the guitars sound, play or look! Hardly a great loss, even though the naming thing is a lot of fun.
In other words, the LsL One Series are every bit as hand-shaped, hand-soldered and hand-finished as the rest of the brand. The minor changes keep down costs (time is money!) and so the One Series can be available at a rather fantastic price.
The T-Bone
In the guitar world, a great deal of our energies are spent on three main instrument designs: The Stratocaster, the Telecaster and the Les Paul. With a few obvious exceptions, the vast majority of guitars out there follow the lead of these immortal blueprints. Lance Lerman himself (whose initials provide the company with its name) started out by building himself the dream 52 Tele he could otherwise not afford to buy. Good idea! It turns out that he hit a bullseye with his build, and subsequent instruments occurred, eventually becoming the LsL T-Bone.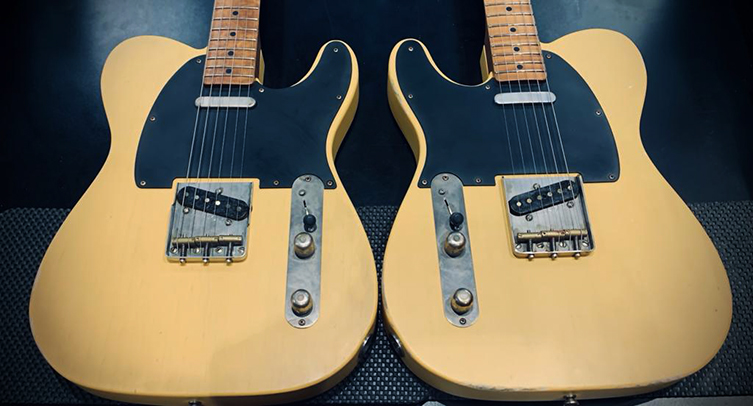 Now, this T-Bone we're looking at today very much evokes that 1952 era with its specially formulated Butterscotch paint, nitro finish and black handmade pickguard (how many other custom shops make their own pickguards?). As with those hallowed originals, these LsL models use Sugar Pine for the body. As well as being authentic, Sugar Pine also sounds very resonant and has an attractive grain. It's not the easiest timber to work with since it is a softer wood, so it's also a mark of a great artisan to be able to fashion a guitar with it. All woods used by LsL are handpicked for light weight and attractive grain: as they themselves put it, 'the burliest burl, the flameyest flames', and whilst those terms don't apply here, the sentiment remains.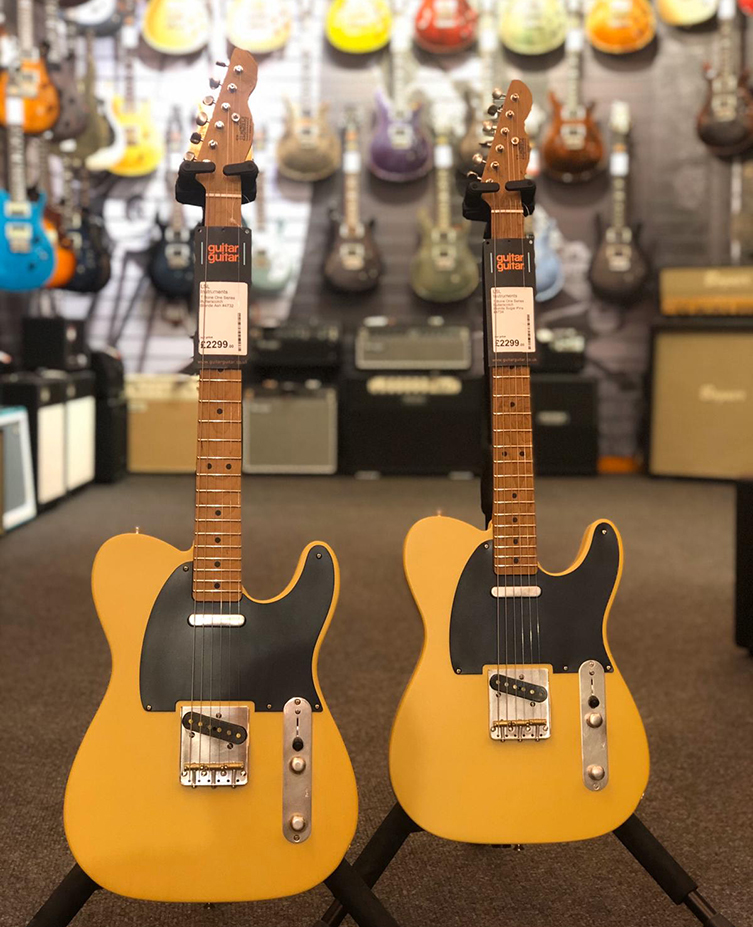 The Handmade Difference
We've already mentioned a few times how handmade these guitars are, but for those who appreciate this, it's worth making it even clearer. LsL wind their own pickups (after meticulously A/B'ing them with actual and specific vintage units), they hand sand the neck joints for a perfect fit (after CNC'ing the basic body and neck then shaping them with handheld tools), they construct and solder the electronics by hand, they mix their own paint, make their own pickguard AND build their own hardware in house. Impressed? We'd hope so! That goes FAR beyond the level of hand-building that most other Californian custom shops - of all sizes - stop at in their own 'handbuilt' departments.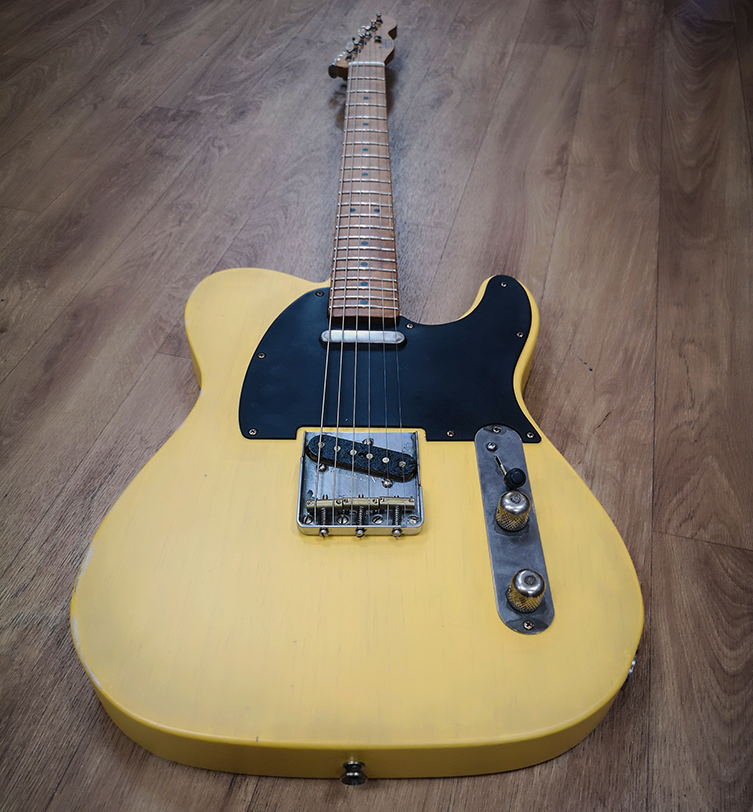 Vintage Not Vintage
As we've covered, these LsL T-Bone guitars are designed specifically to evoke 'Blackguard' instruments from the 50s, but these are no facsimiles. Apart from the obvious trademark-dodging differences to the headstock and logo, LsL have opted to use a slightly more modern 9.5" radius on the fingerboard. Even the most slavish stickler for tradition would hopefully agree that, on playing principles at least, this is definitely a better shout than going for the rounder 7.25" radius of vintage T-types. What would guitarists of the 50s have chosen themselves, if they'd had the choice in the first place? We reckon LsL are making a sound call here by opening up the playability to what most modern hands prefer. And these things play wonderfully, with a C-shaped neck that is by no means skinny, not too chubby. Hand-shaped all the way, by a team who know what they're doing, and it shows.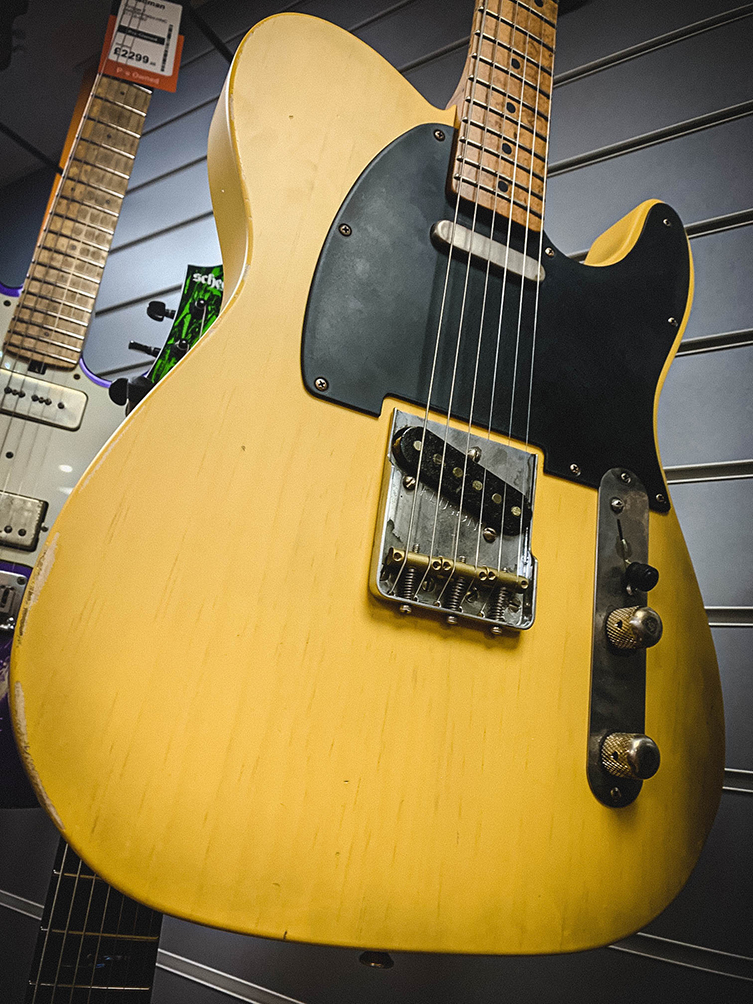 In Stock Now!
As with any custom shop specialising in hand-made instruments, LsL guitars don't throw out hundreds of guitars a week. Scarcity is a fact of life when this level of quality and hand-making is involved, so stocks of LsL guitars are never guaranteed. We order well in advance, and currently we have a lovely number of T-Bone One Series guitars in stock. Every example is a real treat. Move fast whilst we have stock, or repent at your leisure whilst we await a future shipment! Stunning guitars are always worth your attention: stunning guitars that are also a great price are even more significant.
Ray McClelland