Tom Quayle Ibanez & Laney Clinic @ guitarguitar Birmingham
Published on 01 February 2022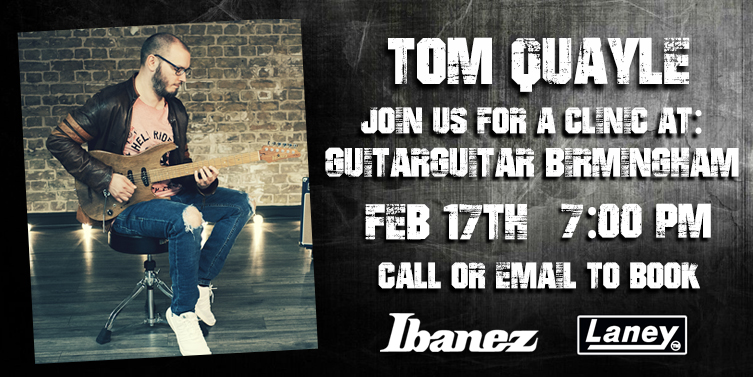 We are super excited to announce that the incredible Tom Quayle will join us in Birmingham on the 17th of February (17/02/2022) to talk about guitar, technique, Laney Lionheart amps, and his super cool new Ibanez signature model. Tom is a fantastic player whose knowledge of his instrument is second to none. Join us for what promises to be a fantastic night of guitar geekery!
How to Book
To secure a place at this event, all you need to do is call our Birmingham store (0121 456 1904) or email them at birmingham@guitarguitar.co.uk.
Numbers are very limited so get in touch ASAP to avoid missing out on this awesome night.
More Info
"...Tom has developed to become one of the foremost fusion legato players in the world with a strong reputation in both the teaching and playing world, having produced a large number of highly acclaimed tuition products for his own website and Lick Library that have helped literally thousands of guitar players from every corner of the planet. He has conducted masterclasses and played all over the world giving him acclaim that means he can count Dweezil Zappa, John Petrucci, Brett Garsed, Greg Howe, Andy Timmons and Tim Miller amongst his many fans. Tom currently plays with and on the albums of some of the best fusion musicians in the world, releasing the highly acclaimed 'Elba Triangle' album in early 2017 with Virgil Donati, Alex Argento, Marco Sfogli and Allesandro Benvenutti. His highly anticipated debut album is in the works and he has produced a huge catalogue of some of the most successful tuition material for the modern fusion genre."