Roland Synth Event at guitarguitar Glasgow
Published on 09 May 2022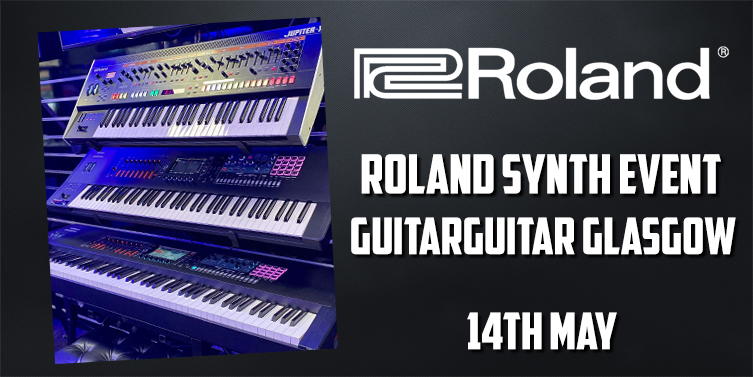 Calling all synth-fanatics!
For more than 40 years, Roland synths have been used to sculpt the sound of pop, rock and electronic music and are loved by users for their innovative design and sounds. From sweet analog tones to shimmering FM chines and lush sample-based pads, anything is possible with a synth. If you've long been interested in adding one to your set up or looking to upgrade to an advanced model, we might just have the event for you…
Details
This coming Saturday (14/05) from 10AM til 4PM, we'll be hosting a very special Roland Synth event at guitarguitar Glasgow. We'll have Roland Product Specialists Andy Pimblott and Mark Hill on hand to talk you through the brand's many synth models and to answer any questions you may have. They'll also be able to showcase some of Roland's finest products, such as the Juno-X and Fantom-0, and how you can use these in your set-up. Or, if you're looking for some advice for setting up your live keyboard rig, we'll be able to guide you through that too!
If you'd like a 1-2-1 session with Andy or Mark, give us a call on 0141 552 3402 to book. Or, simply just rock up on the day. See you there!