Best Festivals Summer 2022
Published on 27 June 2022
Is it festival time already?
It sure is, especially judging from the towering performance given by Macca himself at Glastonbury last weekend! The 80 year old (?) brought a few distinguished friends across (Bruce Springsteen and Dave Grohl, anybody?) to add excitement to a career-spanning set that cherry-picked over half a century's worth of game-changing music.
This Glasto excitement has had us checking out the endless sea of forthcoming UK festivals that are happening this Summer, and it's a wonderfully diverse list indeed!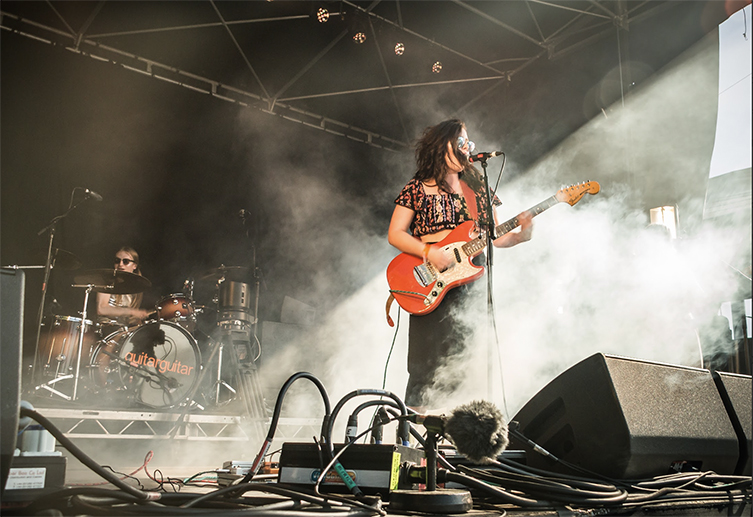 Today, we thought we would highlight a few that caught our eye, and of course, an artist from each lineup that will be playing this year! It's an excuse to listen to some great music, basically, and highlight some amazing weekends that you could have this Summer! Long live live music!
Download (10th - 12th June)
It's already been, but we couldn't miss this one from our list! The former Monsters of Rock festival was bigger than ever this year, as it spread its wings to occupy Donington Racetrack once again. Known as the biggest heavy music festival in the UK, Download is often the festival to beat, with a huge roster of talent and some gargantuan headliners. This year saw no change in that respect, with KISS, Deftones, Biffy Clyro and Mastodon all putting their best mosh foot forward. Top of the bill though, had to be that most British of metal institutions, though: the almighty Iron Maiden!
TRNSMT (8th - 10th July)
TRNSMT is in many ways the spiritual successor to the much-loved T in the Park festival. Based in the centre of Glasgow, TRNSMT consists of a number of single-day weekend festivals, with each day curated in a particular genre-direction. Previous years have seen glorious performances by the likes of Queen and Radiohead, and this year there's going to be sets from Nile Rodgers, Lewis Capaldi, Sam Fender and The Strokes!
British Summer Time at Hyde Park (25th June - 10th July)
BST is a little like TRNSMT in the sense that it's in the middle of a city (Hyde Park in London, this time) and has big single day events with no camping. It's a sort of 'semi-festival' vibe and no doubt misses a lot of the ancillary (some would say primary) reasons for being involved in festivals (the people you meet, the adventures you have, the omnipresent counterculture that's available), but it's still a place to find some of the biggest bands in the world doing their thing!
They don't get bigger than The Rolling Stones, who've already just played an early show here and will be back for another in a few weeks. Joining these royal rockers on the overall lineup are world-class acts like Pearl Jam, the Pixies, Duran Duran and Adele.
Reading and Leeds (26th-28th July)
The classic doubling of Reading and Leeds as swapover venues (whomever is on the Leeds lineup on the Saturday will play Reading on Sunday and vice versa) was always a novel way to spread the vibes, and they've been doing that since the mid 90s!
Traditionally a blend of slightly harder bands alongside more poppy acts, Reading/Leeds has scored a home run with a 2022 lineup that includes Halsey, Wolf Alice, Arctic Monkeys and Rage Against the Machine!
Bluedot Festival (21st - 24th July)
Those who may be seeking a more progressive experience from their festival weekend could do well to check out the Bluedot festival. Based at the Jodrell Bank Observatory - a UNESCO World Heritage site, no less - Bluedot's appealing tagline is 'Four Unique Days of Music, Science and Cosmic Culture'. I mean, we're already sold, and that's before we notice a lineup that includes Mogwai, Squarepusher and the incomparable Björk, performing with an orchestra! We're also super-intrigued by an act on the bill (which also contains talks from explorers and so on) which is called, simply, 'Jedi Lightsaber Training', which is easily the best thing we've read in days.
WOMAD (28th - 31st July)
Peter Gabriel's genre-breaking 'World Music' festival has always been an incredible place to see and hear world-class music that just doesn't often feature the English language in a big way. Now in its 40th year, WOMAD - based at Charlton Park in Malmesbury - brings a large international treasure trove of musical acts, dancers and artists to one place, in order to celebrate the rich kaleidoscope of music that exists away from mainstream media channels.
Alongside over 80 free workshops where you can play music, dance and learn yoga, there's also plenty of great music to take in from the likes of Angelique Kidjo, Les Amazones D'Afrique and, bizarrely, the awesome Flaming Lips!
So Many More…
That's a little taster of what's happening on these fair isles this Summer, but there's a lot more out there! If we get the weather, then British festivals are some of the best in the world. We've currently never had it so good in terms of the availability of live music, so make sure you don't stay in, stuck on the couch with your face glued to your phone when you could be outside, dancing and singing! Netflix can wait, but Summer never does!
Have a great time, whatever you're planning this Summer. Are you going to any of these festivals? Have you picked something else entirely? Let us know!