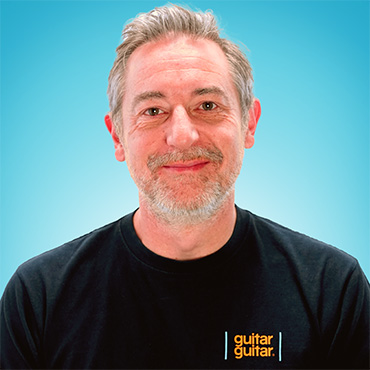 Andy
Sales Assistant, Newcastle
17 years at guitarguitar
I started out in music retail in 1989 and have been with the company since 2005, a day before the Newcastle store first opened its doors to the public. I started out on trumpet and piano/electric organ when I was 7 years old, achieving Grade 8 on both by age 14. I then took up bass guitar before finally moving onto electric. Since then, I've performed more than 800 gigs in various bands playing various styles ranging from jazz, blues, pop and rock to extreme metal. I've performed on five recordings that have sold worldwide. I'm currently playing for The Scott Michael Cavagan Band after taking an 8 year break from performing. I live with my beautiful long haired black cat Missy, and I love walking, nature, red wine, real ale, horror movies and socialising with friends
Gear I Can't Live Without

My 1993 Custom Shop Historic Gibson Les Paul 1957 Reissue Gold Top

Essential Album

Anything featuring Glenn Hughes, from the Trapeze days through to The Dead Daisies. The man is a genius!

Best Ever Gig

It would have to be the first gig I attended, because as a 14 year old young rocker, it blew my mind! Iron Maiden @ The City Hall, Newcastle. 25th of October, 1986.