Seymour Duncan Sjm-3B Quarter-Pound For Jazzmaster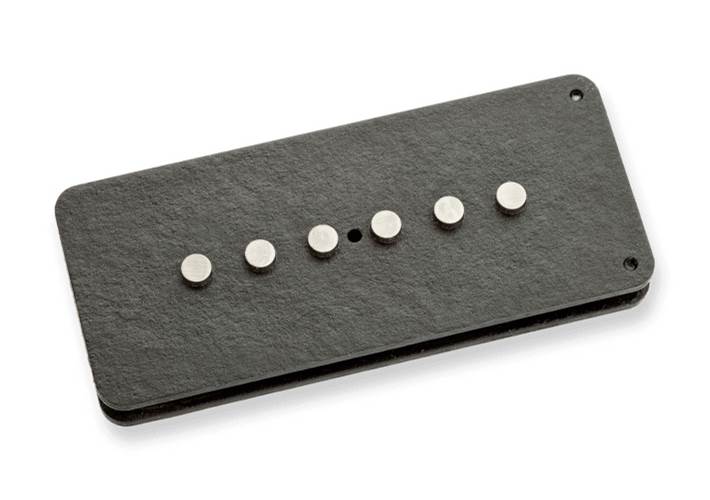 £69.00
Order before 12PM for Delivery Tomorrow
Manufacturer's ID: 1611302-08
What we say:
This Quarter Pounder pickup is an excellent choice for directly retro-fitting to your Jazzmaster if you need some more grit and power.
Made with large alnico V magnets and overwound for hotter, higher output, the Quarter Pounder is a true single coil but with an output that makes your Jazzmaster a far meaner proposition. For hard rock leads and riffs, this pickup really chops things up!
It also responds well to volume control changes so you can clean up nicey and behave when you have to.
Specification
With its diameter alnico 5 rod magnets, and custom overwound coil, our Quarter Pound Jazzmaster bridge pickup will deliver a powerful midrange punch that will make both chords and solos jump out with rich harmonics. This pickup moves away from the traditional bright Jazzmaster sound, and gives your guitar a sound similar to a P90 Soapbar pickup. This pickup is a drop-in replacement for Fender American Standard Jazzmaster sized pickups, and will fit perfectly into the original cover (pole pieces do not go through the cover).Pair with our Quarter Pound Jazzmaster neck for a great high output setup.We build these with diameter alnico 5 rod magnets, a custom coil wind, custom flatwork, and each pickup is wax potted for squeal free operation. Does not come with cover.
SPECS
DCR:12.8
MAGNET:ALNICO 5
CABLE:PVC LEAD WIRE