Meet the team
One of the UK's Largest Guitar Stores
With over 1000 guitars in stock, you won't find a better place to try out a range of different models. Whether you're a guitarist, a bass player, or are just picking up the instrument, our expert staff will be on hand to talk you through what's available and help you to find the right choice. We have dedicated practice areas, guitars to suit every budget and stock all of your favourite brands such as Gibson, Fender, Epiphone, PRS and more. Don't just take our word for it though... Come and see for yourself!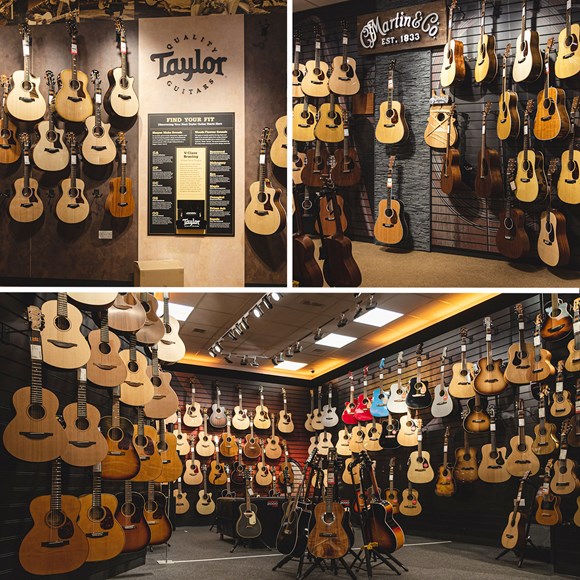 Dedicated Acoustic Rooms
Epsom has two magnificent acoustic areas including a dedicated acoustic room with the best offerings from Martin, Taylor and Gibson, along with loads of boutique brands, such as, Lowden and Collings. The Martin wall alone is worth the visit! We'll help you decipher tone woods and body sizes to find your perfect acoustic guitar.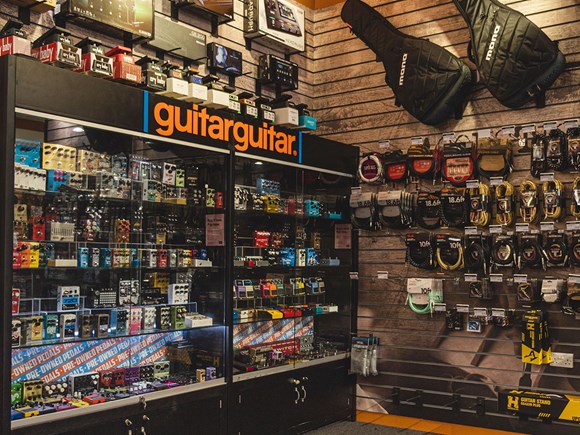 The only place for pedals
Do you love pushing boundaries and playing with effects? We've got you covered with a pedal cabinet jam-packed with everything from the weird and wonderful world of stompboxes! Be it your very first overdrive to that boutique delay pedal made in the foothills of California, we can get you sorted. We even have dedicated demo areas for you to put them to the test.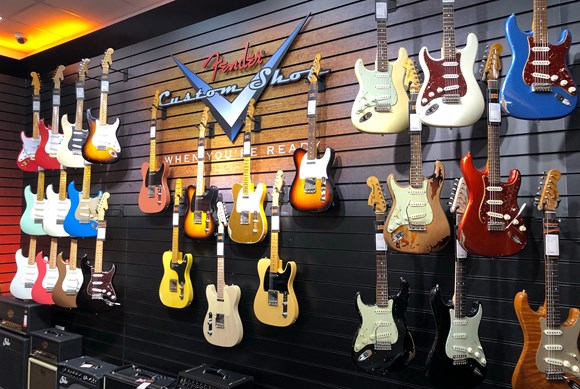 The finest selection of high-end and collectors guitars
If it's world-beating electric guitars that you're after then come and visit our Epsom store for the best selection of Fender Custom Shop guitars in the South of England. You will also find hand-picked stock from legendary brands such as Suhr, Paul Reed Smith and Gibson Custom Shop, all ready to be plugged in and played.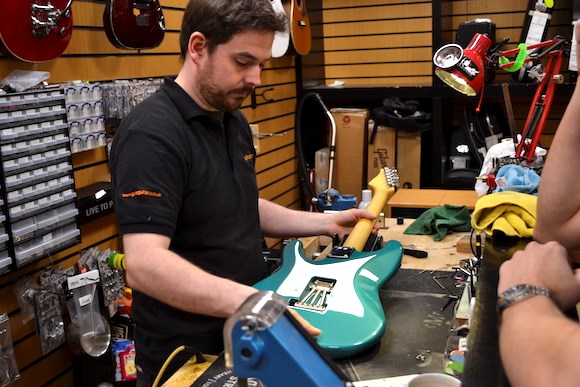 In House Guitar Technician
If your guitar is in need of a little TLC, please head to our experienced in-house technician who can cater for all sorts of repairs, set-ups and services from small truss rod adjustments to detailed fret work and lots more. We also offer a re-stringing service so why not spare yourself the hassle and leave it to us!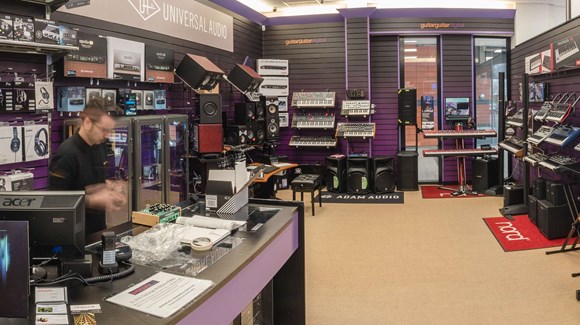 Pro Audio
Guitars not your thing? Producers, electronic musicians and engineers can head over to the our Pro Audio department where you can sample the latest digital pianos, synths, studio production gear, digital drum kits and PA equipment... The list is endless. Luckily we have amazing and passionate staff who can answer all your technical questions and decode the technical jargon into plain English. They'll be here for you with friendly assistance and advice before you make a purchase and happy to offer post sales help to make sure get the support you need to take your new gear to the highest level.
Trade it. Sell it.
Got a guitar, pedal, amp, or another piece of gear that doesn't get used as much as it should? Bring it along to the store so our staff can asses its value and help you turn it into cash or trade it for something new!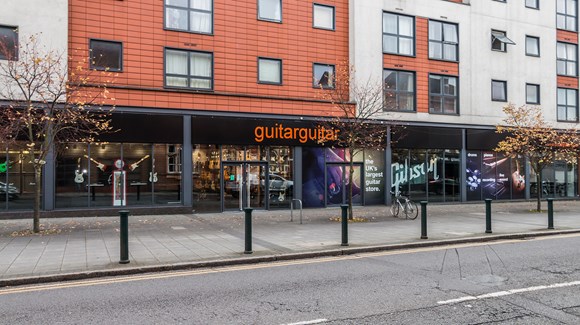 Easily Accessible
Our store is just 35 minutes from the centre of London and is extremely accessible. There are direct train links from Waterloo and London Victoria and Wimbledon Station is only 20 minutes away. We're also easy to travel to by car, as we're only 10 minutes drive from the A3 and 15 minutes from the M25. There's no need to worry about parking either, since there are two large pay and display car parks a short walk from the store. So, there's no excuse for not dropping by for a visit!