Electric Guitars For Beginners
We'll Help
You
Get Started
Over 15 Years of Finding
Musicians Their Start
Here to Help
Online and In-Store
Great Quality Products
That We Stand By
Select your pack
Start Your Guitar Playing Journey
EastCoast Pack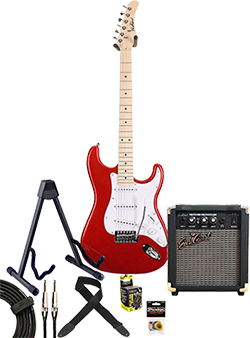 Perfect for adults, or kids aged 12 and above.
Ages 12+
Everything You Need
Only £129
View Pack
Epiphone Pack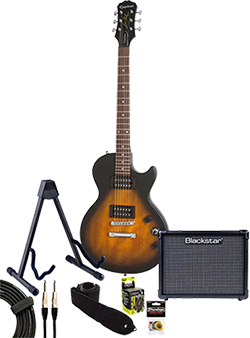 Perfect for adults, or kids aged 12 and above.
Ages 12+
Incredible Value
Only £269
View Pack
Make-It-A-Pack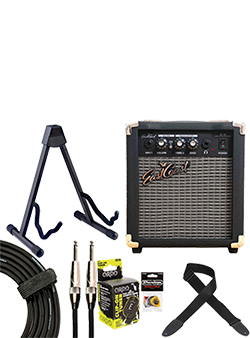 Everything you need to make your own bundle.
Choose your own guitar
All-in-one Pack
Only £60
View Pack
View our full range of beginner electric guitars below
or contact us to find what's right for you.
Electric Guitars For Beginners
1-40 of 434
products
About Electric Guitars for Beginners
Electric Guitars For Beginners have come a long way and today you can pick up a great looking beginner electric guitar for an affordable price without sacrificing on build quality. We proudly stock a whole range of what we think are the best beginner electric guitars you can get your hands on. Even for younger players we stock a range of shorter scale, smaller guitars to get started at any age. It may be your first guitar and a budget guitar but it doesn't mean it should make learning a hard task.
Choosing a first electric guitar that is comfortable, plays well and sounds good is key to starting off in the best way possible. These beginner electric guitars and packs are a great choice for those looking to take their first steps into the world of playing. From heavy metal icons to blues legends, their first electric guitar was an important step in their journey.
With brands like EastCoast, Epiphone, Squier, Jackson, and Yamaha there is a style for everyone and a quality that won't hinder your learning experience. There are also many complete electric guitar starter packs which feature a guitar, amp, and accessories such as a guitar cable, guitar strap, guitar tuner, gig bag, spare strings and plectrums. With quality brands there are many styles to choose from whether it's the Yamaha Pacifica, the Epiphone Power Players, or the Squier Affinity Stratocaster, it's easy to get a guitar that sounds good, plays well, and looks inspiring. While as a beginner the specification of a guitar might not be important to you, we can assure you that quality features such as maple necks, mahogany bodies, humbucker and single coil pickups, and even compound radius fretboards can be found on affordable electric guitars, it's never been a better time to be a beginner guitar player.
If you're unsure where to start when looking for an electric guitar for beginners or you would like some more advice, please contact us. Whether it is in-store, online or over the phone, our friendly and knowledgeable staff are here to help you find your beginner electric guitar. This is a great way to ensure you make the correct choice and start the journey in the best way possible. There's also lesson packages available through fantastic services like Fender Play Lessons, which will teach you all the basic guitar techniques you need to begin your musical journey.
Why Choose Us for a Beginner Electric Guitar?
Unique selection of easy to play starter guitars and electric starter packs
Lots of styles to choose from
Great quality at affordable prices
Models to suit all styles of music and ages of players
Great playing guitars that make learning easier
Additional support is always on hand from our knowledgeable staff in-store and online
Frequently Asked Questions about Electric Guitars For Beginners
Question: Are electric guitars good for beginners?
Yes! Electric guitars are often the easiest way to get started with guitar as they are slightly easier to play than acoustic guitars.
Question: How do I choose an electric guitar for beginners?
There are lots of styles, start with what guitar you think looks best!
Question: Is acoustic or electric guitar better for beginners?
If you want to learn electric guitar, start on an electric guitar! If you want to learn acoustic, start on acoustic guitar! There's no right or wrong, just go with whatever interests you most. The beauty of acoustic guitars for many beginners is that they are self-contained and don't require amps and cables to make a sound. If you want to learn metal, punk or rock, however, just dive into the world of electric guitars because you'll find it much more rewarding.
Question: What is the best electric guitar for beginners?
Some of the best electric guitars for beginners includes the likes of Epiphone Les Paul Standard and Squier Classic Vibe Strats and Teles which are perfect for beginners. They are exceptional value for money and will provide you with a brilliant way to learn. The great thing about these guitars is they are bonafide classics that have been played on all types of music for the last 60 years. This means that regardless of the type of music you'd like to play, they should do the job!
Question: How much does a good beginner electric guitar cost?
That depends on what your budget is. You can expect decent beginner packages to cost up to £200. The more you can spend the better it's going to sound and the easier it will be to play. Learning guitar requires a lot of patience, you don't want to use up all your patience battling with a cheap guitar.
Question: How much should I spend on my first electric guitar?
There are lots of choices these days at very affordable prices, between £100 and £200 will get you a great beginner guitar like the EastCoast ST2, the Ibanez GRX, or the Yamaha Pacifica.
Question: Are cheap electric guitars good for beginners?
Yes, these days there are lots of cheap electric guitars that are great for beginners like the EastCoast TL2.
Question: Is it harder to learn electric guitar?
No, some would say it's actually easier to learn electric guitar than acoustic guitar, due to the lighter strings.