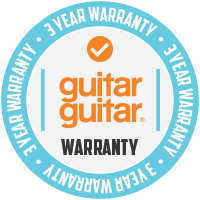 3 Year Warranty
Included as Standard
guitarguitar - 3 Year Warranty
guitarguitar are proud to offer our customers a free 36 month warranty on all new products. The guitarguitar 3 year warranty provides you with up to an extra 24 months peace of mind compared to the standard warranty offered by manufacturers; all free of charge.
The guitarguitar difference
guitarguitar believe our 3 year warranty is the most comprehensive instrument warranty available. There are no third party insurance agents involved and no complicated claim schemes; simply purchase anything new and we'll look after you. guitarguitar is the first, and currently the only, guitar retailer in the UK to offer a 3 year warranty as standard.  We believe in the products we sell.
What does guitarguitar's 3 Year Warranty cover?
The guitarguitar 3 year warranty covers qualifying new products against manufacturing defects and inherent faults. We will use our expertise, experience and our position as the UK's biggest guitar retailer to make right or replace a product we have sold which isn't doing what it should. 
Is anything not covered?
We are unable to cover consumables. This includes but is not limited to guitar strings, batteries, drum sticks, valves and other items which cannot be repaired or serviced and by design have a shorter lifespan. However, these will be covered by their standard manufacturers warranty. 
Guitarguitar's 3 year warranty doesn't cover wear and tear as a result of normal use, nor does it cover minor cosmetic defects which don't impact on the use or playability of the product in question. This could include but is not limited to; scratches, dents, dings, scuffs, lacquer or finish blooms, superficial cracks or colours changing/ fading over time. 
Our warranty also doesn't cover accidental or malicious damage, superficial or otherwise; we always recommend insuring anything of value through your contents insurance or other private insurance policy. We also can't cover items which have been modified or altered from the manufacturer's specifications.
Our staff are well trained in how to look after everything that we sell and are here to give you advice on how best to maintain your instrument or item. Simply get in touch with us online or visit your local store.
In addition- only the standard manufacturer's warranty shall apply to goods bought for commercial use and any education or business to business sales.
What if my item cannot be repaired?
In the unlikely event that your product develops a fault which can't be repaired within the warranty period, we'll exchange it for a like for like replacement. If the product you ordered is no longer available, we'll work with you to find you the closest alternative or equivalent. 
Anything you'd like to ask?
If you'd like to ask any questions about our warranty or returns process, feel free to contact our Support Team who'll run you through how it applies to your purchase. Please don't hesitate to get in touch with us regarding any faulty or broken items - we take pride in being the best place to shop for everything music- related and will do everything we can to help you, and ensure that other customers don't experience similar issues. 
Products being returned to guitarguitar under warranty will be assessed and if possible repaired in-store. If an in-store repair to the appropriate standard is not possible, the goods will be shipped to the supplier, manufacturer or authorised third party for assessment and repair.
Guitarguitar will update you whenever we receive information relevant to your repair from the supplier, manufacturer or authorised repair centre.
If issues with an item have occurred due to misuse or neglect and discovered upon inspection, these issues will not be covered under warranty and guitarguitar reserve the right to refuse a return on these grounds.
Pre-Owned Warranty
All of our Pre-owned stringed instruments (guitars of all types, folk instruments) are supplied with a one year (12 month) warranty.

Pre-owned electronic goods, including but not limited to amplifiers, keyboards, pedals, digital drum kits, synths, P.A. systems etc, are supplied with a three (3) month warranty.

Pre-owned items have their warranty serviced by a qualified technician or member of staff. We may outsource repairs to a third party specialist where appropriate.

If we cannot resolve a fault with a pre-owned item during the warranty period we will offer a refund or exchange to the original value paid.

For more information, please see our full Terms and Conditions.
Need Help? Get in touch with our friendly team.