The Big Sale - Up to 60% off

Bass Guitars For Beginners
We'll Help
You
Get Started
Over 15 Years of Helping
Beginners Start Their Journey
Here to Help
Online and In-Store
Great Quality Products
That We Stand By
Select your beginner bass guitar
Start Your Journey
¾ Size Bass Pack
Great for kids aged between 8 to 12 or for smaller frames.
The ¾ package includes a comfortable, easy to play beginner bass guitar and all of the accessories you need to get mastering it fast.
A ¾ Size is comfortable, easy to play, and with all of the same functionality as a full size instrument.

Fantastic starter amplifier for rocking out in any genre.

Out of tune? No problem. Clip to the headstock and get back to playing in minutes.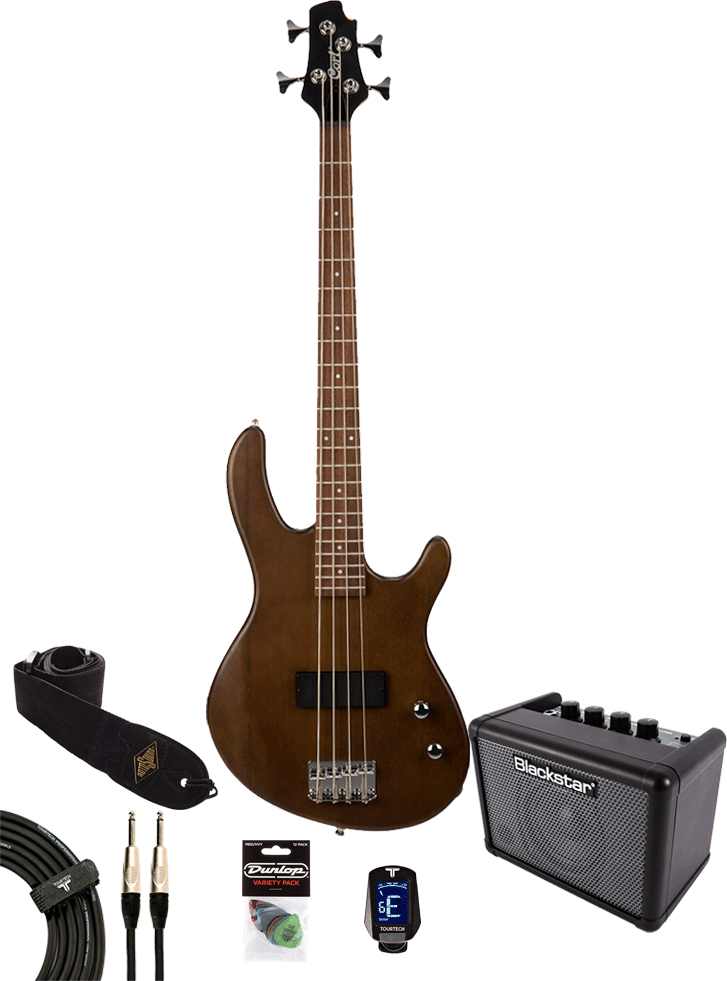 Full Size Bass Pack
Perfect for adults or kids aged 12 and above.
The Full Size pack gives you a standard sized bass guitar you can learn on, but also one that will last your career if you want it to! Includes all of the accessories you need to get started.
No matter the genre, this incredibly versatile full size guitar will do it all!

Fantastic starter amplifier for rocking out in any genre.

Out of tune? No problem. Clip to the headstock and get back to playing in minutes.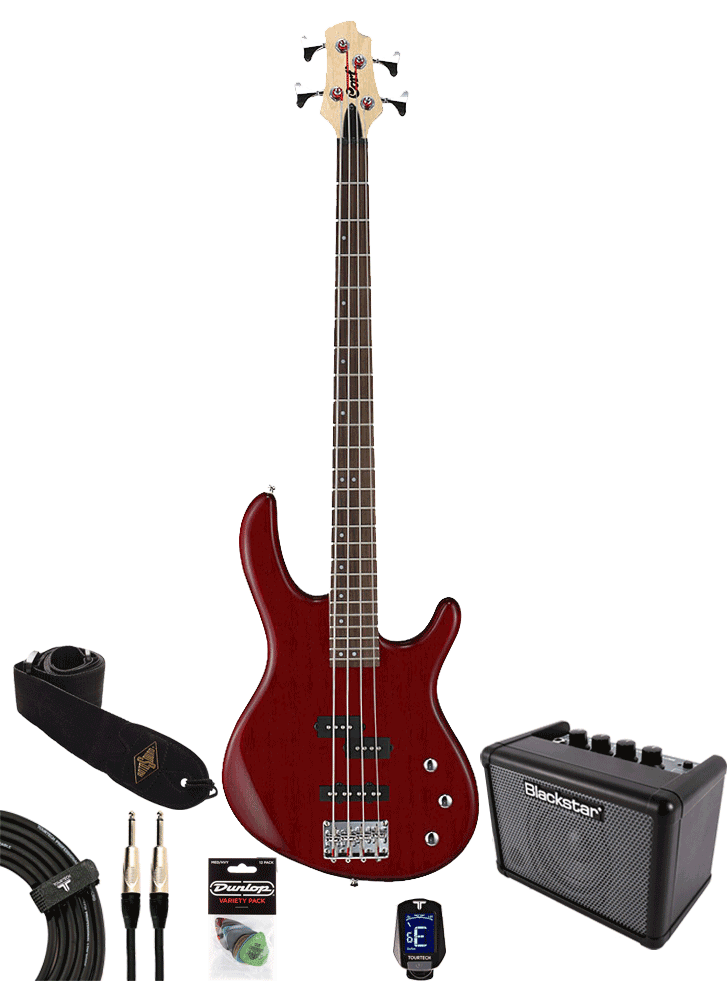 Still Looking?
View our full range of beginner bass guitars below
or contact us to find what's right for you.
Beginner Bass Guitars
1-21 of 21
products
About Beginner Bass Guitars
Choosing a first bass guitar that is comfortable, plays well and sounds good is key to starting off in the best way possible. These beginner bass guitars and packs are a great choice for those looking to take their first steps into the world of playing. From rock icons to funk legends, their first bass guitar was an important step in their journey.
There are models available to suit new bassists of all ages as well as different styles of music. This affordable selection includes many top brands such as Squier, Cort and Yamaha. It allows more players than ever to start learning sooner rather than later.
If you are unsure where to start or are looking for some more advice, please contact us. Whether it is in-store, online or over the phone, our friendly and knowledgeable staff are here to help. This is a great way to ensure you make the correct choice and start the journey in the best way possible.
Why Choose Us For Your Beginner Bass Guitars?
We have a unique selection of guitars and packs
We have models to suit all styles of music and ages of players
Additional support is always on hand from our knowledgeable staff in-store and online
Frequently Asked Questions about Beginner Bass Guitars
Question: What do I need to know before buying a beginner's bass guitar?
Bass guitars come in different sizes! Full size bass guitars can be very long so it may well be more comfortable to play a short-scale or ¾ size bass. Bass guitars typically have four strings but it's not uncommon to see basses with five strings. Five string basses have an extended range and are often used in jazz, metal and fusion styles. If you are interested in learning these styles it may be worth getting a five string bass.
Question: What is the best beginner's bass guitar?
The best beginner bass guitar for you might not be the best for someone else. The first thing to consider is the size: bass guitars can be pretty long. It might be worth looking into 'short-scale' basses or, even smaller, ¾ size basses to ensure your first bass is comfortable! The next question is 'what style of music would you like to play?'. If you like metal or hard rock, a bass by Jackson may be best for you, whereas, if you like pop, soul and indie, a Squier bass would suit you better.
Question: What are some easy bass guitar songs for beginners?
There are dozens of brilliant bass lines that are really easy to play. Some favourites include Taxman by the Beatles, Stir it Up by Bob Marley, Smells Like Teen Spirit by Nirvana, Psycho Killer by Talking Heads and Time is Running Out by Muse. Learning these songs would be a great start to your bass career!