Meet the team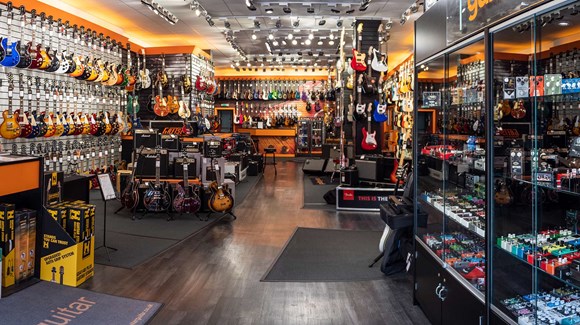 Scotland's biggest & best guitar store
With over 1500 guitars in stock from custom boutique brands to affordable beginner's instruments, as well as a plethora of backline, hundreds of FX pedals and boards, folk instruments and much more, we have everything you could ever possibly need to create any sound you could imagine.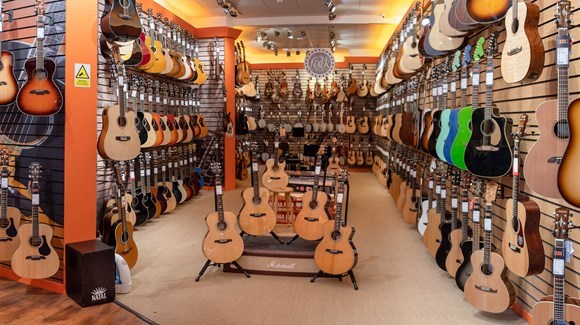 One of the most impressive Acoustic guitar stores in Europe
In 2013 we opened our dedicated Acoustic store at 38 Trongate; right next door to our Electric & Bass store. The new Acoustic department offers an unparalleled setting in which to relax and try one of the best ranges of acoustic guitars you're ever likely to come across. In our dedicated and acoustically-treated Premier booth, you can close the door on the outside world and get your hands on the best guitars from legendary brands like Gibson, Taylor, Martin, Lowden and much, much more.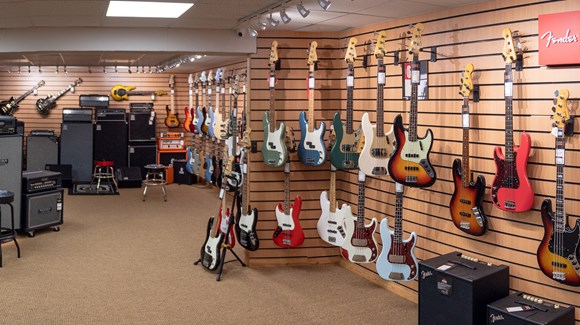 Scotland's only dedicated bass guitar department
Our Glasgow basement was transformed in the early part of 2017 to host something unique to us outside of London: a floor entirely dedicated to bass guitars and backline. Stocking everything from stalwarts such as Fender, Ibanez, Rickenbacker, Ampeg and Orange to more specialised and esoteric brands such as Mayones, Sandberg, MarkBass and Aguilar, the bass floor is a haven for the too-often neglected bass player.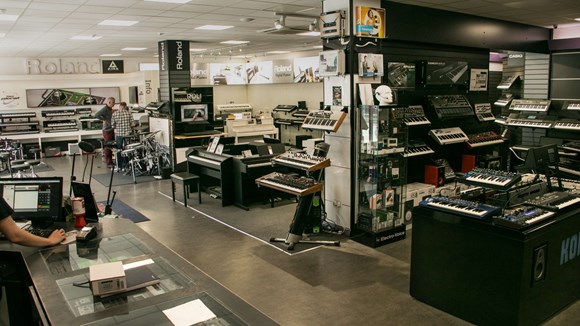 Why not take a look at our Digital store?
Fancy some recording equipment? Or perhaps a synth to add some new sounds to your arsenal? Well, dive over to our Digital store to check out a huge range of gear including Synths, Keyboards, PA speakers, Microphones, DJ equipment, Pianos, Drums and everything in between!
With all of the latest tech available for you to try out and get a feel for, there's nowhere better to find your next studio gadget. Our team are experts and love showing off all of the new arrivals from brands such as Roland, Nord, Korg, Moog, Yamaha and more, so drop by and get involved, we'd love to see you!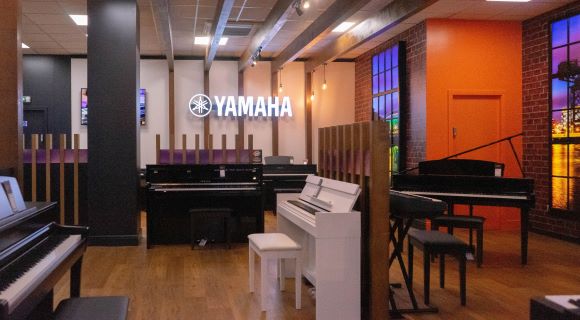 Check out our BRAND NEW Yamaha Showroom
Our Yamaha showroom is the first and only Yamaha centre of it's kind in Europe. Boasting the greatest collection of Yamaha digital pianos, synths and live sound gear all in one place. guitarguitar Glasgow's state of the art showroom is the only place to go for all things Yamaha. With a team of expert staff on hand to offer advice and help with any questions, there's nowhere better to experience everything the brand has to offer.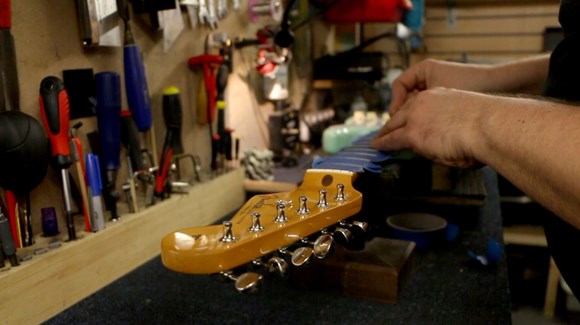 Expert guitar tech and repair department
Whether it's an action adjustment, new pickups fitted, or even a crack or scratch repaired, our qualified luthier Billy Finlayson can take care of it all for you. He is extremely experienced at repairing guitars, building them from scratch and is also an seasoned pro player himself. Find out more about Billy's work, guitars and customers at www.finlaysonguitars.co.uk. Whatever you need done with your prized axe, drop a line to Billy and have a chat.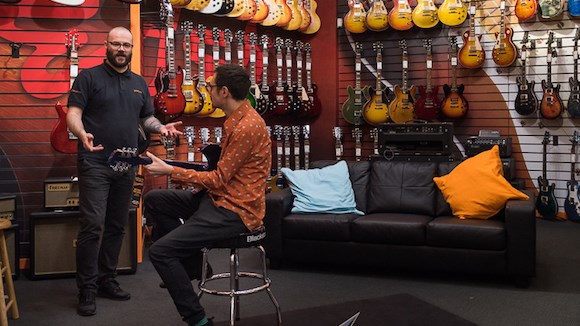 Enthusiastic, friendly, expert staff
We pride ourselves on providing an open, welcoming atmosphere and helping you find the best solutions we possibly can to anything guitar-related; whether it's wiring up a pedalboard, finding that elusive tone you've always searched for, hooking up your new rig or getting your playing recorded and out there, we can help so please don't hesitate to get in touch!
Trade in, Trade up
You may be closer than you realised to owning that new bit of gear you've been after. We can either trade your old gear towards something new or even simply buy it outright from you.
Bring your gear into any of our stores and our staff will inspect the gear then assess it's value.
Electric Store Walkthrough
Our Glasgow store now spans most of the block at 22-38 Trongate. It offers everything any modern musician could need across 4 distinct departments; Electric Guitars, Bass, Acoustic and Digital. Each department is staffed by experts in their particular area.
We have one of the very best selections of instruments in the whole of Europe, all in one location and catering for an all tastes and needs. If you're a musician and you're spending the day in Glasgow, go for a lovely walk through the Merchant City and arrive here with us where you're guaranteed to have a wonderful time.
Acoustic Store Walkthrough
After you're finished in the Electric and Bass department, turn left at the front door for the Digital department or right for the Acoustic store. Our Acoustic department includes over 400 Acoustic guitars and folk instruments, all ready to see, hear and play.
Our staff are experts in helping you to find the right acoustic instrument as well as offering tips and advice on maintenance, servicing, amplification and much more. They want you to leave the store happy and feeling great at receiving wonderful service amongst the finest collection of fretted instruments in the country.