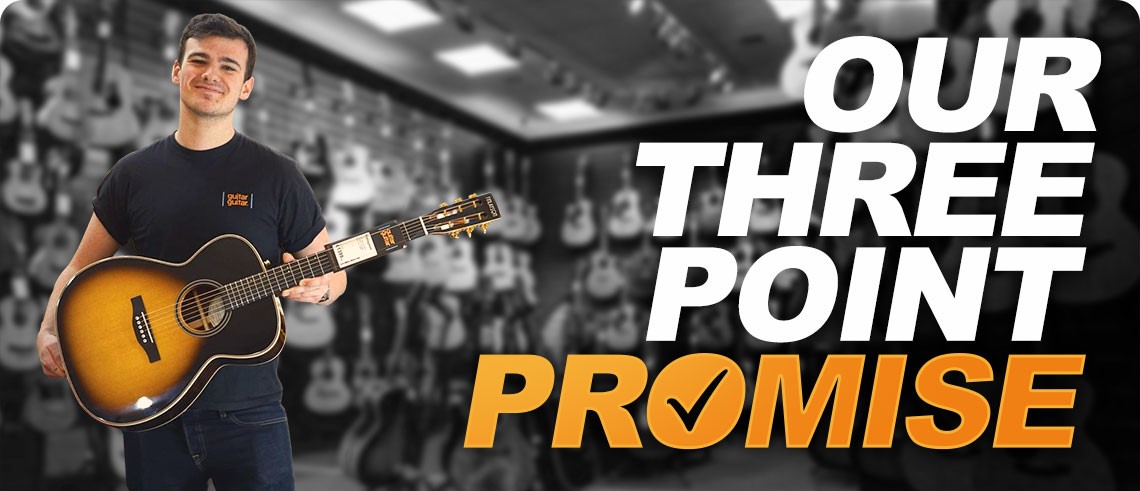 From your first chords to world tour, our team of talented product fanatics can help you wherever you are on your musical journey.

Our team's passion for music means we know just how important it is to find the right gear; we take the time to find you the perfect guitar.

Buy with confidence: We're the 1st, and only, UK guitar retailer to offer a 3-year warranty & 30-day exchange as standard.
Our Mission
Whether it's your first, fifteenth or even fiftieth guitar, guitarguitar is here to guide you through your playing journey and get your music sounding great. Doesn't matter if you're taking your first steps into the world of music or you're a seasoned collector, we're here to help - and with our three year warranty, your gear's covered too. We want to make sure that no matter what happens, your rig is right for you.
About guitarguitar
Our Story
guitarguitar is an employee owned, award-winning musical instrument retailer for players, by players.
Founded by Kip McBay and Graham Bell in Edinburgh in 2004, guitarguitar takes pride in being the UK's largest guitar retailer, running for 18+ years and counting with over 160 expert employees, stocking everything a musician could possibly need, whether you're beginner, intermediate or rocking the main stage – we've got the instrument for you and we're here to help you find it.
Our transition into an Employee Ownership Trust means we're putting our employees "centre stage" by becoming the country's first musical instrument retailer to move to Employee Ownership.
With 6 stores across the UK, we're accessible wherever you are throughout the country. Visiting our guitar shop is like no other music store experience you have had. With sound proofed private sound booths so you can shut out the world, crank up the amp and get lost in the experience of your dream guitar. If electronic drums, keys and synths are your thing, we also stock a wide selection of the best brands available and with Europe's only physical Roland location situated in the heart of Glasgow, you can try our wide variety in person.
We also have an in-house team of luthiers with a repair department available in many of our locations so if your beloved instrument needs a little TLC, our highly experienced team are here to restore your prized possessions to their top quality.
Our move to an Employee Ownership model means every encounter a customer has with a member of staff at guitarguitar will now be with someone who is invested in and committed to delivering outstanding service.
Our teams in Glasgow, Epsom, and Camden celebrate our Employee Ownership announcement!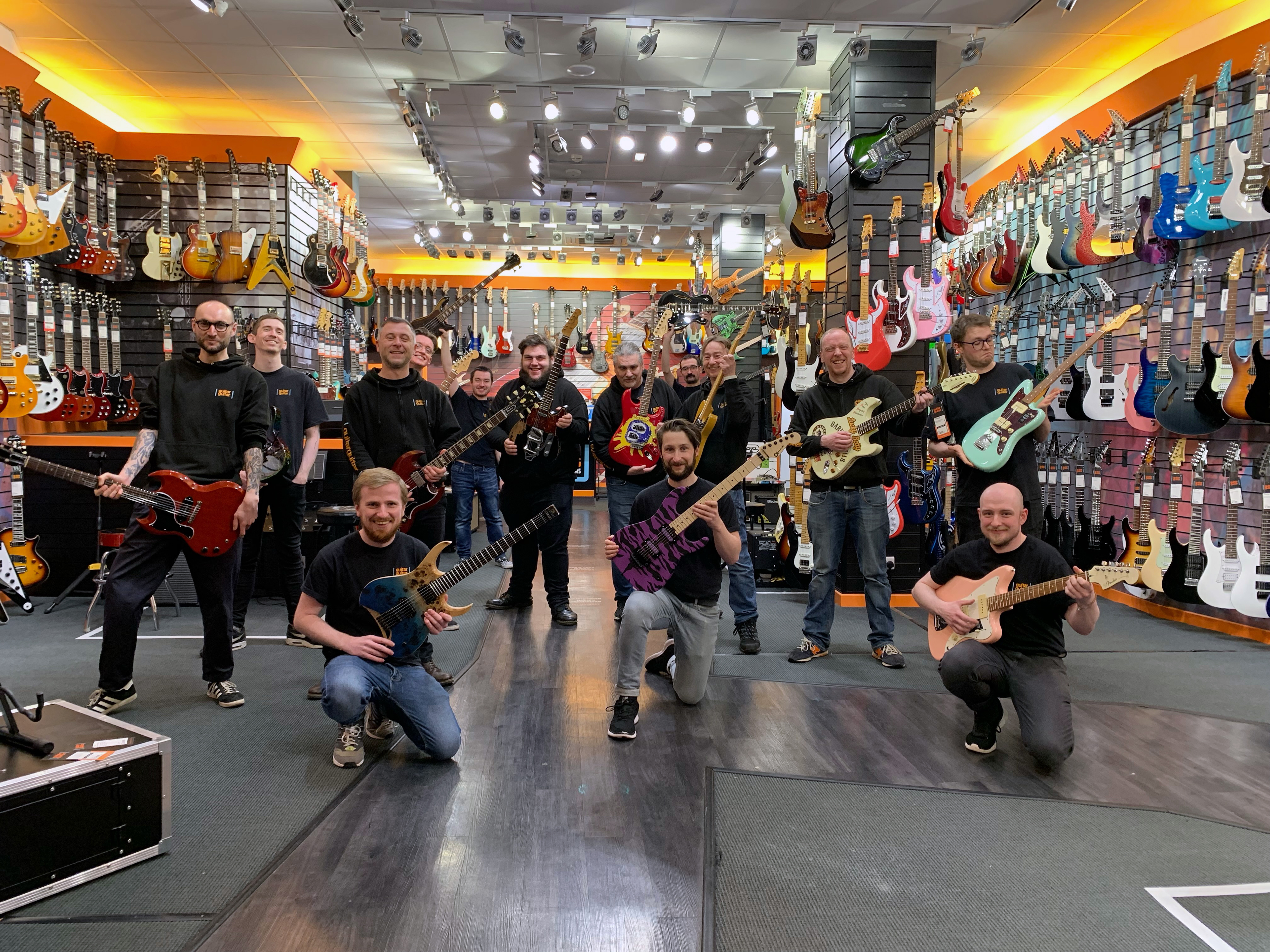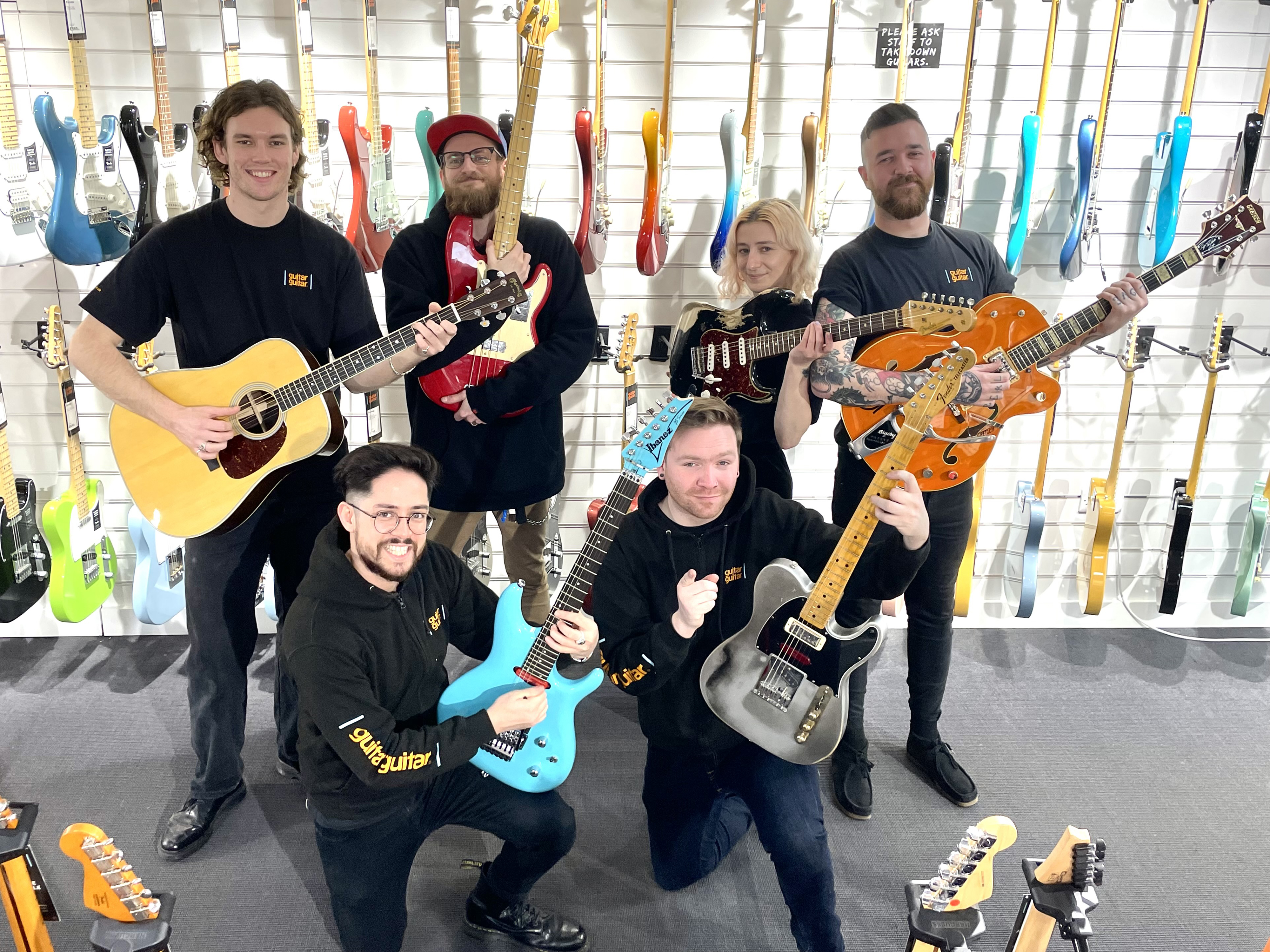 What You Can Expect
When you visit a guitarguitar store, you won't just find an unrivalled selection of guitars, gear and accessories - you'll find out how passionate our team are about guitars, playing guitar and everything music-related. Come along to one of our stores and try out our instruments to get a sense of and feel for each guitar we have on offer and find the one that's perfect for you; but be warned – you may need a full afternoon because you'll undoubtedly get caught up in a chat about your favourite guitars, riffs, artists, the list goes on… because we love what we do and we love sharing that with you.
Not only do we have the latest and widest array of products available, you'll find friendly and enthusiastic product specialists offering one-to-one advice covering electric guitars, acoustic guitars, bass guitars, electric drum sets, guitar amps, bass amps, acoustic guitar amps and guitar pedals, keyboards and pianos, synths and much more to meet all your musical instrument needs; so whether you're making your first purchase in the music world or you're a seasoned player looking to upgrade your gear, we've got a team of passionate players ready to have a chat with you and we're more than happy for you to stay all day, 7 days a week because we know it's the experience that counts.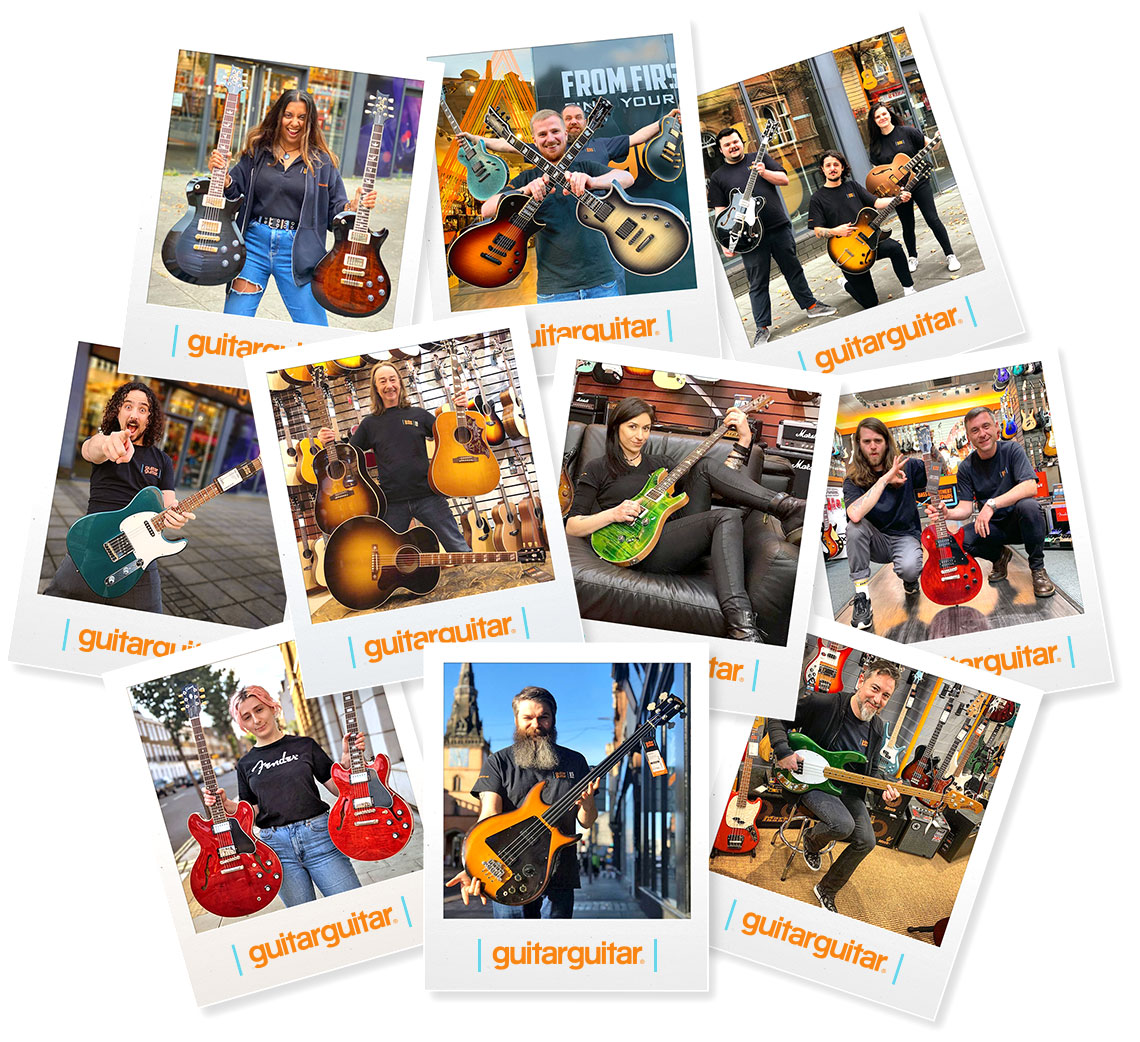 Why Shop at guitarguitar?
As an employee owned company, every encounter our customers have with our team will be with someone dedicated to providing an outstanding service, no matter where you are on your musical journey
Our team are passionate about what we do and have spent their lives making music and helping others get the most out of their music
From first encounter to after care, we promise an excellent standard of customer service and customer experience in person, by email, over the phone and through our live chat
Our focus on value means you can always find the best product selection available on the market
From our knowledgeable and experienced store team members to our online live chat, you're guaranteed excellent service no matter how you choose to shop with us
Three year warranty on all of our new products
Spread the cost with our finance options or pay in 30 days with Klarna
Flexible delivery with free delivery options, same-day dispatch and 1 hour click and collect available
Best pre-owned selection and offer in the UK; with a year's warranty on all pre-owned instruments we sell
guitarguitar Online
Since 2005 we've been offering the great service and unrivalled product selection we're known for through our online musical instrument website.
Bringing you the latest news in music, instruments, and artists interviews, through our guitar blog, YouTube, and social channels - each offering helpful advice and live industry updates, so you can join the conversation with our team of enthusiasts.
If you're looking for online guidance like you'd expect to see from our stores, our live chat lets you talk to one of our knowledgeable team members, ready to support you, whatever your needs are. We also have a varied selection of guides and gear tips within our blog to talk you through our latest offerings and give advice on how to make the most of your instruments.
We also have our store location Instagram accounts that let you check out what's available in your local store from new to pre-owned instruments and gear whilst getting to know our team there so you know you're getting the best advice from a great team of people.
Check out our 6 stores across Glasgow, Edinburgh, Newcastle, Birmingham, Camden and Epsom to try out your favourite gear and get lost in conversation with our expert team.
Retailer to the Stars
From guitarists and singers to actors and chefs, take a look at some of the famous musicians and celebrities who have shopped in one of our six stores.