Roland SPD-SX Special Edition Red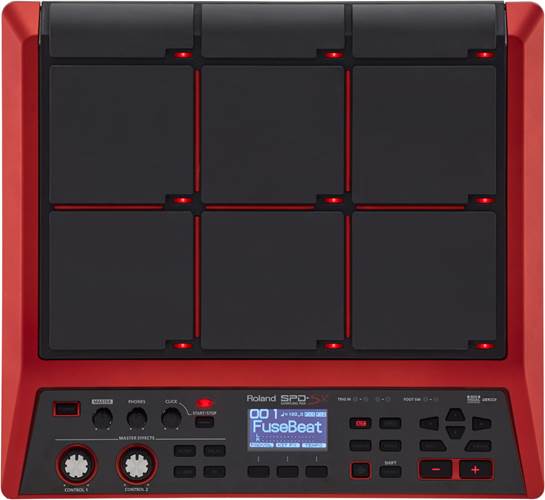 £699.00
Available to Order
Stock expected 30th September 2021
Frequently Bought Together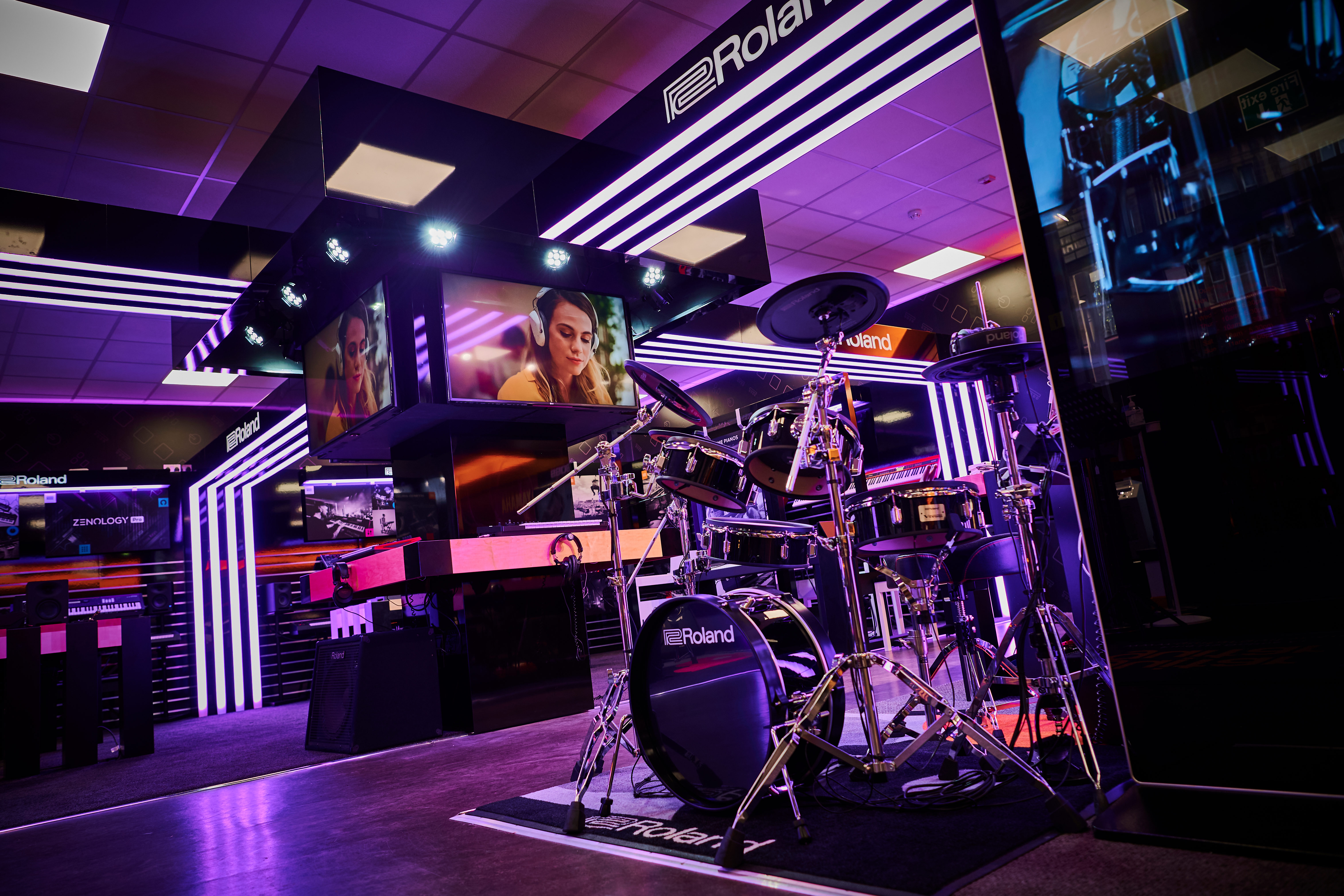 Try it now in our Glasgow Roland Store
This item is set up and ready to try at the only Roland Store in Scotland. Based in our Glasgow premises, you will find a huge selection of Roland and Boss gear that's ready to demo. Plus, you can get the expert advice you need from our in house Roland Senior Product Specialist.
Manufacturer's ID: SPD-SX-RD
What we say:
At A Glance:
The Roland SPD-SX Special Edition Red is an upgraded version of the industry-standard drum sampler. If you've ever seen a drummer or percussionist triggering samples on stage then chances are they're using an SPD-SX.
Loved for its versatility, responsive pads, large range of built-in sounds and impressive memory for importing your own, the SPD-SX keeps things simple enough to be reliable and features enough options for it easily fit into any drum set up. This special edition boasts all of the same great features as the original SPD-SX but has been updated to feature a striking red finish and 16GB of internal memory.
Features We Love:
Hit It!
The SPD-SX features 9 pads in total, 6 on the main face of the machine and 3 on the top ledge, each pad is velocity-sensitive and has a natural rebound. In addition to the pads, you have two dual-zone trigger inputs (which can be split into four single-zone inputs) and a footswitch input. The trigger inputs will work with virtually any drum pad and can be assigned sounds just like the machine's built-in pads. A compatible footswitch can be used for various functions including changing patches, turning on and off effects or stopping all playing samples.
Sampling
The SPD-SX has a huge range of quality drum and percussion sounds built-in, but the key ingredient to its appeal is its sampling capabilities. Essentially any sound you want can either be recorded or loaded into the SPD and assigned to a pad for playback. This could be drum sounds, loops, vocal samples or even backing tracks.
One great feature of the SPD-SX is the ability to chain two pads together, so for example, you could have a stereo backing track linked to a click track, with the backing track playing through the main outputs for your audience and the click and backing track playing through the headphone output so you can keep in time.
Uses
This is one of the most versatile percussion instruments available and has been designed to fit into any situation. Whether you're a solo artist looking for new performance opportunities or a drummer/percussionist looking to get into hybrid drumming, the SPD-SX has the features to meet your needs.
Below are some of the most common ways we've seen the SPD-SX used.
Acoustic Triggering: It's very common in the rock and metal (or even EDM) genres for drummers to enhance the sound of their acoustic kits with sample triggering. Generally, a clip-on trigger will be added to the kick drum and fed to the SPD. Each time the kick drum is played the SPD will trigger a specified sound. For example in metal, the use of an TR-808 kick sample is often used to give the overall kick sound more attack, plus the velocity dynamics can be reduced in the SPD's trigger settings to create a more consistent sound.
Looping: While any sound can be assigned to be played as a loop, where hitting the pad will start the loop and hitting a second time will stop the loop, one of the most unique features of the SPD-SX is real-time sampling. In sampling mode you simply play in an audio source, this could be an audio recording and a live performance. Then, with your audio source playing, hit the pad you want the sound to go on, it will start recording, then hit the pad again for the recording to stop, or hit another pad for the sound to begin recording on that pad. These samples can be assigned to play back as one-shots or as loops. It's an intuitive process that unlocks a lot of creative potential.
Portable Practice: The trigger inputs actually make this an excellent portable electronic drum set up,. We've seen a lot of touring bands use the SPD-SX backstage for warming up. Simply add on a couple of drum pads and a compatible pedal and you've got a full electronic kit that fits in a bag.
Highlights:
Responsive pads that won't fatigue your hands when playing
Professional audio quality
Built in effects can be used in real time
SPD-SX Wave Manager software makes creating kits easy
16GB internal memory
Can be mounted in the same way as a rack tom
What's Included:
Roland SPD-SX Special Edition Red
Power Supply
Specification
| | |
| --- | --- |
| Pads | Built-in Pads: 9 (with LED Indicators) - Two external trigger inputs are provided, allowing you to connect up to four Pads. |
| Maximum Polyphony | 20 voices - Maximum polyphony becomes 16 voices according as an operating state. |
| Number of Recordable Wave Data | 10,000 - Including preload wave data. |
| Sampling Time (Total time for all wave data) | Approx. 25 hour in stereo (50 hour in mono) - Since the internal memory included with the SPD-SX contains preload data, the available sampling time will be less than the time above. |
| Data Format | 16-bit linear PCM (WAV/AIFF) |
| Sampling Frequency | 44.1 kHz |
| Kits | 100 |
| Kit Chain | 8 chains (20 steps per chain) |
| Effects | Master Effects (21 Types) |
|   | Equalizer |
|   | Kit Effect 1 (20 Types) |
|   | Kit Effect 2 (20 Types) |
| Display | Graphic LCD 128 x 64 dots |
| Connectors | PHONES jack (Stereo 1/4-inch phone type) |
|   | MASTER OUT jacks (L/MONO, R) (1/4-inch phone type) |
|   | SUB OUT jacks (L/MONO, R) (1/4-inch phone type) |
|   | AUDIO IN jacks (L/MONO, R) (1/4-inch phone type) (with LINE-MIC GAIN control) |
|   | TRIG IN jacks (1/2, 3/4) (1/4-inch TRS phone type) |
|   | FOOT SW jack (1/2) (1/4-inch TRS phone type) |
|   | MIDI connectors (IN, OUT) |
|   | DC IN jack |
|   | COMPUTER connector |
|   | USB MEMORY connector |
| Interface | Hi-Speed USB (USB-MIDI, USB-AUDIO, USB Mass Storage Class, USB Flash Drive) |
| Power Supply | DC 9 V (AC Adaptor) |
| Current Draw | 600 mA |
Firmware Update Ver.1.08 introduces the following features
Advanced Noise Cancel Parameter is added, specific for the use of "RT-30K" and "RT-30HR."
Added "RT30K", "RT30HR", "RT30H_SN", "RT30H_TM", "KT10", "BT-1", "PDX-100", "PD-108" and "PD-128" to the Trigger Type.
Functionality Improvement:
Improved a stability on a USB connection.
The SAVE function of the SPD-SX Special Edition now accommodates saving files larger than 4 GB.