Suhr Koko Reloaded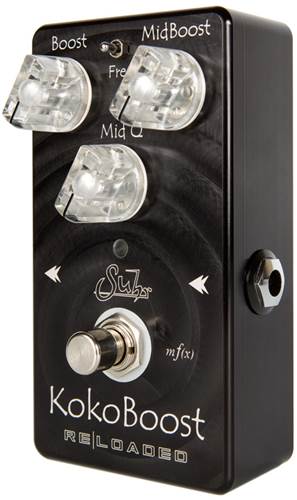 £199.00
Available to Order
This product is temporarily out of stock
We currently have it on order with our supplier. Place your order and we will email you when we have an estimated delivery date.
Includes extended exchange
Buy with confidence: Items bought 1st October 2020 to 24th December 2020 are eligible for our Extended Christmas Exchange and can be exchanged until Sunday 31st January 2021. Learn More
Recommended Bundles
Manufacturer's ID: Koko Reloaded
What we say:
This new iteration of the Koko boost makes use of Suhr's mf(x) technology to offer two separate boosts: a clean boost and a mid boost, selectable by holding down the on/off switch to go between.
A three position Frequency switch (which has been tweaked and revised since the original Koko Boost) allows you to choose a smooth, clear or creamy overall sound. The Koko Boost sounds fantastic and doesn't interfere with your tone. You can also choose, via an internal switch, whether the bypass is buffered or true.
Specification
Koko Boost Reloaded is the result of countless hours of listening, testing, and modifying our original circuit to create a pedal with a smaller footprint, while simultaneously expanding its functionality and versatility. Thanks to our proprietary Multi-Function Technology, mf(x), switching between Koko's two boosts has never been easier. Additionally, we have re-voiced the 3-position frequency switch and added +6dB more gain than our original Koko for increased harmonics and sustain.
Koko Reloaded is the ideal solution for players seeking a pedalboard friendly Clean/Mid Boost pedal to expand the range of pushed and overdriven tones from their amplifier and pedal setup.
Koko Reloaded was engineered with independent Clean and Mid Boost controls resulting in the ability to fine-tune each mode.
RE-VOICED FREQUENCY SWITCH (THREE POSITION) 
The Mid Boost frequencies have been optimized for a sweeter, more cutting tone, that never sounds harsh or fatiguing.

Left (Mids): Full and Smooth, tuned specifically to bring out your guitars natural midrange characteristics.


Middle (High Mids): Clear and articulate, voiced to cut through a mix for solo playing.


Right (Low Mids): Fat and Creamy, excellent for thickening up rhythm and lead tones.
mf(x) = MULTI-FUNCTION TECHNOLOGY
Koko Reloaded Created to enhance your overall playing experience, we developed Multi-Function Technology mf(x). mf(x) is a proprietary foot switch technology that enables you to seamlessly select between Koko Reloaded's two distinct user modes, Clean and Mid, just by holding down it's foot switch. Would you like to default to one mode in particular the next time you turn on Koko? Not a problem; mf(x) has built in memory that remembers your last mode choice.

APPEARANCE
Housed in a unique, spiral faced enclosure, the Koko Boost Reloaded is anodized in a deep raven black finish, and accented with futuristic translucent control knobs.

Pedalboard Friendly - Ideal for pedalboards of all sizes


More Control Individual Clean and Mid Boost controls


Modified Frequency Switch (Three Position) - Modified for greater versatility and emphasized upper mid frequencies for a sweeter more cutting tone


More Gain - +6dB of additional gain for increased harmonics and sustain