Electro Harmonix Crash Pad Electronic Crash Pad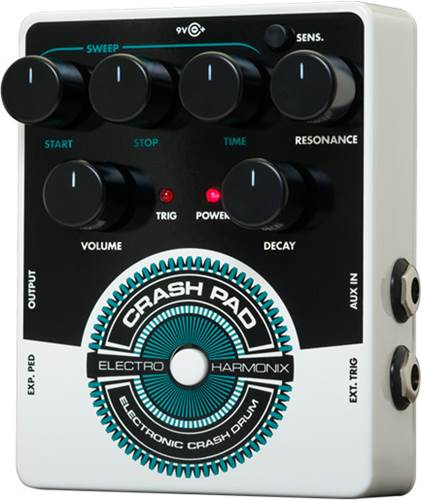 £79.00
Order before 1PM for Delivery Tomorrow
Recommended Bundles
Manufacturer's ID: CRASH PAD
What we say:
This unusual device from Electro-Harmonix is a type of analog drum synthesizer. It's actually a reissue of the original 1980 Crash Pad and can make an assortment of cymbal, snare, tom, hi hat and other synth percussion sounds.
It isn't a stompbox per se and we'd recommend not booting the push button trigger with your size tens but you can press it hand-drum style or connect it to a pad or midi clock (like the E-HX Clockworks) to get it to make a signal. There is a very expressive filter circuit available for wide tonal shifts and this is controllable via an expression pedal (keep things hands free for hitting buttons!) and achieve some unique analog percussion noises!
Specification
Like the original from 1980, the new Crash Pad can create an array of drum sounds and other-worldly oscillation sweeps, as well as process external sounds thru its resonant filter. Plus, it's been updated to respond to expression pedal/CV input for external control over the filter in real-time.
Creates a range of percussive sounds from cymbals, snares and hi hats to oscillation sweeps
Triggers via the onboard pushbutton, an external (nonMIDI) drum pad and most clock generators
Process external sounds thru the resonant filter + EXP/CV input for realtime filter control
Rugged, diecast chassis
Works great with the EHX Clockworks Rhythm Generator/Synthesizer, 8 Step Program Analog Expression/CV Sequencer and other similar devices
EHX 9.6VDC200mA power supply included, also accepts 9V battery
Current Draw: 22mA @ 9VDC
Dimensions in inches: 4.0(w) x 4.75(l) x 2.25(h)
Dimensions in mm: 102(w) x 121(l) x 58(h)