BOSS AD-10 Acoustic Preamp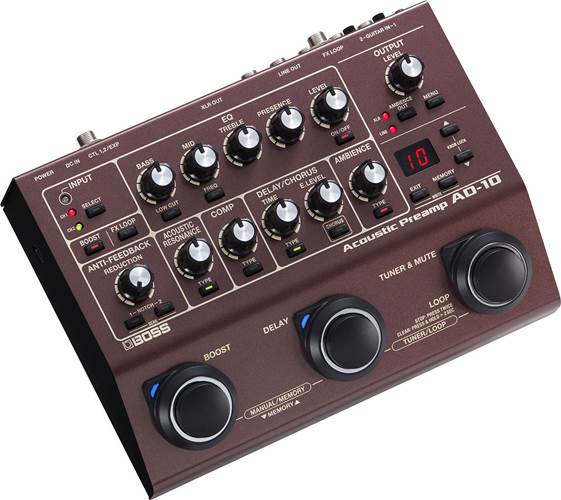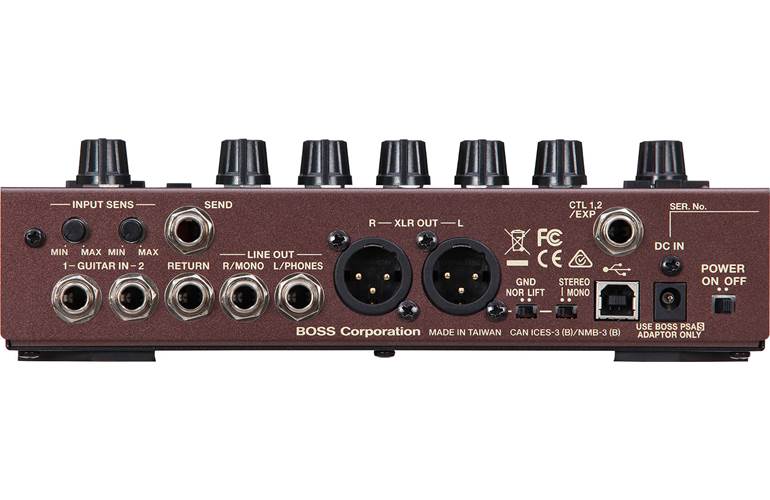 £319.00
Order now for FREE Delivery on Tuesday
Manufacturer's ID: AD-10
What we say:
BOSS bring their considerable experience to the world of acoustic guitars with this AD-10 preamp, dedicated to enhancing the sound and performance of your acoustic guitar both live and in the studio.
The aim of this floor unit is to get your live acoustic tone sounding and, more importantly, feeling, like the experience of playing an unplugged acoustic. There is often a disconnect between these two worlds, even if the same instrument is used. BOSS have resolved to target that area and improve it.
This rugged metal box is packed with useful features. The effects on board are carefully chosen to be of the most use to acoustic players, so you will not have to wade through pitch shifters and ring modulator sounds to get to things you really need!
Instead, alongside the reverbs, delays and choruses, you'll find compression, anti-feedback, a looper and two extra tone shaping devices in the form of 'Acoustic Resonance' and 'Ambience'. A comprehensive EQ is included to, accessible from the simple front panel.
Three flat, round foot switches allow you to activate everything from individual effects to the looper to the tuner! Guitarists familiar with BOSS's other multi-FX products will be on home turf here.
There are two inputs for guitars and, we are happy to see, an XLR output for a balanced sound. Also, buskers will be pleased to note that the BOSS AD-10 runs on either mains power or 6 AA batteries, increasing it's usage options.
The BOSS AD-10 is a useful, thoughtful and effective addition to the stripped down equipment list of every acoustic guitarist.
Specification
Professional preamp/DI for performing and recording with acoustic-electric guitar
Acoustic Resonance restores the warm and rich resonance lost with most pickup systems
Four-band EQ and variable low-cut filter tuned to deliver optimized tone shaping for acoustic guitar
Multi-band compressor with MDP technology provides transparent dynamics control
Newly developed anti-feedback functions control feedback while maintaining balanced tone
Two channels with independent EQ for connecting two instruments or blending multiple pickup sources
Onboard ambience, delay, and chorus effects with multiple sound types and adjustable parameters
Boost function with adjustable tone setting
Memory function for storing 10 sound setups
Onboard looper with 80 seconds of recording time
XLR and ¼-inch connectivity for interfacing with PA systems, stage monitors, amps, and external effects
USB audio interface functionality for computer recording and playback
Fast and accurate built-in tuner
Compact and portable design
All the Tools You Need in One Portable Package
Its vast tone-shaping features and intuitive, hands-on controls enable anyone to dial in exceptional sounds quickly and easily. Advanced feedback-fighting capabilities are also on board, making it simple to tackle the sound issues that inevitably come up in different performance venues. The AD-10 also supports power via an included AC adapter or batteries, offering great flexibility for any performing situation.
Restore True Acoustic Tone with BOSS's Acoustic Resonance
The AD-10's Acoustic Resonance implementation has been greatly expanded from previous generations, offering more powerful processing, three different resonance types, and the ability to balance the tonal characteristics to perfectly match your performing needs.
Preserve Your Sound with Multi-Level Feedback Protection
The AD-10's feedback reduction function employs newly developed BOSS technology to seek out and gently suppress the offending feedback frequency. At the same time, your overall tone is subtly balanced as needed for transparent sonic results.
Two-Channel Design with Wide-Range EQ and Exceptional Audio Quality
The AD-10 has two input channels, allowing you to set up tones for two different stage guitars, blend two pickup sources from a single instrument, or even use two instruments at once. The signal path is engineered for warm, accurate tone with ultra-low noise, and each input has adjustable sensitivity for fully optimized processing with different pickup types.
Onboard BOSS Effects, Optimized for Acoustic Guitar
Acoustic guitars love reverb, and the AD-10's Ambience effect offers three types of high-quality reverberation specially tuned for guitar. There's also a delay with standard, mod, and reverse types, plus three different variations of BOSS's famous sound-widening stereo chorus effect.
Useful Performance Functions for Acoustic Musicians
The soft-touch footswitches can be configured to select memories, turn effects on/off, access the onboard tuner, and more. With the AD-10's looper, you have a convenient tool that's always at the ready for practice, jamming, and stage creativity. The on-demand boost function is great for kicking up the volume for solos or reducing the volume for heavy strumming, and it even includes an adjustable tone control for changing the sound when engaged.
Audio Connections and External Control
On the rear panel of the AD-10, stereo XLR jacks provide a DI feed to the front of house, while stereo ¼-inch jacks allow you to connect to your stage amp setup or headphones for monitoring. From the AD-10's panel, you can choose to send signals to the outputs with or without effects, or assign input channels one and two to independent outputs. There's also an effects loop for patching in external effects, and a jack for connecting up to two footswitches or an expression pedal for controlling looper functions, volume, tap tempo, anti-feedback scan, and more. In addition, the AD-10 functions as a two-in/two-out USB audio interface, enabling you to record tracks to a DAW and play computer music through the AD-10's audio outputs.