Ableton Live 10 Suite Upgrade from Live 7-9 Suite (Download, serial number only)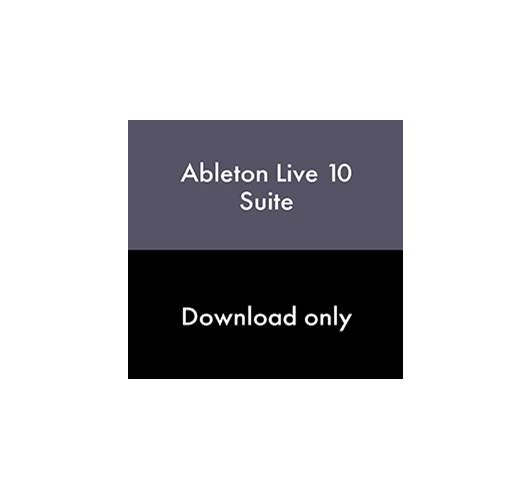 £229.00
Available to Order
This product is temporarily out of stock
We currently have it on order with our supplier. Place your order and we will email you when we have an estimated delivery date.
Manufacturer's ID: 88176
What we say:
Ableton Live 10 is a unique DAW (Digital Audio Workstation) that is as much a professional sequencer/sampler as it is a live music production tool. As well as utilising all of the standard recording facilities of DAW software, Live allows you build sequences and song structures in real-time without any glitches or interruptions in the music. You can mix, add effects, bring in and out instruments and generally compose on the go! There is a lot under the hood to get to grips with but the general operation of the software is actually pretty simple so you won't be scratching your head for too long!
10 is the most up to date release and has a number of new features and improvement including a revised graphical interface, new button features for easier Automation, a new synth in the form of Wavetable and new effects modules including Drum Buss, Pedal & Echo. These powerful and considered upgrades tweak and refine an already essential piece of software for the contemporary musician, regardless of genre or style.
This download code is for the Suite edition of Live 10. This gives you an enormous amount of fantastic virtual instruments (both realistic and otherwise), plug in utilities, studio modules and other devices to turn your humble laptop into a multi-faceted studio powerhouse! This is an upgrade for Ableton users who already have a previous version of Suite between versions 7 to 9.
Specification
Download Only - Not Boxed Product
This is a
download only
version. Content downloadable from the
ableton website
. Customers will receive serial numbers via email within one working day of purchase date.
Please note: once ordered these serial numbers are non-refundable.
Live's effects, instruments, sounds and creative features let you make music, limited only by your imagination. Use Live's native devices as the foundation of sound design or mold and shape something new from a range of carefully curated Packs. Since the software keeps everything in time, Live is also perfect for on-stage improvisation and hands-on play. Customize the software to fit your performance, not the other way around. With Push, Ableton's instrument built specifically for Live, you get all the functionality of software with the immediacy of hardware.
Create with Live No matter how you like to begin, Live helps you get the music in your head out of your speakers. Session View lets you sketch ideas lightning fast – play, mix, and match MIDI and audio loops of different lengths and tempos without ever stopping the music. The Arrangement View is where you organize your music along a timeline and build sections of your song. Record an arrangement directly from the Session View and improvise a finished composition.
Live's synthesizers deliver a vast range of sound using wavetable, FM, analog and physical modeling architectures. A pair of sampling devices help you squeeze the most out of your drum samples and multi-sampled instruments with built-in slicing, warping and more. Included MIDI effects let you creatively manipulate your notes, while audio effects help you clean up your mix or make a creative mess.
Live's Core Library comes with every edition of the software and includes vintage synths, analog drum machines, keys, multi-sampled drums, and much more. "Curated Collections" are toolkits of curated sounds designed to be shaped into something new.
Software without limits Live comes with everything you need but adapts to your unique needs. Map knobs, faders and buttons to nearly any controller to get hands on control of almost every parameter in Live. The software also includes auto-mappings for a growing number of MIDI controllers for instant results.

Max for Live is a software platform that powers a range of Live's instruments and effects. Load one of its many built-in sound generators, audio and MIDI effects to expand your sound, or use it to customize devices, build your own and even hack how Live works. You can even use it to connect Live to lights, cameras, sensors, surround sound setups and more.
Perform with Live Trigger, re-sequence and remix your music in real time. Control external hardware and integrate outboard effects. Improvise on your own or process audio played by others.
Expand your setup and collaborate with others using Link. The technology syncs timing over a network connection, so software like Reason, Serato and an ever-growing number of iOS apps work together in your Live setup.
 Live 10 Suite key features
Multitrack Audio recording and MIDI sequencing of software and hardware instruments
Unique Session View for nonlinear composition, flexible performance and improvisation
Real-time warping of audio: automatically sync music and loops, regardless of tempo
MIDI-mappable controls for hands-on creation onstage or in the studio – plus automatic mapping for popular hardware controllers
Audio to MIDI conversion tools: extract harmony, melody or drums from an audio sample and convert it into MIDI.
Comprehensive selection of built-in audio effects for creative sound design, mixing or mastering
Advanced sampling and slicing tools
VST and Audio Unit support
Groove engine to apply swing to audio or MIDI, or extract rhythmic 'feel' from other audio files
Video import and export for scoring to video or warping video to music
Built-in Max for Live software with more instruments, audio and MIDI effects, and the ability to customize Live
 Instruments, effects and sounds:
10 instruments: Wavetable, Operator, Sampler, Analog, Electric, Tension, Collision, Simpler, Drum Rack, Impulse – plus Instrument Racks and the External Instrument device
57 audio and MIDI effects, including Drum Buss, Echo and Pedal
5000+ sounds
70+GB of loops and samples
 Technical feature spec / compatibility:             
Nondestructive editing with unlimited undo
Multitrack recording up to 32-bit/192 kHz
Automatic plug-in delay compensation
Ableton Link integration
MIDI remote control instant mapping
MIDI output to hardware synths
MIDI Clock/sync
ReWire support
Multicore/multiprocessor support
WAV, AIFF, MP3, Ogg Vorbis, FLAC file support
Unlimited Audio and MIDI tracks
Unlimited Scenes
12 Send and return tracks
256 Audio inputs, 256 outputs
Rex file support
POW-r dithering
Groove Pool and extract groove
Capture