Gibson Les Paul Standard 60s Iced Tea #225810324
Includes Hard Case
This product is no longer available.
This has replaced it: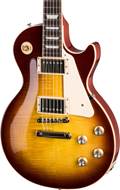 In Stock
Customer reviews
Overall Rating 4.9/5 (

16

reviews)
A truly great tone from the solid body. Nice action/profile and all the bits of a les paul. No push pull knobs on this standard.
Quality product, fantastic sound
Stunning guitar to play and look at. Very happy with my purchase
Fantastic quality and playability. Great purchase
I've had multiple guitars in the past; Strats, Flying Vs + I've tried SGs, Jacksons, etc - but Les Paul 60s remain the most comfortable shape and neck by far. The guitar fits so well on me that I love how I can literally "feel" the resonance of the strings when I play. The sound is absolutely incredible for the genres I play (heavy metal, thrash, powerl) Also worth mentioning particular LP is a stunner to look at - photos don't give it justice. The colour is a masterpiece. Only downside is that here are some liiiiitle tiny details in finishing quality that seem a bit off - apparently that has been the case for the past years with all Gibsons.
Great guitar, plays perfectly and every bit as good as the photos
Beautiful guitar with great action
I've been over this guitar with a fine tooth comb and really can't find any issues (well done Gibson). It's always a worry spending this much without seeing the instrument first, but thankfully all was well. The setup was superb right out of the case... the action is low, but without a hint of fret buzz. Even the tuning stability is impressive for a Les Paul. The only thing I'd say is the photo on the GuitarGuitar website did not do the top justice!
GuitarGuitar was the only company in the U.K. to stock the Gibson Les Paul Standard !!!
Great sound and well finished
The instrument is superb - I got photos during the review and the whole process was done in a professional manner.
Still getting used to it, may end up five star
Guitar is everything I expected when buying a quality Guitar from Guitar Guitar
Gibson has gone back to the classic guitar no gimmicks. Excellent
Superb guitar looks amazing, sounds amazing
Show more reviews
You might also be interested in...
Keep up with our latest offers, news & events