ZVEX Vexter Box of Rock Distortion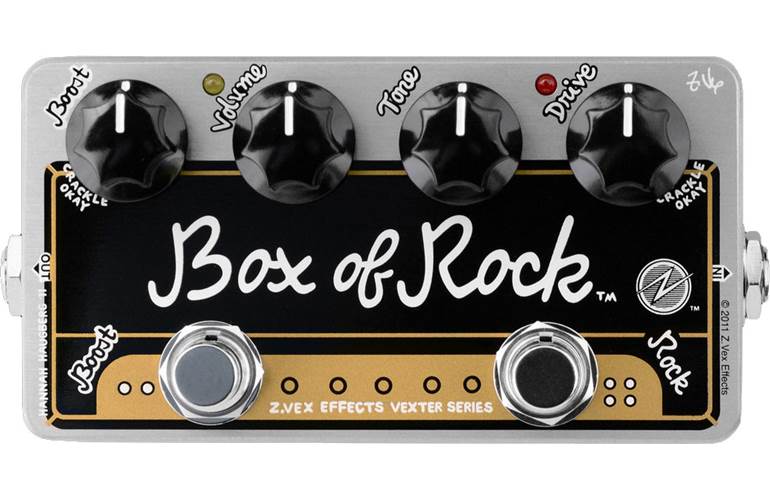 £199.99
Order before 3PM for FREE Delivery Tomorrow
Includes extended exchange
Buy with confidence: Items bought 1st October 2021 to 24th December 2021 are eligible for our Extended Christmas Exchange & can be exchanged until Monday 31st January 2022. Learn More
Make 3 payments of £66.66

No fees.
Learn more
Manufacturer's ID: VEXTERBOXOFROCK
This Box of Rock simulates Zachary's favorite amp turned up all the way, a 1966 Marshall JTM45. The tone control adjusts brightness and there's a high-headroom low-noise boost.
The Box of Rock is Z.Vex Effect's first "distortion" pedal, highly specialized to simulate the "everything on 10" sound of a classic Marshall JTM45 non-master-volume amplifier. You may use the Box of Rock effectively with many different amplifiers. Once you've set your maximum needed drive on the pedal, use your guitar's volume control to adjust for the exact amount of distortion you need, all the way down to very clean and clear with most drive settings. You will notice the words "distortron engine" on the Vexter version of this pedal (no, that's not a misprint) on the pedal. This is what I named my distortion circuit... call me crazy.
Controls
BOOST : Sets the boost level, which is engaged with the left stomp switch. [Start around 11:00 o'clock]. The Drive and Boost controls are based on my original Super Hard On™ gain control, so they may crackle when turned. This is perfectly normal.
VOLUME : Adjust for distortron engine volume level. [Start around 9:00 o'clock].
TONE : Adjust for treble content. [Start around 2:00 o'clock].
DRIVE : Sets the amount of distortion. [Start around 1:00 o'clock].
Pedal Dimensions (LxWxH):  4.70" x 2.38" x 1.82"