£399.00
Order before 1PM for FREE Delivery Tomorrow
Make 3 payments of £133.00

No fees.
Learn more
Frequently Bought Together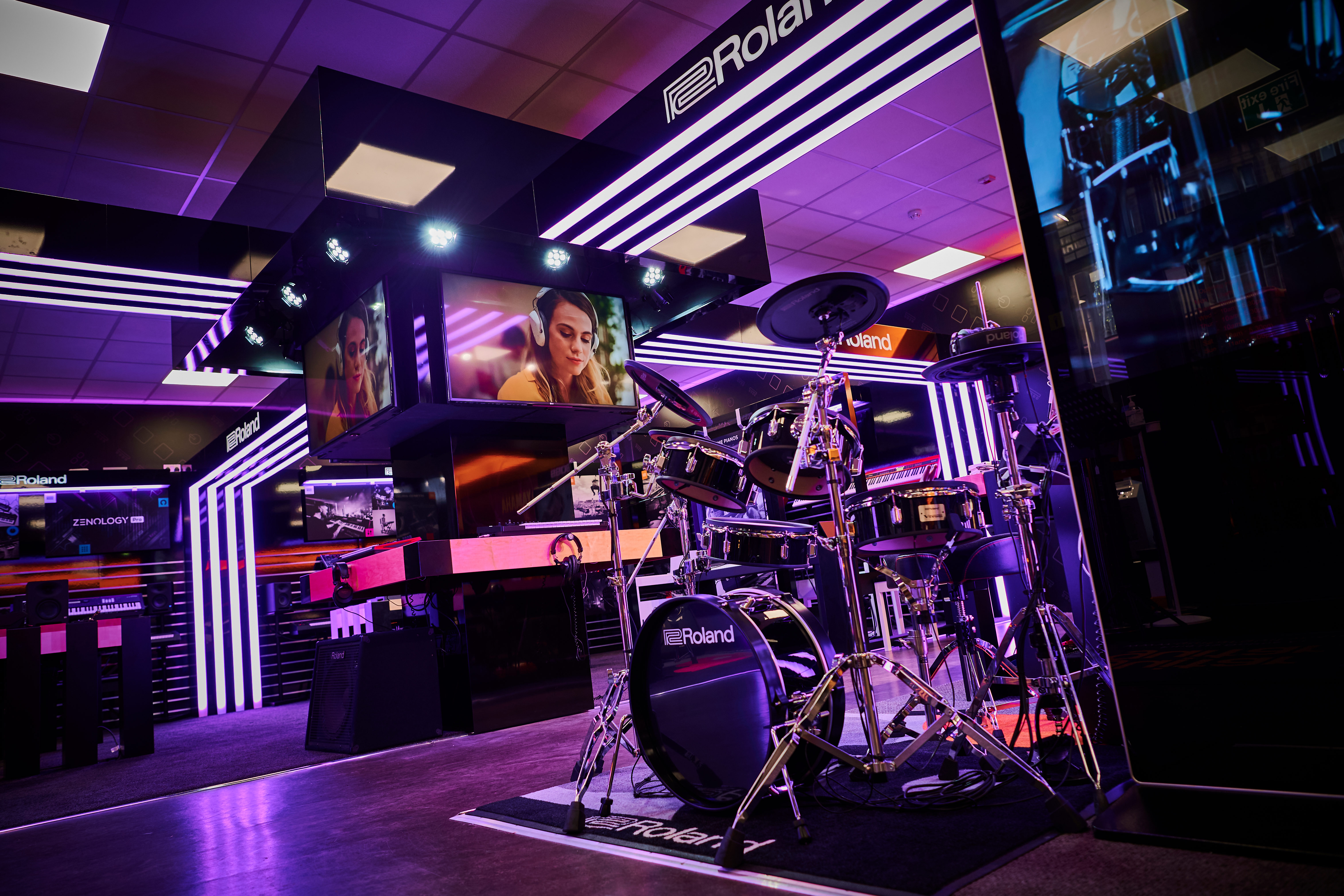 Try it now in our Glasgow Roland Store
This item is set up and ready to try at the only Roland Store in Scotland. Based in our Glasgow premises, you will find a huge selection of Roland and Boss gear that's ready to demo. Plus, you can get the expert advice you need from our in house Roland Senior Product Specialist.
Manufacturer's ID: AIRA-MX-1
What we say:
At A Glance:
The MX-1 from Roland brings together your AIRA hardware, DAW and other instruments to one control center. It has an intuitive TR step sequencer for FX, tempo syncs your AIRA gear and streams audio from the DAW all at the same time. There isn't any other mixer on the market that does this, and the MX-1 one does it all so well.
Features We Love:
AIRA Sync
The MX-1 features 6 analog inputs, 4 AIRA link USB ports, send and return ports and can stream 18 channels of audio from your DAW. This is ideal for an electronic rig, where you can connect your other AIRA gear via USB and other instruments via audio. When you connect AIRA gear via USB, you can tempo sync and hit play right from the MX-1. Being able to control it all from one place can be a time saver and keeps your instruments locked in with each other.
DAW Compatibility
When connecting the MX-1 to your DAW, you have the option to use it as a control surface or an external audio interface. This is great for producing in the studio and can speed up your workflow. If you perform live with a laptop, you can stream the audio out via the MX-1 and blend it with your hardware instruments.
Performance Mixer
At the heart of the MX-1, it is a performance tool. You'll find a TR-style step sequencer, for programming Beat FX. This is great for programming side chains and effects like slicer, making the MX-1 feel like an instrument itself.
Highlights:
Control center of your electronic rig
Performance optimized
Mixer, control surface and External modes
Links AIRA gear via USB
Step sequenced beat FX
What's Included:
MX-1 Aira Synth Mixer
Owner's manual
Leaflet "USING THE UNIT SAFELY"
AC adaptor
Ableton Live Lite Serial Number Card
Specification
| | |
| --- | --- |
| Tempo | 40–300 |
| Scene Memory | 16 x 4 (Bank A, B) |
| BEAT FX | FILTER: 5 types |
| | SIDE CHAIN: 5 types |
| | SLICER: 5 types |
| MASTER FX | DELAY: 8 types |
| | FILTER: 8 types |
| | SCATTER: 8 types |
| | FLANGER: 8 types |
| | BIT CRUSH: 8 types |
| | ROLL: 8 types |
| MASTERING | 10 types |
| Number of USB Audio Max Input/Output Channels | Sampling frequency: 96 kHz, 48 kHz, 44.1 kHz |
| | Input: 18 channels |
| | Output: 18 channels |
| Signal Processing | PC interface: 24 bits |
| | AD/DA conversion: 24 bits |
| Sampling Frequency | AD/DA conversion: 96, 48, 44.1 kHz |
| | DIGITAL (IN, OUT): 96, 48, 44.1 kHz |
| Nominal Input Level (variable) | Input 1–4: -26– +4 dBu |
| | Input 5/6: -26– +4 dBu |
| Nominal Output Level | MIX OUT: +4 dBu |
| Head Room | 18 dB |
| Input Impedance | Input 1–4: 100 k ohms |
| | Input 5/6: 100 k ohms |
| Output Impedance | MIX OUT: 1 k ohm |
| | PHONES: 24 ohms |
| Frequency Response | 96.0 kHz: 20 Hz–40 kHz (+0/-2 dB) |
| | 48.0 kHz: 20 Hz–22 kHz (+0/-2 dB) |
| | 44.1 kHz: 20 Hz–20 kHz (+0/-2 dB) |
| Dynamic Range | AD block INPUT 1–4: 100 dB typ. |
| | AD block INPUT 5/6: 100 dB typ. |
| | DA block MIX OUT: 108 dB typ. |
| Connectors | PHONES jack: 1/4-inch stereo phone type |
| | MIX OUT (L/MONO, R) jacks: 1/4-inch phone type (unbalance) |
| | INPUT 1–4 (L/MONO, R/MONO) jacks: 1/4-inch phone type (unbalance) |
| | INPUT 5/6 jack: Stereo miniature phone type |
| | AUX RETURN (L, R) jacks: RCA phono type |
| | AUX SEND (L, R) jacks: RCA phono type |
| | USB FUNCTION Port: USB type B (Audio, Midi) |
| | USB HOST 1–4 ports: USB type A (Audio, Midi, for only TB-3/VT-3/TR-8/SYSTEM-1) |
| | USB HOST 3 port can supply USB Bus power |
| | COAXIAL IN/OUT jack |
| | MIDI (IN, OUT) connectors |
| | DC IN jack |
| Interface | Hi-Speed USB |
| | Digital input, output: Coaxial type (conforms to IEC60958) |
| | MIDI IN/OUT |
| Power Supply | AC adaptor |
| Width | 400 mm / 15-3/4 inches |
| Depth | 264 mm / 10-7/16 inches |
| Height | 65 mm / 2-9/16 inches |
| Weight | 1.81 kg / 3 lbs. 16 oz. |