JHS Pedals Twin Twelve V2 Overdrive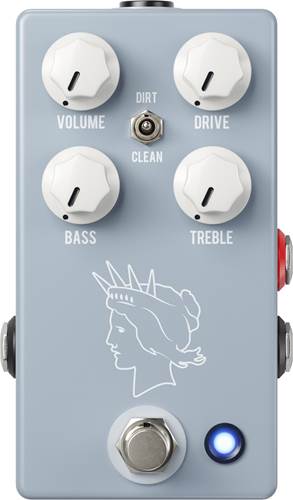 £195.00
Order now for Delivery on Sunday
Make 3 payments of £65.00

No fees.
Learn more
Recommended Bundles
Manufacturer's ID: twintwelve
What we say:
At A Glance:
The Twin Twelve by JHS has been crafted to replicate the classic tones of the infamous Silvertone 1484 Twin Twelve amplifier. This all analog stompbox is all vintage vibe, from spanky cleans to growling overdrive!
Features We Love:
Who is It For?
The Twin Twelve is ideal for those looking for a range of vintage style tones. While some pedals can tie you down to a specific sound, the Twin Twelve gives you the authentic sound of a vintage transistor amp and its wide range of tones. The pedal can also be used like a boost pedal to add gain and change the character of your tone for soloing and different song sections.
Silvertone 1484 Twin Twelve
The Silvertone 1484 was an iconic 60-watt guitar amp originally sold by Sears. The American chain of department stores sold affordable instruments and equipment throughout the mid 20th century and while most guitarists would quickly advance onto professional brands, the original Silvertone equipment remains desireable and collectable thanks to the unique tones it's able to produce. With artists like Beck, Jack White and Brendan Benson adopting the 1484 as part of their sound, you get an idea of the type of cool aesthetic achievable from the 1484 and this awesome JHS pedal.
All Analog
The Twin Tone uses an all analog design to authentically replicate the transistor sound of the Silvertone, there is no digital trickery going on here. From your guitar to the pedal and into your amp, you signal will remain authentically analog!
Pros:
It's the sound of an amp in a small stompbox
Compatible with the JHS Red Remote footswitch for switching between the Clean and Dirty channels
What's Included:
Specification
SILVERTONE 1484 "TWIN TWELVE" IN A BOX
In 1963, Silvertone* introduced the 60-watt Model 1484 guitar amplifier. Originally a student-model amplifier, the amp's gritty and unpolished tone has since made it legendary, hard to find, and coveted by some of the biggest names in music. And now, you get to put those same tones right on your pedalboard.
Effortlessly turn your amp into one of the most sought-after vintage amps out there
Discrete transistor stages, hand-tuned to replicate the exact feel and tone of the 1484's tube sound
2-band EQ that is almost an exact replication of the 1484's Baxandall tone circuit
FROM ULTRA-CLEAN PREAMP TO THICK VINTAGE CRUNCH
If you love pedals that can perform two tonal jobs in one, you're going to love the Dirt/Clean option we've added to the "Twin Twelve" V2. In the Dirt mode, you'll enjoy the gritty amp-like tones of the cranked Silvertone. Flip the switch to Clean, and you're instantly bathing in the sound of a clean preamp that works great as a boost or as an always-on tonal enhancement.
Two very different, yet complementary tones in one pedal
Powerful boosting potential, thanks to the internal charge pump that converts 9V to 18V performance
Use the "Twin Twelve" as an amp-in-a-box, a gritty overdrive, a clean preamp, a potent boost, and much more
RED REMOTE COMPATIBLE
You can access both the Clean and Dirt circuits right in the middle of the song by hooking up your "Twin Twelve" to a JHS Red Remote footswitch (sold separately). The Red Remote's tiny footprint barely takes up any precious real estate on your pedalboard, while offering on-the-fly switching of the "Twin Twelve's" two voices. Two great tones, very little pedal space. Gotta love it!
Hands-free switching between the pedal's Clean and Dirt circuits
Go from clean preamp to thick Silvertone-style grit with the stomp of a switch
Red Remote connects with a simple mono instrument patch cable
THIS PEDAL REQUIRES STANDARD 9V DC NEGATIVE POWER, CONSUMES 34MA, AND MEASURES 2.2"X4.8"X1.6"