JHS Pedals Muffuletta Fuzz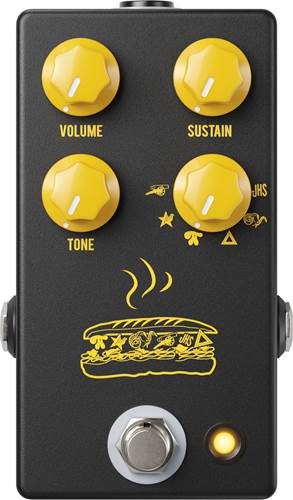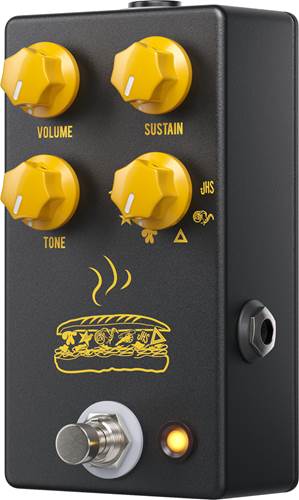 £219.00
Order before 3PM for FREE Delivery Tomorrow
Make 3 payments of £73.00

No fees.
Learn more
Frequently Bought Together
Recommended Bundles
Manufacturer's ID: muffuletta
What we say:
At A Glance:
The Muffuletta by JHS is the ultimate tribute to everything Big Muff! When JHS set out to pay homage to the best fuzz around, they couldn't decide which variation of the classic pedal to go for, so rather than compromise, they packed FIVE Big Muff re-creations plus one bonus signature fuzz into this tiny stompbox!
Features We Love:
Who Is It For?
If you're after the ultimate selection of Big Muff fuzz tones, then this is the pedal for you! Whether it's for doom, stoner rock, blues, indie or prog, the Muffuletta has got you covered!
Six In One
The Muffuletta features six individual stompbox tones in one box. Including re-creations of the classic Pi, Russian, Triangle and Rams Head and Civil War Big Muff, plus JHS' own more powerful take on the classic fuzz!
All Analog
A digital recreation of the gutsiest of analog pedals would be frankly, pointless. So each recreation within the Muffuletta is satisfyingly fully analog! Exactly as it should be!
Pros:
Six awesome fuzz pedal tones in one!
Authentic all analog design!
What's Included:
Specification
Five tones inspired by these classic Big Muffs
JHS - "2015"
The JHS Muff is a JHS original take on the classic circuit. You will find this version more powerful and less compressed, with a more haunting midrange. It is also the best for bass guitar.
'73 RAMS HEAD - "1973-1977 V2"
The '73 Rams Head gets its name for the strange little face that appears on the lower right corner of the original pedal. It is best known for having a scooped midrange, less gain, and being darker.
Famous users: David Gilmour (main Pink Floyd recordings), Ernie Isley (Isley Brothers), and J. Mascis (Dinosaur Jr.)
THE TRIANGLE - "1969-1970 V1"
The Triangle Muff is so named for the triangle arrangement of the knobs. It boasts more low-end response while being more articulate.
Famous users: Santana, David Gilmour's Pete Cornish-made pedalboards, John Lennon, Kevin Shields (My Bloody Valentine), and possibly Jimi Hendrix.
THE PI - "1977-1978 V3"
An instantly recognizable red Pi symbol gives this pedal its moniker. This is not to be confused with the later redesigned NYC version released in 2000. It features a more aggressive sound.
Famous users: Frank Zappa, Billy Corgan (Smashing Pumpkins), Jack White, The Edge (U2), Beck, and Pete Townshend (The Who).
THE RUSSIAN - "1999-2009 V8"
The Russian Muff is named by the "Made in Russia" text found on the back of the pedals. It sports less clarity and less low end than other models. A great garage-type sound.
Famous users: Dan Auerbach (Black Keys), Chris Wolstenholme (Muse), and Robin Finck (Nine Inch Nails).
THE CIVIL WAR - "1991-1993 V7"
The old-style Civil War-era font and navy and gray colors found on these pedals' enclosures dictate their name. They are best known for having more midrange and having a brighter overall tone with less gain.
Famous users: Thurston Moore (Sonic Youth), John Fogerty, Jeff Tweedy (Wilco), Mike Mills, and Peter Buck (REM).
THIS PEDAL REQUIRES STANDARD 9V DC NEGATIVE POWER, CONSUMES 4MA, AND MEASURES 2.2"X4.8"X1.6"