JHS Pedals Crayon Overdrive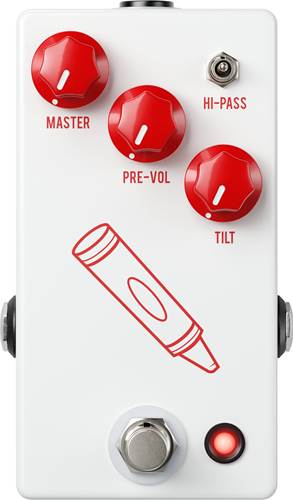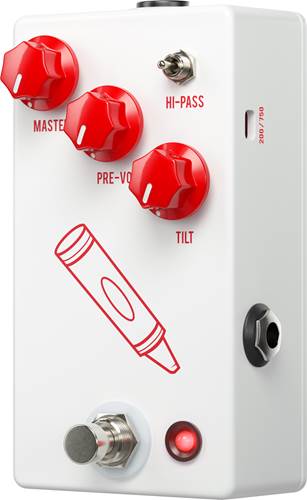 £189.00
Order now for Delivery on Wednesday
Make 3 payments of £63.00

No fees.
Learn more
Recommended Bundles
Manufacturer's ID: crayon
What we say:
At A Glance:
Nothing quite sounds like the unmistakable oomph of a heavily saturated, fully cranked preamp circuit, and that's just what the folks at JHS looked to recreate with the JHS Crayon. Little brother the JHS Colour Box, the Crayon is built to emulate the overdrive qualities of a cranked preamp or desk channel strip; a sound heard across a range of classic records, especially back in the golden era of rock & roll.
Features We Love:
Easy To Use
3 controls and a Hi-Pass toggle keep operation clean and simple, giving you access to tons of tone without having to dig for it.
Superbly Versatile
The Crayon lets you dial in a host of tones from a warm, clean compressed tone, right up to gross saturation of your signal.
Powerful Controls
The very clever Tilt Control acts as a basic EQ; flat in the 12 o'clock position, boosting bass and cutting treble to the left, and boosting treble and cutting bass to the right.
Combined with the 200Hz/750Hz Hi-Pass toggle on the side, and you've got a powerful tone-shaping circuit that's great for both guitar AND bass!
Pros:
Unmistakable cranked-preamp tone in a pedal
Recreates the sound of overdriven British preamps of the 60's
Classic JHS quality and reliability.
What's Included:
Specification
CONTROLS
The Crayon has controls for Master, Pre-Vol, Tilt, and a Hi-Pass toggle. The Master volume controls the overall volume of the unit, while the Pre-Vol acts as a gain control to go from a gritty preamp drive to over-the-top gated fuzz. These controls work together to create a ton of colorful tones that are extremely useful. The Tilt control is an active EQ where when set at 12 o'clock you have a flat EQ, while turning clockwise boosts highs and cuts bass, and turning counterclockwise boosts bass and cuts highs. This gives the Crayon the ability to be tailored to any rig for bass or guitar. The Hi-Pass toggle cuts your low end with a flick of the switch for the ability to cut through the mix or get lo-fi sounds. There is a dip switch on the right side of the pedal to choose either 200Hz or 750Hz cut for the Hi-Pass.
FEATURES
Preamp DI tones from low gain grit to gated fuzz.
Active EQ for the perfect tones on bass or guitar.
Hi-Pass for lo-fi AM radio sounds.
Paint with all the colours of the wind.
The JHS Pedals Crayon is without a doubt the brightest crayon in the box that will give your tone all the colour you need!
THIS PEDAL REQUIRES STANDARD 9V DC NEGATIVE POWER, CONSUMES 15MA, AND MEASURES 2.6"X4.8"X1.6".