Allen & Heath QU-PAC Ultra Compact Digital Mixer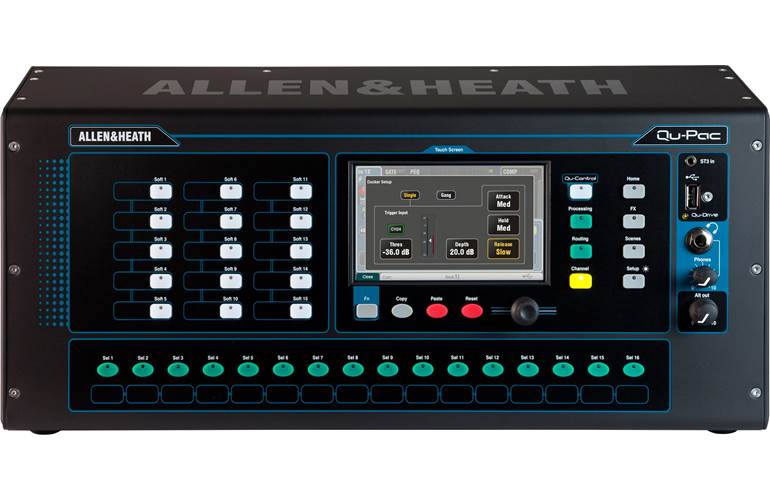 Was
£1,299.00
Save £200.00
£1,099.00
Order before 3PM for Delivery Tomorrow
Manufacturer's ID: QU-PAC/X
Qu-Pac takes the power and legendary quality of the Qu family and shrinks it into a compact desk or rack mount format. With Qu-Pac you are free to mix from your iPad, but the full functions of the mixer can be accessed from the front panel and touchscreen should you need them.
Specification
Custom settings and Cat5 expansion up to 38 inputs, makes Qu-Pac a scalable, failsafe solution for hardworking bands, schools, hotels, corporate events, live music bars, conferences, personal mixing and many more scenarios requiring a pro mixing solution in a tiny footprint.
User permissions and the customisable Qu-Control screen make Qu-Pac convenient and safe for day-to-day use by non-technical staff.
Qu Ecosystem
Qu series features include multitrack recording direct to USB, Automatic Mic Mixing, ProFactory mic presets, plus an ever growing ecosystem of apps, accessories and remote I/O.
AnalogiQTM Preamps
Qu-Pac features sixteen built-in AnalogiQTM digitally controlled preamps with advanced zero-crossing detection and a padless 1dB-step gain stage, which have been closely allied to the DSP for optimal gain accuracy and audio transparency. The analogue signal is captured by high-class, low latency 24bit analogue to digital converters, which are matched to 24bit digital to analogue converters to deliver the required high quality output. The AnalogiQTM preamp design has been refined to offer superb transparency, minimal distortion and an ultra-low noise floor, with a warm, musical sound that is missing from some digital mixers.
dSNAKE™ Remote Audio Racks
Qu-Pac is a self-contained mixer, so if you've already got the analogue cables you're good to go. If you're thinking of trading in the copper multicore for a Cat5 digital snake, or expanding the number of input and outputs available, Qu-Pac's built-in dSNAKE™ port has you future-proofed, allowing connection to a remote AB168, AR2412 or AR84 Stagebox. dSNAKE™ is our proprietary networking solution, boasting a transport latency of only 105us over cable runs of up to 120m / 390'.
The AudioRacks unleash all the power of Qu-Pac, giving you access to extra outputs for Stereo Matrix, Groups, and extra monitor Mixes.
ProFactory Mic Presets
Allen & Heath has teamed up with leading microphone manufacturers and top engineers at Audio-Technica, Sennheiser, and Shure to provide EQ Library presets for a large number of popular and industry standard microphones. Presets for vocals, electric guitar, acoustic guitar, drums, brass and woodwind have been painstakingly crafted to offer you the best possible starting point for the source and your microphone of choice. Whether you're a keen amateur or a seasoned professional, you can get to work quickly and easily, saving valuable time so you can concentrate on EQ'ing the source and room acoustics.
Features
19" Rack Mountable
16 local Mono Mic/Line Inputs (TRS + XLR)
Recallable AnaLOGIQTM Preamps
3 Stereo Inputs (TRS)
12 local Mix Outputs (XLR)
Expandable to 38 input, 24 out using dSNAKE AudioRack
4 Stereo Groups (switchable to Mix mode)
Up to 11 Monitor Mixes (4 mono + 7 stereo)
4 FX Engines
4 dedicated FX Sends / Returns
4 Mute Groups
4 DCA Groups
AES Digital Out
32×32 USB Audio Interface
dSNAKETM Remote Audio Port
800×480 Touchscreen
15 Soft Keys
16 Custom Select keys
Trim, polarity, HPF, gate, insert, 4-band PEQ, compressor, delay on all Inputs
Insert, 4-band PEQ, 1/3 octave GEQ, compressor, delay on all Outputs
Automatic Mic Mixer
Channel Ducker on all Inputs
ProFactory Mic Presets
iLive FX Library
Built-in Signal Generator
RTA with Peak Band indication
Spectrogram to aid feedback elimination and room acoustics
DAW MIDI Control
Customisable Qu-Control screen to suit your application
Qu-Pad fully-featured iPad App
Qu-You iPhone / Android personal monitoring app
Qu-Control customisable iOS app for simple wireless control
Compatible with ME Personal Mixing System