Fender Play 6 Month Prepaid Card - Save 17%!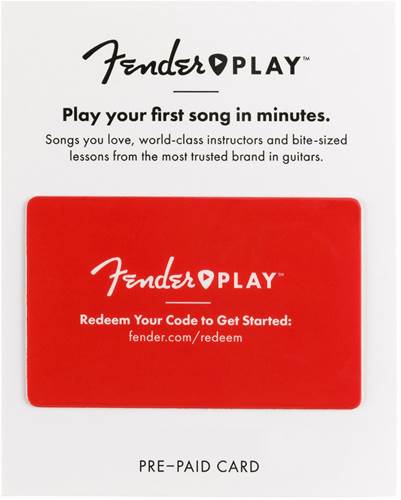 £49.99
Order now for Delivery on Thursday
Manufacturer's ID: 6206700021
What we say:
Fender Play is an excellent resource for all guitarists looking to improve and sharpen their technique. Amassing an enormous amount of videos, tabs, technique and advice into one online area, Fender have provided all players a place to go and learn.
Beginners will benefit hugely from custom-tailored lessons designed to get you strumming and picking away immediately. Watch the videos, check out the easy to read Tablature and amaze yourself at the speed at which you progress!
It isn't just for beginners though: experienced players can also benefit massively from subscribing to Fender Play: there are a host of tutorials and videos ready to help you focus on and improve on any trouble areas you might have in your own playing. It can be amazing to experience the difference a few timely pointers can make in one's technique: even the best players have weak areas they wish they were better with. Fender Play allows you to iron out these problems and become a better, more rounded guitarist.
There are a huge library of 'proper' songs to learn by both hit bands and more niche artists so you should definitely be able to learn some of your favourite songs as well as get exposed to new styles and songs you may not have pursued otherwise.
Fender Play is a subscription service and this item is a prepaid card for 6 months' access to the full Fender Play site. This is a great gift for all guitar players, no matter their style or level of proficiency.
Specification
Unlimited access to hundreds of instructor-led song and technique video lessons
Learn to play songs in minutes
An ever growing library of songs, genres and lessons