Audio Technica ATW-11F Wireless System with PRO9CW Headworn Condenser Microphone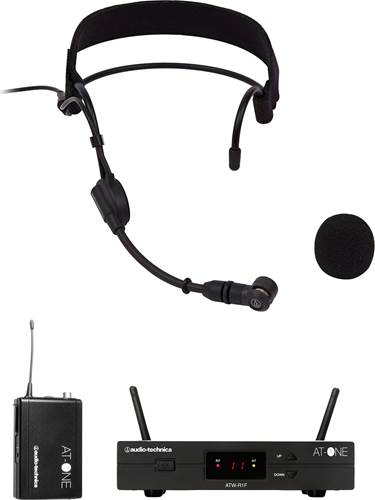 £169.00
Order now for Delivery on Tuesday
Manufacturer's ID: ATW-11F
AT-One, Audio-Technica's entry level UHF wireless system. With a 2 x 4 channel frequency plan for enhanced flexibility, sturdy but stylish build quality and a simple user interface, AT-One is ready to become your perfect wireless companion.
Includes the PRO9CW Headworn Cardioid Condenser Microphone, a robust and fantastic partner for fitness/aerobics instructors and active users alike
Specification
AT-One is designed with simplicity and ease-of-use in mind. Equipped with a practical carrying case, rack-mount kit and detachable antennae, AT-One is the perfect balance of price and performance, ideal for those looking for accurate, reliable performance at an entry level price. The AT-One's frequency plan is divided into two groups with 4 available channels in each group split between the Europe wide license free frequency range and the LTE duplex gap. Users can choose up to 4 channels within one group.
The Pro9CW is a head worn condenser microphone that can be used with Audio-Technica wireless systems. It is ideal for presenters and musicians who need hands free operation during their performance. The adjustable head band and microphone boom ensures optimal microphone positioning for accurate sound capture. The microphone is also suitable for group fitness instructors due to its lightweight, portable and sweat resistant nature. An integrated shock mount eliminates unwanted noise and vibrations and the included windscreens minimises the P-pop general wind noise.
Simple to set up and use
2 x 4 channel frequency plan for enhanced flexibility
Rack mountable for easy installation
Intuitive receiver and transmitter controls
Beltpack with 4-pin connector for microphone or instrument
ATR35cW omnidirectional condenser lavalier microphone
Up to 10 hours battery life