Darkglass Alpha Omega 900 (Ex-Demo) #WW78UD283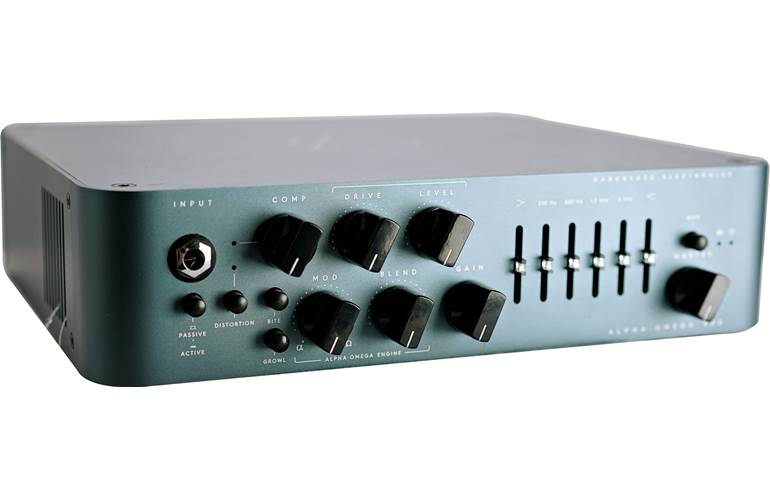 £999.00
Order now for Delivery on Saturday
Manufacturer's ID: DG-AO900
Alpha·Omega 900 takes Darkglass' latest and celebrated drive circuits to a new dimension. With a deliberate, yet distinctively different flavour to our famous Microtubes circuits, Alpha is punchy and tight with a lot of definition, whereas Omega is simply brutal and raw. With our proprietary Mod control to blend between either drive circuits, Alpha·Omega 900 is a monstrous 900-watt amplifier that provides earth-shattering tone.
Condition Report
There are few scratches on the top of the unit.
Specification
These modern drive engines add incredible girth and size to the overdriven signal, but the studio-grade VCA compressor also adds an extra layer of control. Add in the ultra-quiet 6-band graphic equalizer and you have an amplifier that can help sculpt your tone from ultra-aggressive and overdriven, to crystal clear clean. Whatever your tone needs may be, Alpha·Omega 900 features all the options the modern, professional bassist needs in a compact, sleek and powerful format.
900 W RMS Class D Power Output
8/4/2 Ohm load compatible
Analog preamp with Passive/active input switch
Bendable Alpha and Omega analog drive/distortion circuits
Drive/Clean Blend control, with separate Bite and Growl switches
Three speaker cab Impulse Response slots, selectable via the Cab Select switch.
Built-in adjustable studio-grade VCA compressor
Ultra-quiet 6-band graphic EQ
3.5mm Auxiliary input
Headphone output with cabinet simulation and separate volume control
MIDI - for remote switching
USB to connect to free Darkglass Suite (for Mac/PC):

Loads Impulse Responses
Control for the VCA Compressor (programmable on/off per channel)
MIDI config etc.
and more

Supplied with matching Intelligent Footswitch
Intelligent fan control - reduces noise when playing quietly