Universal Audio Apollo x8p Heritage Edition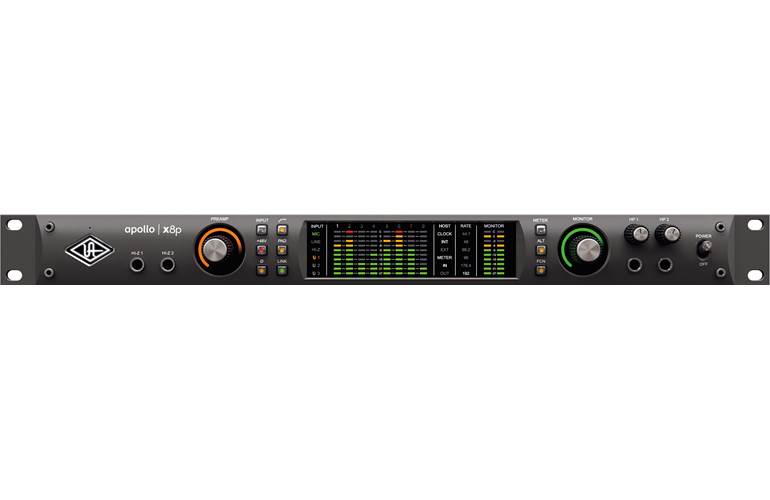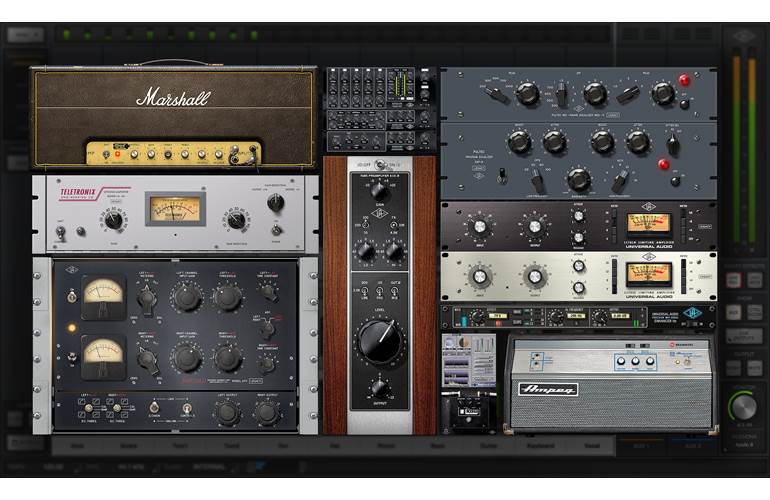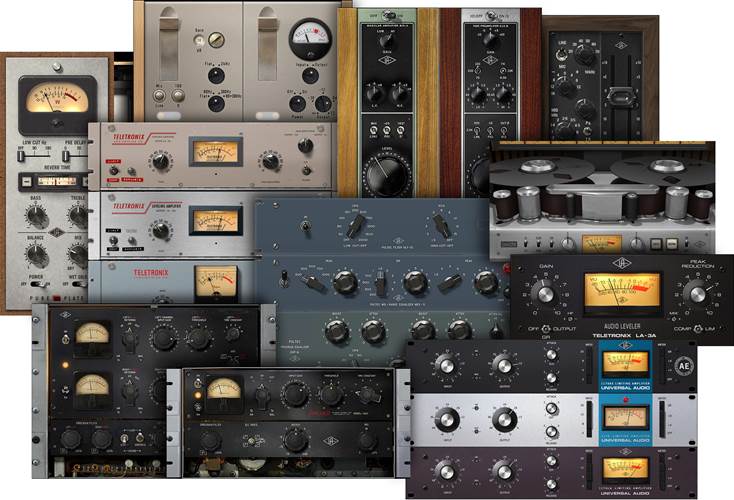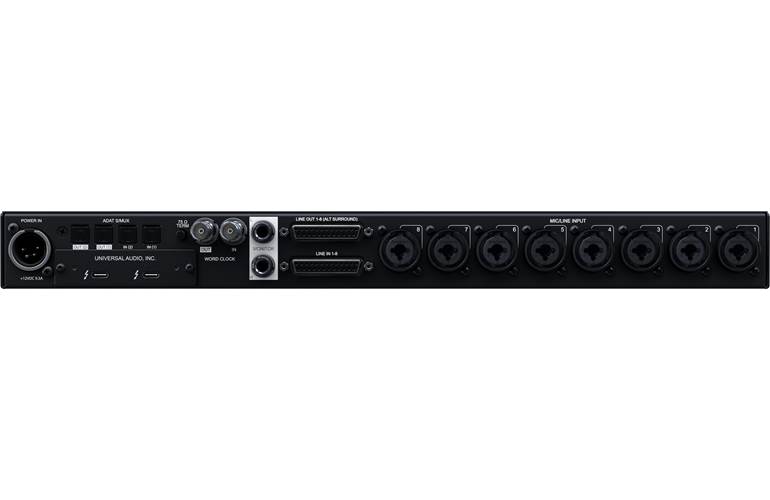 RRP
£3,966.00
Save £787.00
£3,179.00
Order now for FREE Delivery on Wednesday
Manufacturer's ID: APX8P-HE
What we say:
At A Glance:
The Apollo x8p Heritage Edition from Universal Audio is an excellent rackmount audio interface, featuring twice as many unison preamps as the x8. It features a plethora of connectivity, handy controls, a talkback function and a great bundle of UAD plug-ins. There's also HEXA core processing on-board, which means you can run your UAD plugins over a full session, plus, Universal Audio's LUNA Recording System brings analog tone to your recording process.
If you require a professional audio interface that offers portable multitrack recording with expandability, powerful DSP processing and hands on controls, this is the one for you!
Features We Love:
UAD Plug-ins
UAD Plug-ins are regarded as some of the best on the market by countless producers, mixers, recordists and mastering engineers. These bring the sound of classic hardware to your DAW. For example, the LA-2A and 1176 compressors, Marshall amplifiers and Neve channel-strips. All plug-ins are painstakingly modelled on the hardware, and run from the DSP in your Apollo.
Using the Console application, you can choose to monitor with plug-ins active independently on each channel but record your dry signal. Alternatively, you have the UAD Rec function which lets you 'print' the sounds into your DAW recording. This is great for taking advantage of UAD channel strip or Amp emulation plugins, giving you an authentic studio sound and saving DSP later in the mixing process.
The four DSP processors also allow you run UAD plugins accross a full mix, making the Apollo X4 ideal for studio mixing, editing sound for film as well as professional mastering.
Connectivity and Controls
The Apollo x8p Heritage Edition features a wealth of connectivity. You'll find eight Unison-enabled mic/line preamps and two Hi-Z instrument inputs on board. There are also two digitally-controlled monitor outputs and it has connections for connecting to large consoles and other high-end studio equipment. There's also room for expansion via ADAT and S/PDIF. By expanding the unit, it can receive another eight line inputs and send another eight outputs. This makes it ideal for tracking multiple microphones or instruments, monitoring in surround sound (up to 7.1!) and more!
Heritage Edition
The Heritage Edition Bundle includes UAD recreations of some of the most iconic studio equipment of all time. Including the Teletronix LA-2A Classic Leveler Collection and Pultec Passive EQ Collection. The LA-2A and Pultec EQ alone have been an essential part of countless classic records, but the bundle also includes the UA 1176 Classic Limiter Collection, UA 610 Tube Preamp & EQ Collection and Pure Plate Reverb, all of which are set to reinvent how you produce your music
LUNA Recording System included
LUNA is the new recording software on the block. Designed by Universal Audio themselves, it has some unique features. It makes it easy to record and monitor with UAD plugins and get that analog sound we all crave. You'll find an excellent audio and midi recording/editing workflow on-board. It's also very easy to dial in warm analogue sounds thanks to features like record and playback fx, tape slots and parallel bussing. LUNA is already packed with great features and comes free with the Apollo. You can also purchase a variety of extensions for it such as Neve Console Summing and the Minimoog instrument separately.
Highlights:
Top quality rackmount audio interface
Eight Unison-enabled mic/line preamps and two Hi-Z inputs
Built-in preamps are excellent for remote recording
Two monitor outputs, eight line outputs and two headphone outputs
Expandable via ADAT/SPDIF
World class components
Thunderbolt 3 Connectivity
Six DSP chips on-board
'Realtime Analog Classics' UAD plug-in bundle included
'Heritage Edition' UAD plug-in bundle also included
Controls for monitor mute, mono, low-cut and more
Talkback function with built-in mic
LUNA and Console applications included
What's Included:
Apollo x8p Heritage Edition
Power Supply
Specification
A special edition of UA's acclaimed Apollo x8p interface — with a premium suite of 10 award-winning plug-in titles from Helios,® Fairchild,® Teletronix,® Pultec,® UA, and more — a $2,400 value
16 x 22 Thunderbolt 3 audio interface with class-leading 24-bit/192 kHz conversion
Realtime UAD HEXA Core Processing for tracking through UAD plug-ins at near-zero latency, regardless of audio buffer size
8 Unison-enabled mic/line preamps — track through fully authentic preamp emulations from Neve, API, SSL, Manley, Avalon, Helios, UA, and more
LUNA Recording System — a fully-integrated recording application made for Apollo (Mac only) Compatible with Logic Pro, Pro Tools, Cubase, Ableton Live, and more
Surround monitor controller up to 7.1 format
UAD HEXA Core processing onboard for additional mixing horsepower for Pro Tools, Logic, Cubase, Ableton, and other major DAWs
Combine up to 4 Thunderbolt-equipped Apollos and 6 total UAD devices; backward-compatible with Thunderbolt 1 and 2 Macs via optional adapter
Selectable +24 dBu operation for easy compatibility with professional mixing consoles and tape machines
Convenient front panel monitoring functions including Alt Speakers, Talkback mic, and assignable Dim or Mono
Uncompromising UA analog design, superior components, and premium build quality
Also includes "Realtime Analog Classics Plus" UAD plug-in bundle featuring UA 610-B Tube Preamp, Legacy Pultec EQ, additional LA-2A and 1176 compressors, Marshall Plexi Classic, Ampeg SVT-VR Classic, and more
Free, industry-leading technical support — on the phone and online — from knowledgeable audio engineers
Included in Apollo "Heritage Edition" Bundle:
UA 1176 Classic Limiter Collection
Teletronix LA-2A Classic Leveler Collection
Pultec Passive EQ Collection
Fairchild Tube Limiter Collection
Teletronix LA‑3A Audio Leveler
UA 610 Tube Preamp & EQ Collection
Helios Type 69 Preamp & EQ Collection
V76 Preamplifier
Oxide Tape Recorder
Pure Plate Reverb
Included in the Realtime Analog Classics Plus Bundle:
UA 610-B Tube Preamp & EQ
Marshall Plexi Classic Guitar Amp
Ampeg SVT-VR Classic Bass Amp
UA 1176LN Limiting Amplifier (Legacy)
UA 1176SE Limiting Amplifier (Legacy)
Pultec EQP-1A EQ (Legacy)
Pultec Pro EQ (Legacy)
Teletronix LA-2A Leveling Amplifier (Legacy)
Fairchild 670 Compressor (Legacy)
Precision Enhancer Hz
Raw Distortion
Precision Channel Strip (Precision Mix Rack Collection)
Precision Reflection Engine (Precision Mix Rack Collection)
Precision Delay Mod (Precision Mix Rack Collection)
Precision Delay Mod L (Precision Mix Rack Collection)
RealVerb Pro Custom Room Modeler