Ernie Ball 2221 Regular Slinky 10-46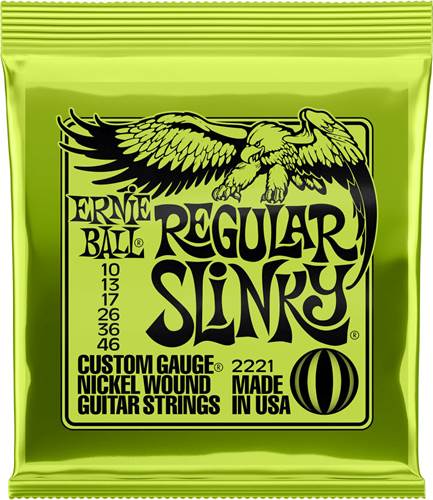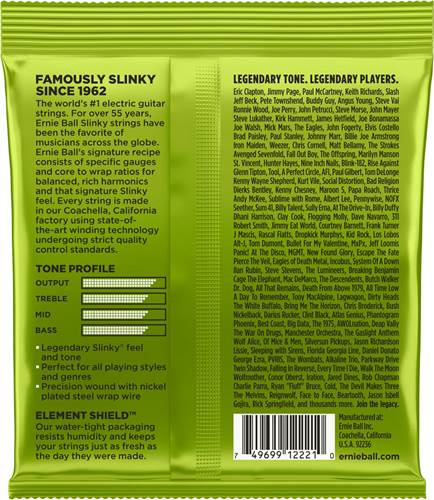 Image Gallery


£6.99
Order before 3PM for Delivery Tomorrow
Delivery Tomorrow
With 1 hour Delivery slot
---
Click & Collect
Live Stock levels from all our stores.
Store
Availability
Edinburgh
In Stock, Collect Today
Glasgow
In Stock, Collect Today
Newcastle
In Stock, Collect Today
Birmingham
In Stock, Collect Today
Epsom
In Stock, Collect Today
Camden
In Stock, Collect Today
Frequently Bought Together
Recommended Bundles
Manufacturer's ID: 2221
Ernie Ball Nickel Wound Electric Guitar Strings are made from nickel plated steel wire wrapped around tin plated hex shaped steel core wire. The plain strings are made of specially tempered tin plated high carbon steel producing a well balanced tone for your guitar.
Specification
Gauges .010 .013 .017 .026 .036 .046
Customer reviews
Overall Rating 4.9 (

104

reviews)
good all-round strings for any electric guitar
Perfect. There?s nothing more to say.
My son tells me they are best strings for his guitar
Always use slinky strings they are ace.
Good codition, we?ll packed
My standard string choice
Great strings a must for any LP
Good strings, what more do you need?
Yet again another great set of string for a les Paul or a stray style guitar.
Stephanie J. - 29/12/2020
Beautiful pre-owned guitar, good price
We received our order very quickly. It was well packaged. Impressed with the quality.
My go to make and gauge ..
The Fender Hot Rod Deluxe is found on 99% of stages across the world this IV is the latest offering where they have updated the drive channel and kept the sparkling clean channel visually they have removed the chrome faceplate making it black and added off white knobs very easy to see when performing if you looked the fender tone you will not be disappointed
This was recommended by staff at guitar guitar as the person I spoke to uses the same product and could explain how to use it
Gets the job done. Nice slinky twangy strings, can't fault em.
Classic strings that feel great under your fingers. Easy bends and good resonance.
Przemyslaw M. - 29/7/2020
Excellent products and service
Lovely sounding amp. Rickenbacker + this amp = :D
Strings are very personal thing but great value
Got 2 sets of these for my guitars I use for leads. Brilliant strings, I absolutely love them
Haven't used the strings yet, but I'm a big fan of this brand so know the quality will be great.
It arrived way quicker than expected and it was an emergency buy.
They weren't pre snapped. I liked this.
Good price. Great make supplied quickly.
Got the bullet strat and put a set of these on, has to be the best bang for buck upgrade you can get ?
Great quality strings- definitely will purchase again
Christopher B. - 24/5/2020
No complaints from my son. Always delivered promptly
Ernie Ball strings. What else do you need?
Great strings, use then all the time
Always used these and will continue to do so
Great value- value for money- bargain
Great strings give good sound and feel
Christopher a. - 19/1/2020
Ernie Ball Super slinky strings. Speak for themselves. Top class.
Great strings for a lead guitar
very fast service - no problems
Perfect for me. I asked for these strings that are reliable and suit my playing style.
Good quality strings for the vintage electric guitar I have
As advertised and arrived as stated. Please with the service provided.
Was recommended the 10?s to use on my Les Paul and they?re great so far.
Product is pretty much standard for guitarists. Always excellent.
What can you say? Ernie Ball Regular Slinky, top notch strings
Excellent strings as always get what u pay for ............ .....................
Brilliant strings. World class!
Switched from d'addrio a while ago. Never done a side by side comparison with brand new strings, but so far I prefer the Ernie balls
A great, balanced set of strings to play with.
Show more reviews
You might also be interested in...
Keep up with our latest offers, news & events